As you all know, my family and I are moving house very soon. In fact, we're pretty sure that it's going to be towards the end of next month - How exciting! :) (It's taken long enough, haha). What's even more exciting is that we're pretty much replacing all of our furniture and purchasing brand new pieces. The reason behind this is that at the moment we have a lot of dark furniture - we we're heavily in to the black-brown decor theme when we moved into the house we currently live in. But now we're both really being drawn towards white coloured furniture. I think that reason for the sudden love of white, is the fresh and bright feel that it has to it. Along the fact that it doesn't show up as much dust, haha ;)
At the moment we have a dark brown faux leather the bed frame, which we will be selling to the lady that is buying our property with the view that we will be purchasing ourselves a gorgeous crisp white bed frame. For the bedroom we're more than likely going to be decorating it a white/duck egg blue/grey theme. I've put together a little bed frame inspiration board below featuring
small double beds
and such that I'm being drawn to. I think that my favorite of them all is number 1. I love the high back and the low front and for some reason, I feel that it's kind of got a beach feel to it, which I really like.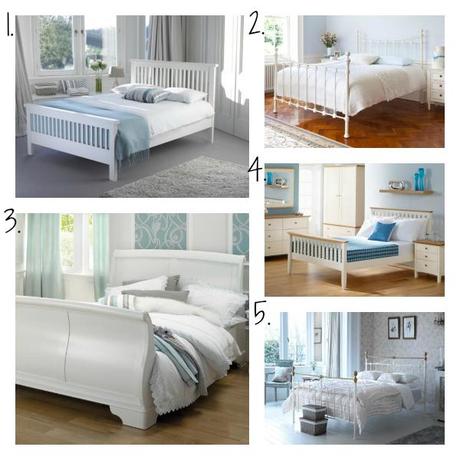 | 1 // 2 // 3 // 4 // 5 |
I'd love to know which of these you would choose?