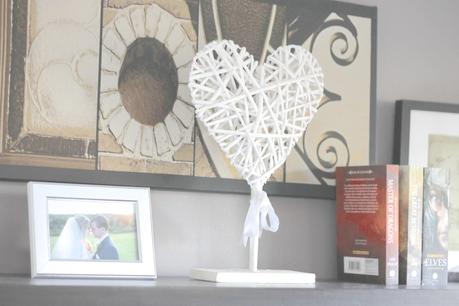 Living with my Husband, there obviously has to be some sort of male influence in our home decor. Particularly so as children are quite susceptible to these things, and I would like Ethan to feel he can express his masculinity appropriately as he grows. However, I'm finding myself drawn more and more to lovely girly accessories for our home.
Blogs and design stuff that I've been reading recently have been wearing off on me, and my shopping trips seem to be producing more than just clothes and food these days!
There are some lovely design tricks to make your home look really well-thought-out, so I have decided to share some of the things I've picked up lately with you.. 
Accented colours on neutral backgrounds
Being a girl is all about style and taste. Style and taste are tricky little things, and surprisingly involve a lot of neutral colours. Think of Ethan's nursery: it took us ages to find that, what I think is a gorgeous subtle color for the walls, but once we did, we were able to style the whole room against it. 
Accenting little pieces in bold colours, and linking them across the room is a great way to push the boat out without overdoing the girly aspect. 
Think cushions in bright pinks and oranges, prints on the walls in similar, related shades, and a

contemporary vase

holding beautiful flowers, also in similar colours. That's what they mean by accenting colours. 
Useful home accessories don't have to be dull
If you don't have a lot of money, you don't want to be spending a load on things you don't need, just because they look nice. My solution is to mix new and expensive things with pre-loved cheaper stuff. For example, bed linen is worth spending money on because it'll be with you for a long time. However, if your carpet or flooring is looking a little tatty, but you don't want to spend that money yet, why not find an old but very useable rug in an amazing color to liven up the room? You can keep the walls nice and neutral, but link up a lot of lovely little things with the rug, like fragranced candles that come in cute colours, and the odd cheap framed poster print. Very girly, but the whole space becomes such a pleasant environment, that the men won't mind at all. 
Details all the way
I guess this whole post is about how the details connect up to make a whole room.. The little things make a huge difference. Changing the boring old and dated drawer knobs on a dresser into funky crystal ones; fitting a contemporary lightshade to the living room overheads; even the odd lamp in pretty colours. 
All these things are good for bringing a girly look to a room without overpowering the men.