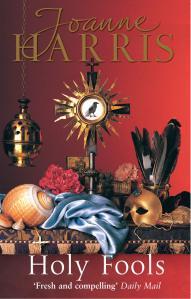 Holy Fools by Joanne Harris
Black Swan (paperback), 2004
432 pages
http://www.joanne-harris.co.uk
BLURB FROM THE COVER
In seventeenth-century France, against a backdrop of witch trials, regicide and religious frenzy, Juliette, one-time actress and rope-dancer, seeks refuge with her young daughter in the remote abbey of Saint Marie-de-la-Mer, and reinvents herself as Soeur Auguste.
Until a new Abbess is appointed, bringing with her a ghost from Juliette's past, a man she has every reason to fear.
EXTRACT
IT BEGINS WITH the players, seven of them, six men and a girl, she in sequins and ragged lace, they in leathers and silk. All of them masked, wigged, powdered, painted; Arlequin and Scaramouche and the long-nosed Plague Doctor, demure Isabelle and the lecherous Geronte, their gilded toenails bright beneath the dust of the road, their smiles whitened with chalk, their voices so harsh and so sweet that from the first they tore at my heart.
REVIEW
Harris has become one of my favorite writers recently. I've read and loved several of her novels including Sleep, Pale Sister, Coastliners and The Gospel of Loki. Holy Fools is no exception. Harris on top form again. Harris's writing is a strong as her other novels I've read. Harris is skilled at telling a damn good story and Holy Fools held my interest all the way through. I loved the little historical details Harris created in Holy Fools. Harris creates a very rich, vibrant and ultimately real world. I enjoyed the scenes set in the abbey the most because this way of life is completely alien to me so this was fascinating reading. I loved the way suspicion and hysteria builds and builds inside the abbey until inevitable tragedy. In a similar vein to her other novels, Harris's characterisation in Holy Fools is spot on. I thought LaMerle was great. He was the villain and a nasty piece of work and Harris managed to avoid making him a caricature. The other women in the abbey were very diverse and interesting. Each of them was unique and stood out. I liked Juliette. I found her a very sympathetic character. I felt her pain as she struggled between doing what LaMerle wanted so she could see her daughter and trying to stop the madness building in the abbey. Each page was riveting.
RATING

UP NEXT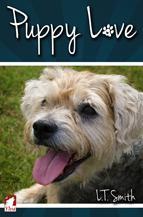 Puppy Love by L.T. Smith