Entertainment powerhouse Sean "Diddy" Combs and actor/producer Mark Wahlberg announced a joint venture with Southern California-based fitness and wellness water brand, AQUAhydrate.  Per the arrangement, Combs and Wahlberg will oversee business strategy along with CEO John Cochran , formerly President of Fiji Water.  Together they will help drive the AQUAhydrate vision and be instrumental in helping secure retail partnerships for the water brand, such as their recently signed deals with Safeway, Kroger and GNC.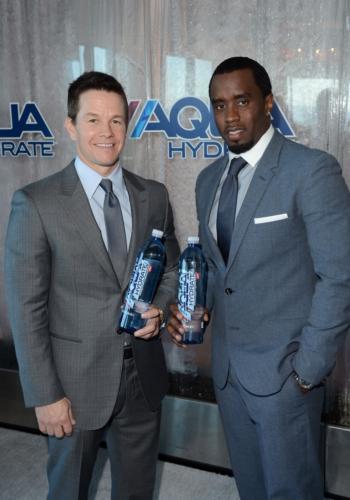 Already voted BevNET's Best of 2012 award for Best Product Revamp, AQUAhydrate is a high performance water without the sugar and calories found in traditional sports drinks or vitamin enhanced beverages. The product's combination of performance-grade electrolytes and a higher pH level of 9+ has caught the attention of elite athletes, active health-conscious consumers, and celebrities looking to perform at the top of their game, in every aspect of their life.  In addition to the brand's existing athlete roster, AQUAhydrate recently inked an official partnership with the Los Angeles Clippers wherein the product will be distributed to the team on and off the court.
"This is a truly innovative company, and I'm thrilled to be part of it," says Wahlberg.  "We all strive to do the best we can for our bodies but sometimes schedules, stress and other factors get in the way.  AQUAhydrate helps me achieve the balance my body needs, no matter what.  I enjoy being involved in every aspect of the AQUAhydrate brand and I'm looking forward to a very successful partnership."
"As a brand architect, I am incredibly passionate and equally committed to every aspect of the businesses that I get involved with," says Combs.  "Partnering with AQUAhydrate and Mark is an incredible opportunity for me and I am looking forward to making history in the process.  It's important for me to be part of something that drives me and is constantly pushing the boundaries, and that's what AQUAhydrate does.  Together, we're going to take AQUAhydrate to the next level."
AQUAhydrate is set to have a banner year in 2013.  Having secured thousands of points of distribution across the U.S. within the last six months, the brand has big marketing plans to establish AQUAhydrate as a household name and become a torchbearer of innovation and health and wellness in the beverage category.  Further to that, with Combs and Wahlberg understanding the value and brand impact of having an engaged social audience, AQUAhydrate will take its message viral and offer consumers exclusive content and fan-based promotions that underscore the values of the brand.