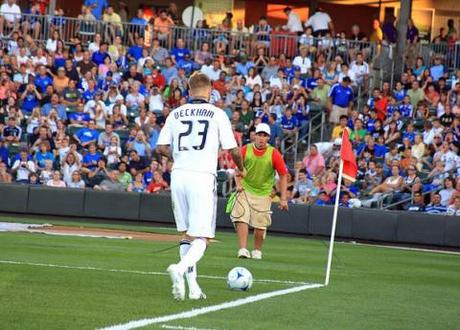 Will Beckham turn his back on LA Galaxy? Photo credit: Ramsey Mohsen
Ex-England football captain David Beckham has led Los Angeles Galaxy to a Major League Soccer Cup win in what is widely expected to be his last game for the Californian football team. The Galaxy beat
Houston Dynamo 1-0 at the Home Depot Centre to claim the MLS Cup.
Beckham has won a clutch of major trophies (including the Champion's League with Manchester United) in his succesful football career but the MLS Cup win is particularly sweet for the 36-year-old as it vindicates his decision to ply his trade in America. All eyes are now on where Beckham will play next. He has indicated his intention to continue playing and deep-pocketed Paris Saint Germain (PSG) are widely tipped to be the favourites to secure his signature.
"Whether I stay or not, I've had an amazing five years. I've loved it here", Beckham told reporters after the MLS Cup win.
Will he stay (at Galaxy) or go (to PSG) now? Luke Edwards of The Daily Telegraph weighed up what's next for Becks. He suggested he could well stay put and noted that  "
the glamour club of American soccer (Galaxy) are desperate to keep their Hollywood player and have offered him another lucrative contract with plenty of concessions." Edwards insisted that the MLS "still needs a poster boy like Beckham to generate interest" and that Beckham's "family are settled in California, weather is nice and Beckham has already dropped hints he will stay." But Edwards said it is just as likely that he will return to Europe to play for moneybags PSG. He noted that PSG will be able to match – if not beat – Galaxy's contract offer and Beckham would relish a chance to return to a top European league ahead of the Olympics. "It will be another country, another league and another challenge for a player who thrives on them", said Edwards, who dismissed reports that Beckham might join Premiership clubs Tottenham or Queens Park Rangers.
Beckham delivered for the MLS. "The David Beckham experiment finally found the right chemistry in the early hours as the Los Angeles Galaxy were crowned champions of Major League Soccer (MLS) in what was perhaps the former England midfield player's final game for the club", adjudged Tom Dart of The Times (£), who said Beckham's five-year contract "has ended with sporting success to complement the increased exposure and credibility he has brought to MLS."
Beckham the quarterback. Lawrence Donegan of The Guardian reflected on how Beckham has changed his game as he has got older: "These days Beckham plays a deep-lying role in front of the defence, leaving the spade work in midfield to his younger team-mate Juninho. It's a position that doesn't require a great deal of pace and mobility." In a reference to American football, Dart described Beckham's role as that of a "quarterback" who's able to spray long passes upfield from just in front of the back four.
Washington-based Nico Hines of  The Times (£) was unimpressed by the US media's Americanised take on the beautiful game. "According to the soccerball 'analysts', David Beckham is the 'Prom King' in tonight's game. Urgh, back to the (Philadelphia) Eagles at the Meadowlands", tweeted Hines (a long-time football fan and recent convert to American football).
More on sport

Mike Tindall's career over
Penn state riots
Iranian footballers banned over butt squeeze
More football »