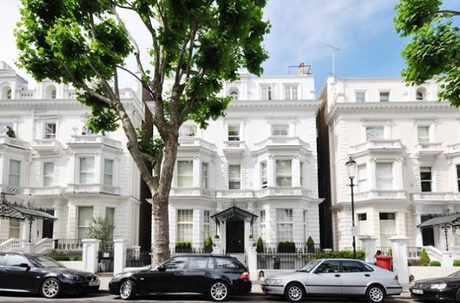 Walking down Holland Park on the Notting Hill walk last Saturday, a gentleman got out of his car and said, "You're London Walks aren't you, we like you, we've been on your walks." 
I said, "Do you live here?' he said, "Yes this is where I live," indicating the house we were standing outside.  "
"Can we come in?" I asked.
"Yes, all right  Two of you can come in the lift, the rest go up the stairs."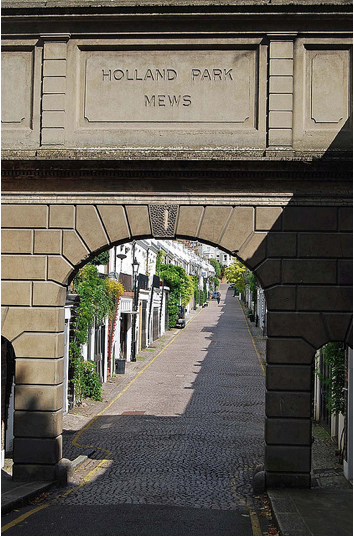 Now, Holland Park is my favorite Victorian street in all of London, and I never dreamt for a minute that he'd say yes, but if you don't ask…
He was living at the top in what had been the servants' quarters.  He was 92, had fought in World War Two, his wife had recently died and he was selling the flat.  Of course I was not so mercenary as to ask how much he was asking. 
But one of the walkers did. 
£2.3 million. 
For the servants quarters. 
(There's a flat in Holland Park currently on the market for £15 million.  Not a whole house, a maisonette inside what used to be a whole house.)  Of course these houses didn't have lifts, but two detached Italianate villas had been joined and a lift installed some fifty years ago.
We looked out at the Mews behind (my favorite mews in London) and he told us that when they needed the carriage a servant would blow into a tube in the main house and it would sound in the mews.
A nice story.  And I shall be telling it next week on Notting Hill and Portobello.
Richard III
The Notting Hill & Portobello Market walk goes every Saturday morning at 10:45a.m from Holland Park Tube.
Richard III Richard III, scion of a Lord Mayor of London, is a writer, actor, director and stand-up comic. And the only London Walks guide to have addressed the United Nations!