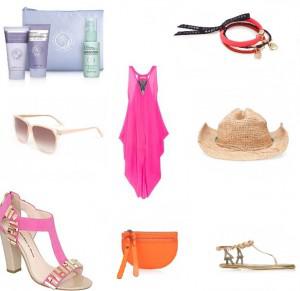 In two weeks, I will be jetting off to Marbella to celebrate my birthday and I'm not ready. If there was a degree for faffing I would have one. The Queen of unorganised, the holiday countdown has started without me and I have yet to step foot in a shop. Don't even get me started on my base tan, my body brushing regime or my bikini body.
First things first. Here are just a few of the things that I NEED before I can turn 27.
1) Liz Earle Sun Try Me Kit  £16.95
2) Bracelets by Marc Jacobs £30
3) Mara Hoffman Neon Pink Dashkini Dress £150*
4) Victoria Beckham Blush Sunglasses £320
5)Melissa Odabash Cowboy Hat £135
6 Dune Shore Club Sandals £165
7) Alexander McQueen Orange Coin Purse £50
8 ) Kurt Geiger Molly Flats £55
If you could lend a hand with my holiday shopping, that would be great. If you really want to make my birthday wishes come true, could you also frog march me to the gym, monitor all cake intake and treat me to a birthday Shellac mani/pedi?!
Have I forgotten anything? What's on your holiday wish list?
* Now I know I said I wanted the dress but after browsing this season's Mara Hoffman collection I officially want it all! x