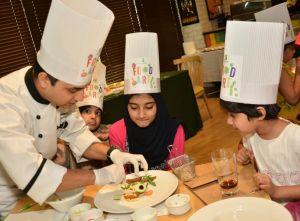 New Delhi, 9 June 2016: Holiday Inn® Hotels & Resorts, the most recognised hotel brand in the world, has partnered with acclaimed international food artist, Samantha Lee, to encourage family-friendly 'fun dining'. Using dishes from the brand's new Kids Menu, Samantha has transformed five dishes from the nutritionally balanced new menu into kid-friendly works of art.
Using the theme of animal portraits, each artwork created by Samantha has been designed to engage kids and their parents and encourage them to explore nutritious eating in a fun way. With the corresponding and easy to follow 'how-to' guides, parents are given all the tips they need to recreate food art at home using the original Holiday Inn Kids Menu recipes.
Speaking about her creations for Holiday Inn, Samantha Lee said: "I started off creating food art for my daughter to encourage her to be more adventurous with food, so a partnership with Holiday Inn to help inspire thousands of children and their parents, helping them discover new and exciting flavours is a cause that I knew I had to be a part of. Not only do we want kids to get excited about balanced eating, we want parents to see how to make food fun for their little ones.
"It's great that a brand is really getting behind proper eating for children and the food art that I've created as part of the Holiday Inn Kids Menu will take them on a cultural, as well as taste, adventure using some of the great Kids Menu recipes designed with Nutrition Australia."
Lee Lin Teo, Head of Brand Marketing (Holiday Inn Brand Family, Crowne Plaza and Staybridge Suites) AMEA, IHG said: "Holiday Inn has always been about family - we were the first brand to launch a 'Kids Stay & Eat Free' programme - and we're constantly looking for ways to improve the experience we offer to guests, and food is a big part of the travel experience. We created our new Kids Menu because we wanted to make sure families are making the most of their time together, with kids enjoying colourful and tasty dishes and with parents relaxed knowing that all the dishes have been created with nutrition at their core.
"After such good feedback from our guests on the new Kids Menu dishes we thought that we could take it even further by turning them into works of art with the very talented Samantha Lee. We hope that parents and kids are inspired to explore food as a bonding experience, both with us at Holiday Inn hotels and resorts and when the holiday is over at home."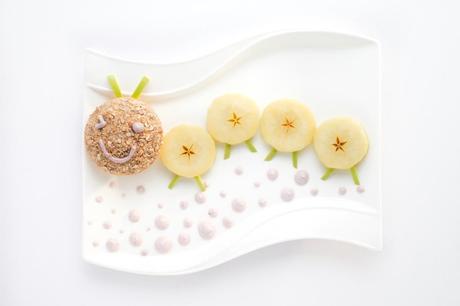 (The Holiday Inn Kids Menu Apple Crumble transforms into a happy caterpillar)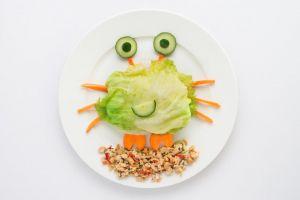 Some of the dishes on offer as part of the Holiday Inn Kids Menu include: DIY Lettuce Cup, Lamb Skewers, Chicken and Pea Risotto, Rice Paper Rolls, Lentil Curry and for dessert kids can choose from favourites such as Apple Crumble, Fruit Popsicle and Banana Split, made with yoghurt instead of ice cream.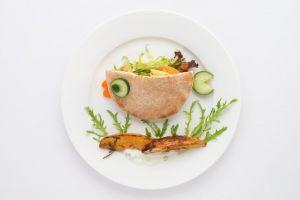 The new Kids Menu recently launched in Holiday Inn Hotels & Resorts across Asia, Middle East and Africa. Created in partnership with Nutrition Australia, all the recipes are based on criteria developed by the organisation's Accredited Practising Dietitians, ensuring that all the dishes are nutritionally-balanced and good for growing little ones.
The Holiday Inn Kids' Menu is available in all Holiday Inn hotels and resorts across Asia, Middle East and Africa. Guests can book rooms and make the most of the 'Kids Eat & Stay Free'* programme via the Holiday Inn website - www.holidayinn.com
* 'Kids Stay & Eat Free':
** Each hotel's Kids Menu will offer a mix of international and regional dishes, as well as a choice of low sugar desserts and drinks
Kids 12 and under stay for free when they share the guestroom with an adult family member. Baby cot is complimentary. Maximum room occupancy per guestroom is limited to two adults and two kids. Kids 12 and under eat for free when they choose meals from the Kids Menu in the All Day Dining Restaurant. Kids must be accompanied by at least one adult who is registered as a hotel guest and must order at least one main course from the full priced menu. Limited to four kids per dining family per meal or two kids per parent per meal