Tis the season of giving and I'm sure many of you will be doing your holiday shopping over the next month. There are lots of deals going on and I'm sure you can find a bunch of stuff for your loved ones. If you're stumped on what to give someone who has everything, I want to present an option to you - philanthropic giving! What I mean by that is giving to a charity in the name of someone. You're essentially killing two birds with one stone because you're helping others in need and giving a gift. So here are some really great options:
1) World Vision
A little blurb on who they are -
World Vision is a Christian humanitarian organization
dedicated to working with children, families, and their communities worldwide to reach their full potential by tackling the causes of poverty and injustice.Working in nearly 100 countries around the world, World Vision serves all people, regardless of religion, race, ethnicity, or gender.
The cool thing about World Vision is that you can buy a gift for a family in need such as a cow, a sheep, ducks, etc. Each item is listed and shows what exactly it gives to the family. You can also just make a donation for a specific cause. It's a cool way to give.
2) Oxfam
About us
Oxfam is an international confederation of 17 organizations networked together in more than 90 countries, as part of a global movement for change, to build a future free from the injustice of poverty.We work directly with communities and we seek to influence the powerful to ensure that poor people can improve their lives and livelihoods and have a say in decisions that affect them.
What we do
Find out how we work with others to end poverty and injustice, from campaigning to responding to emergencies.
Very similar to World Vision
3) Ten Thousand VillagesIf you want a physical present that you can unwrap and have, this is a good store to buy from. They buy everything fair trade so your supporting an artisan in another country and also getting a cool gift. If you live in Greenville, there is a location on Augusta Rd. They have locations all over, so just look online and it can tell you if there's a store near you. 
Fair Trade basically is a way to buy goods at prices that are still fair to the artist. The issue I have with stores like Wal mart is they bully farmers in countries to lower their prices to something that is unsustainable long term. The farmers have a hard time making a living because they're at the mercy of the large producer, I use Wal Mart as an example because they're one of the worst. Even if the store sells Fair Trade, I'd be surprised if it was actually Fair trade certified. So this is a way to insure that the artists are getting the money that is appropriate for what they're selling. 
4) Punjammies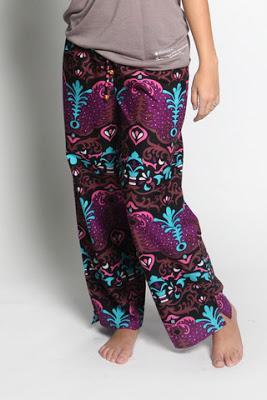 International Princess Project is an organization that can best be described through their mission - 
The Mission of International Princess Project: Establish self-sustaining enterprises in partnership with indigenous organizations that provide for physical, emotional and spiritual needs of women formerly enslaved in prostitution; AND advocate for women enslaved in prostitution around the worldThe pants are kind of fun and I've worn them to yoga a lot!!5) Rwanda So this is something I hold near and dear to my heart (which you know if you regularly read this blog). If you want to give some money to Rwanda, whether it be the orphanages, the women in Gisenyi, wherever, let me know. I have a direct way to get them the money. Send me an email to [email protected] and I will make sure those ladies get it. I don't have a card to give you but can send a photo for you to put in a card, like a gift certificate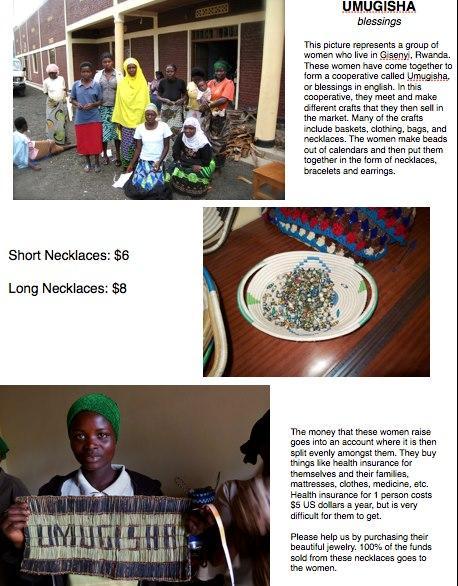 Thanks so much! I hope you buy some stuff from some of these places for your friends!!!