The holiday season is truly UPON us, jack frost nipping at our paws… chanukah and thanksgiving arrived around the same time this year.
Will you buy your cat or dog a gift for the holidays? How about a gift for your dog walker, pet sitter, pet rescuer or for that oh so very special pet parent/guardian in your life?
Here are a few suggested gifts for your four legged friends and a few human gifts, too.
1. A happy dog box:   Cici received a box filled with toys and treats and your dog can too. This should be called the happy people and dog box because it lasts for hours/days and makes everyone happy. There was a very nice selection and assortment of treats.
Monster mouth toy… I have never seen her play with a toy for as long as this one. You can hide treats inside the mouth and your dog will enjoy finding them.
Curly chew bully stick
Waste bag container
Jump your bones kangaroo treats
Cloud star hip and joint treats, bacon and cheese, grain free
Woofables gourmet dog cookies
Each monthly box, worth over $30, comes packed with high-quality dog treats, toys, and accessories specially selected for canine health and well-being.
You can enter a raffle with multiple methods of entry even enter multiple times each day to increase your chances of winning.
http://www.rafflecopter.com/rafl/display/3968f60/&#8221; rel="nofollow">a Rafflecopter giveaway</a>
2.  Lupine leash and harness. Cici received two sets that consisted of a step-in harness, leash and collar, one 3/4 wide and 1 inch wide. We LOVE THEM except the clasp is hard to open.
Lupine Collars and Leashes has been selling collars since 1991. They have developed a very successful line of woven patterned nylon collars, leashes and harnesses for dogs and cats. Not only are there great designs but the quality of the products is exceptional.   They even offer a lifetime Even if Chewed Guarantee, which really means that they will replace any product, no matter how or when it was damaged–even if chewed!! And no receipt or shipping fee required! In addition, all the products are made in New Hampshire.
Please visit the website (www.lupinepet.com)
3. Bravo raw food
Cici scarfed up the raw turkey and was licking the bowl and the floor clean, which means she really really loved the food. She was begging for more.
I like the ingredients…
The one drawback is that I wish it came in burgers rather than a big huge loaf because I had to defrost the entire thing, and then feed it to her quickly, so 1/4 of the loaf the first day which was too much food in one day… and too much food in a week…
4. Spring natural dog food
http://www.springnaturals.com/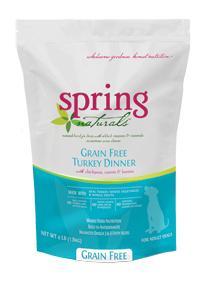 Turkey, chickpeas, peas, dried eggs, chicken fat (preserved with mixed tocopherols), dicalcium phosphate, sun-cured alfalfa, flaxseed, sweet potatoes, natural flavors, salt, spinach, tomato pomace, calcium carbonate, blueberries, cranberries, apricots, carrots, potassium chloride, zinc proteinate, iron proteinate, copper proteinate, manganese proteinate, sodium selenite, calcium iodate, vitamin E supplement, thiamine mononitrate, niacin supplement, calcium pantothenate, biotin, vitamin A supplement, riboflavin supplement, vitamin B12 supplement, pyridoxine hydrochloride, vitamin D3 supplement, folic acid, chicory root extract, dandelion greens, mixed tocopherols (preservative), rosemary extract, choline chloride.
Every recipe is made in the USA.
5.  Savannah Bee Doggie and Me Balm 
Sweetness from your pet deserves sweetness from the hive. All natural beeswax pulls moisture from the air and feeds the skin while providing a protective barrier from the elements. Subtle scents of Clary Sage and Basil are said to calm, soothe, and focus your pet.
Apply Savannah Bee Doggie and Me Balm to your pets nose, paw-pads, dry spots, hotspots, and sores. The easy to use applicator is pet tested and pet owner approved. Give your pet the very best in skin care.
Doggie and Me Balm is supposed to be good for pet owners, too. Use it on dry human elbows, hands, knees and heels. Feels soft and soothing. Doggie and Me Balm is made with 100% all natural ingredients. Has a kind of earthy herbal smell. Comes in a deodorant type looking jar or a candle jar without the wick.
http://www.savannahbee.com/product/Savannah-Bee-Doggie-and-Me-Balm/1113
6. Kurgo Auto barrier
Keep Fido in her place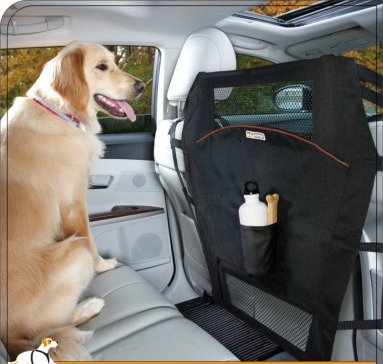 Cici loves to jump into the driver's seat when I run into the store. I come back to find you-know-who drooling on the steering wheel and getting the front seat all hairy.
Here is where the Backseat Barrier™ comes in. Super stylish, this cloth barrier attaches to the back of your front seats, creating a soft wall between you and Fido…blocking that little space above your center console. She can still sit and peer through the mesh top; you can even reach back for a scratch if necessary. Most importantly, this barrier helps to keep you distraction free while driving, and keeps your pup safely out of the front of the car.
This products is versatile and simple to install and remove. See for yourself how just a tiny bit of separation makes you a better puppy parent and driver.
Protects passengers and cargo from roaming dogs
Protects dog from launching into the front during quick stops
No need to remove when passengers or cargo are in backseat
Front seat stays clean of dog hair
Universal fit for most vehicles from a compact to a SUV (does not accommodate 2 door cars or minivans)
Simple installation / removal
7. Perfect leash
Similar to the stereotypes people use about pit bulls, when I first saw The Perfect Leash, all plastic, and I thought it was one of those leashes with the retractable line, I was not impressed, but then I Looked Further and actually tried out the leash rather than base my review upon false premises.  I liked the way it kept Cici from pulling me down the street. Unfortunately, Cici lost the Walker leash so I cannot use it anymore.
Designed with both the dog and human in mind, the flexible Perfect Leash makes a great gift for dog owners who want to bring comfort and enjoyment back to their walks.
The Perfect Leash line of pet accessories includes a full-length dog walking leash (the Walker) that suits large and small dogs alike. Made of a proprietary polyurethane formula, the Walker's flexibility provides an enjoyable walking experience for both the dog and handler. The ergonomically designed, patented, comfort grip handle is designed with adults and children in mind, so every family member can walk the family dog with ease, confidence and comfort.  Unlike cloth leashes, the Perfect Leash is odor resistant and easy to clean.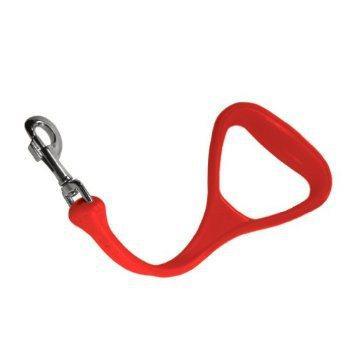 The Walker is the only full-stretch dog leash on the market! Its high flex capability provides an enjoyable walking experience for both dog and handler. The ergonomically designed, patented, comfort grip handle is designed with adults and children in mind, so every family member can walk your dog with ease, confidence and comfort. Available in Black, Blue, Red, Yellow, Blaze Orange, JD Green, Safety Green, Military Green, Tan, Pink and Purple.
www.Justduckyproducts.com.
8. Books
Dog Ambassadors
Dog lovers everywhere will enjoy the entertaining stories of the 24 dogs in this book. Dogs are ambassadors to the world and our own local communities. They serve and love us as only they know how. Accompanied by 175 color images, discover the remarkable connection between dogs and humans through the inspiring stories of 24 dogs and the owners whose lives they have made better. Meet Paddington, the official greeter at Thorncroft Equestrian Center , and Cody, a search and rescue dog. Learn the story behind Pals for Life, an organization that provides therapy animal visits, and Francisvale, a safe haven for abandoned dogs. The stories range from service dogs that make life easier for those in need to much-loved household pets that offer love and companionship each day for family members.
Author and dog enthusiast, Lisa Loeb, speaks here about her new book.
https://www.youtube.com/watch?v=ne9UcNakfn4&feature=youtu.be
Size: 6″ x 9″ | 140 illustrations | 160 pp
ISBN13: 9780764344688 | Binding: hard cover |$19.99
Schiffer Publishing, Ltd. is a family-owned, independent publisher of high-quality, nonfiction books. Since 1974, Schiffer has published thousands of titles on diverse subjects.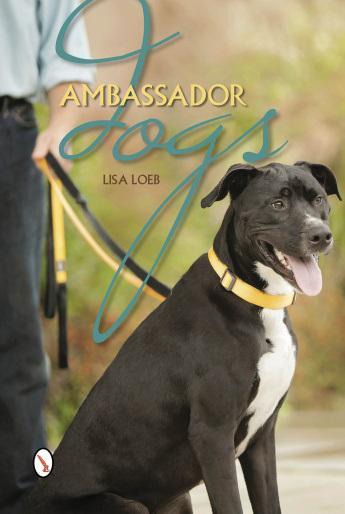 Beautiful Old Dogs
This beautifully illustrated book features 44 color photographs of senior dogs taken by the late photographer Garry Gross and edited by David Tabatsky. An incredible tribute to the souls of elderly canines.
In BEAUTIFUL OLD DOGS edited by David Tabatsky, photographs by Garry Gross (St. Martin's Press; on sale 11/5) the relationship between humans and dogs are explored in over 44 stunning color photographs from Gross and through short essays and poems from a range of writers, including Dean Koontz, Anna Quindlen, Doris Day and Marlo Thomas.
In BEAUTIFUL OLD DOGS, Gross showcases the beauty and soul of every dog he photographed, though it was the older, more senior dogs that most fascinated him. After retiring from the world of fashion photography, Gross established Dog Trainers of New York, a highly successful dog training business that has helped thousands of dogs enjoy better lives with their families and shortly thereafter decided to combine his two passions: photography and dogs.
Shake
Shake is a heartwarming collection of sixty-one silly dogs caught in mid-shake. This graphic photo book by award-winning internally recognized photographer Carli Davidson shows how funny dogs look caught with: hair wild, eyes darting, ears and jowls flopping every which way. You've never seen dogs looking like this.
A few years ago Carli Davidson was a volunteer at dog shelters. In 2010, she began photographing the rescue dogs in mid-motion, capturing their movements at a thirteen-thousandth of a second. She called the project Shake and posted a few pictures on Facebook—they quickly went viral, and she was covered on Huffington Post, The New York Times, and Vanity Fair Italy, just to name a few. In a 90-day period her site spiked to 8.5 million views.
One hundred adorable models posed for the book. Sixty-one of them, including Scooby the Rottweiler, Greta the Shi Tzu, Twinkie the Jack Russell Terrier, and the famous, mixed-breed Ramen Noodle were selected. Two photographs of each dog are featured side-by-side in the book to capture the motion of their shakes. One photo shows the dog beginning to turn; the other shows its wild hair and fabulous facial expression mid-twist. Many of the dogs are shaking off water and the high quality of the photo shows the droplets as well.
http://harpercollins.com/books/Shake-Carli-Davidson/?isbn=9780062242648
9. Do you brush your dog's teeth? Nah. Don't worry, you're not alone. More than 60% of dog owners never brush their dog's teeth. The main reason is that it's just too difficult.
To help improve the state of canine oral hygiene Kissable has launched two new 'Brushless' Dental Solutions to make dental care easy for the owner and painless for the pooch. Instant Fresh Breath Foam adheres to teeth to gently clean, sanitize and loosen plaque build-up without using a toothbrush!  Oral Care Water Additive is a super-easy-to-administer liquid. Just add a capful to your pet's water. No toothbrush required.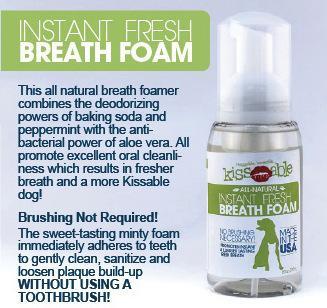 Instant Fresh Breath Foam
This all natural breath foamer combines the deodorizing powers of baking soda and peppermint with the anti-bacterial power of aloe vera. All promote excellent oral cleanliness which results in fresher breath. The sweet-tasting minty foam immediately adheres to teeth to gently clean, sanitize and loosen plaque build-up without using a toothbrush| 8oz
Oral Care Water Additive
Helps loosen plaque build-up and freshens breath while your pet drinks from the water bowl. Just add a capful to your pet's drinking water when you refill the bowl and the ingredients in the product do the rest. When the pet drinks from their water bowl, the liquid will pass over the teeth and gums leaving behind ingredients that promote fresh breath and oral cleanliness| 16oz
I put the foam into her mouth. She gave me clenched teeth mouth, which was perfect, i moved her lip and put the foam on her teeth, used my fingers and rubbed it on.  i give her water with her food so not sure how to make that work … smells nice and pepperminty… Cici in general has pretty good breath for a dog, because I feed her high quality foods and treats, no kibble… raw foods and still it is nice to be able to give your dog a sweet smelling minty fresh mouth.
Ecowelldog donates a portion of proceeds from the sale of its products to Canine Companions for Independence, a non-profit organization that enhances the lives of people with disabilities by providing highly-trained assistance dogs and ongoing support to ensure quality partnerships.