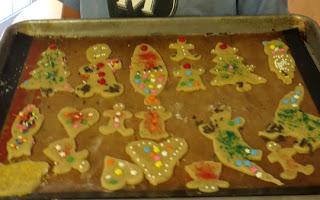 Sugar cookies ready to go into the oven
A favorite activity of the holiday season is baking cookies.  A tradition at our house has always been making sugar cookies–cut out with the cookie cutters passed down from one generation to the next and decorated with sprinkles, colored sugar, cinnamon candies and whatever else is available. This is a perfect activity to do with my grandchildren–each one has his or her own style of decorating!  And then, after all the cookies are baked, everyone enjoys eating them.
Sugar Cookies
3 cups flour
1 cup shortening (or half butter, half shortening)
2 eggs beaten with 1 cup sugar and 3 tablespoons milk
1 scant teaspoon baking soda
1 teaspoon vanilla
Cut shortening into flour with pie blender.  Add remaining ingredients which have been beaten together.  Mix well.  Chill overnight.  Roll out and cut shapes.  Place on greased cookie sheet and sprinkle with sugar.
Bake at 375 degrees 8-10 minutes.
This was originally my grandmother Grandma Dorothy Scheaffer's cookie recipe.  It is also known as Aunt Dea's sugar cookies.  She used to make the cookies with lard.  They were a special treat made when we visited our cousins in Kenosha, Wisconsin. 

BEST WISHES FOR A VERY
HAPPY HOLIDAY SEASON!