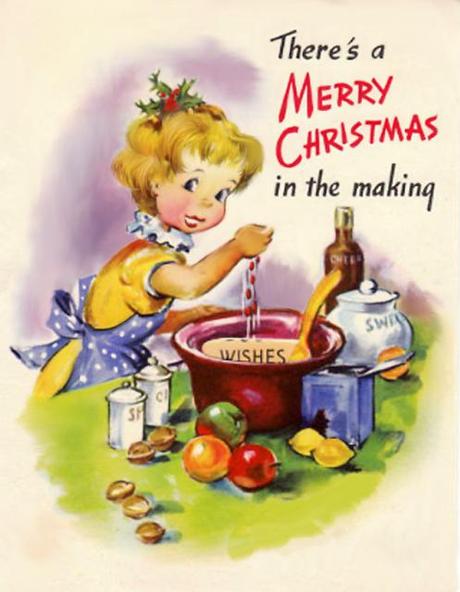 I was recently sent some Knorr products and asked to create some recipes for the holidays using them.  This is part two of what I did with them.  I hope you like what I have come up with and find something here you can use in your home for the holidays!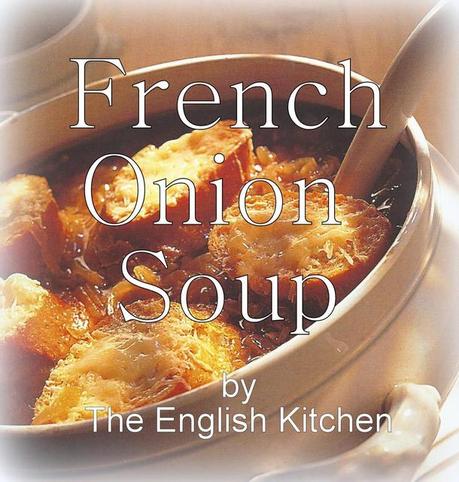 French Onion Soup is a favorite in this house.  It's also quite an inexpensive alternative to some of the other first courses out there that you might have a choice of.   It's rich and light enough to serve as a main course, in smaller portions  . . .  or served as a light lunch in larger portions.   I love the gruyere topped Croutes.  Garlic flavoured with just enough cheese to keep them from being cloying.  I hate it when there is so much cheese in the soup that you almost choke when you try to eat it!   You can also make the soup part of this well ahead of time, just reheating it when you want to serve it and making the croutes fresh on the day.  I always like to make extra croutes, especially if we are having it for a meal.  Nobody ever turns down an extra portion of those cheesy toasts!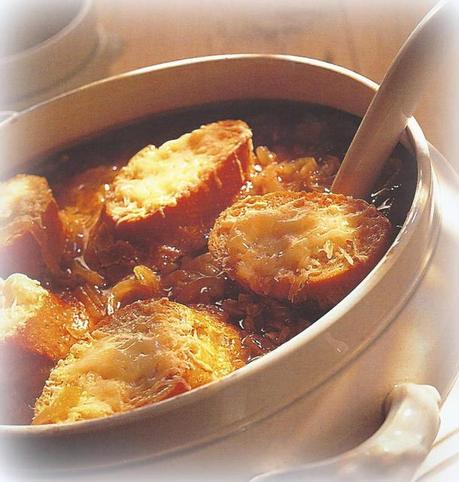 *French Onion Soup*Serves 6 as a main, or 8 as a first coursePrintable Recipe 

A delicious soup, perfect for a first course, or as a light lunch.   Serve any additional croutes on the side.
75g of butter (3 ounces)2 TBS oil3 pounds of onions, peeled and thinly sliced1 Knorr Garlic Flavour Pot
(alternately you can use two cloves of garlic, peeled and  minced)1 tsp sugar2 1/2 pints of Knorr Beef stock (reconstituted fromKnorr Rich Beef Stock Pots, 2 of them)
(5 1/2 cups)300ml of dry white wine (1 1/4 cup)1 to 2 TBS Brandy6 TBS of finely grated Parmesan cheese
For the Croutes:1 day old french baguette1 garlic clove, peeled and halved50g of butter, melted (1/4 cup)175g Gruyere cheese, grated (6 ounces)
Heat the butter and the oil in a large heavy saucepan.   Add the onions and garlic, along with the sugar.   Cook over low heat, stirring occasionally, for 30 minutes, until very soft and golden brown.  Gradually add the stock and wine.   Bring to the boil then reduce to a slow simmer.  Cover and simmer for 1 hour.
Preheat the oven to 220*C/425*F/ gas mark 7.
Rub the cut cloves of garlic all over the outside of the baguette.  Slice the baguette into rounds and place each round on a lightly buttered baking tray.  Drizzle with melted butter and scatter evenly with the grated cheese.  Bake for 15 minutes until golden and bubbling.
Taste the soup and adjust seasoning as required.  Add the brandy and the Parmesan cheese.  Stir well. Pour the soup into a heated serving dish or bowls.   Float the croutes on top and serve immediately.



Knorr Rich Beef Stock Pots come in a pack of four and contain no artificial flavor enhancers.  They are simply carefully selected ingredients that have been reduced into a little pot.  Try melting it smoothly into your diches to enhance the natural flavours of your fresh ingredients.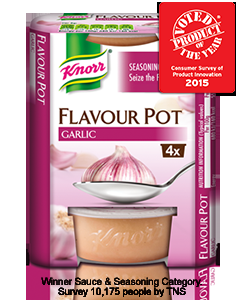 Knorr Garlic flavor pots contain no artificial flavor enhancers, no artificial colours, no artificial preservatives and are vegetarian friendly. Packing a punch, this pot will help deliver perfect results every time and enhance an array of dishes from spaghetti carbonara to stuffed chicken; simply stir in and savour the taste.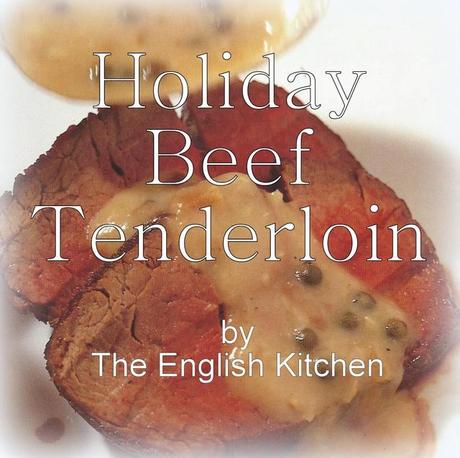 We normally have a turkey for Christmas, but not everyone likes Turkey.  Beef Tenderloin can make a delicious alternative.   If you follow the instructions directly for this you will end up with perfectly cooked Beef and a delicious Horseradish and Green Peppercorn sauce/gravy to serve with it.   Roast potatoes are excellent with this along with Yorkshires., and the usual Christmas Veg.  Sprouts, carrots, green beans, etc.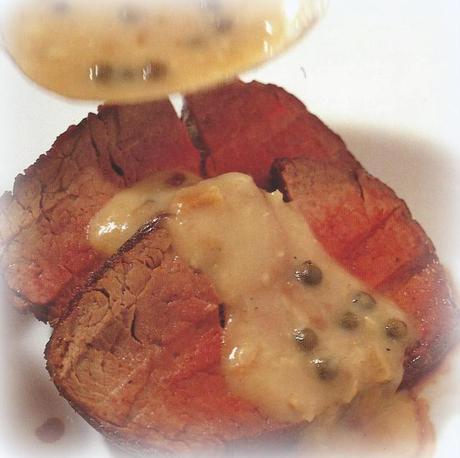 *Holiday Beef Tenderloin*Serves 6 to 8Printable Recipe 

It's very important not to overcook the beef, as it will continue to cook whie it is resting.  Always test the thickest part for doneness.   Serve it with the Horseradish and Green Peppercorn Sauce for a real taste treat.
3 3/4 pound piece of Beef Tenderloin1 Knorr Rich Beef  Stock Pot 1 tsp cracked black peppera bit of light olive oil for browning
Horseradish and Green Peppercorn Sauce:4 TBS butter1 medium onion, peeled and minced3 TBS plain flour450ml of knorr chicken stock, heated (2 cups)1 TBS fresh lemon juice1/4 tsp pepper1 TBS Dijon mustard2 TBS drained, brine-packed green peppercorns1 heaped dessertspoon of prepared horseradish (about 1/4 cup)salt to taste
Preheat the oven to 200*C/40)*F/ gas mark 6.   Rub the stock pot all over the beef and sprinkle with the pepper, pressing it to adhere.   Brush a heavy oven-proof skillet with some oil and then heat it over medium high heat on top of the stove.  Add the meat and brown is on all sides, about 8 minutes.
Use tongs to turn it, not a fork.  You don't want any of those juices escaping, you want to sear all the flavor in.  Once it is seared all over bang the skillet into the heated oven.  Roast for 25 to 30 minutes, until the internal temperature measures 48* Celcious or !20* Fahrenheit.  Remove from the oven, tent with foil and allow to rest for at least 10 minutes before slicing.
To make the sauce, melt the butter in a large skillet.  Add th onion and cook over medium heat until softened and golden.   Sprinkle with the flour and cook for one minute longer.  Stir in the hot stock, whisking constantly to prevent lumps.  Whisk in the lemon juice and pepper.  Reduce the heat to low and simmer, whisking occasionally until the sauce thickens.  Whisk in the horseradish, mustard and green peppercorns.  Taste and adjust seasoning as required.
Serve the beef sliced with some of the sauce spooned over top.  Pass the remaining sauce at the table.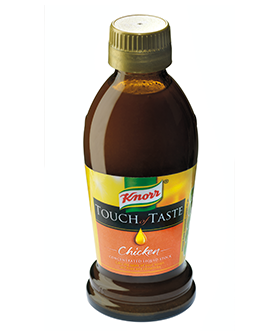 When I am wanting Chicken Stock to use in a dish where the flavor of the chicken stock really matters, I always like to use Knorr Touch of Taste Chicken concentrated liquid stock.  I use this in soups and gravies and stews.   It does need to be refrigerated once opened.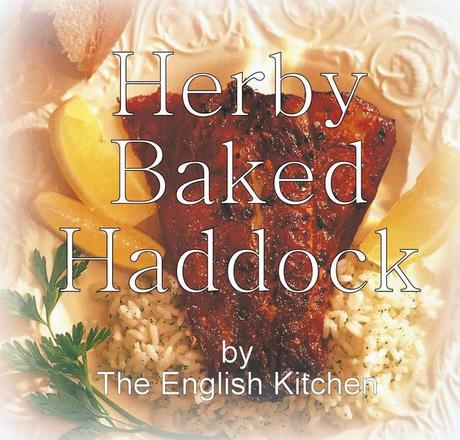 I have always liked serving fish on Christmas Eve.   This is a quick and easy way to prepare haddock, which is simple to make, and yet special enough that you wouldn't be embarassed serving it to your guests.  You make a simple rub with a couple of fish stock cubes, a but of olive oil and some soya sauce which is rubbed into the fish prior to baking.   A sprinkling of chopped spring onion and dill weed goes on top along with some dots of butter and a squeeze of lemon juice.  This gives a really well flavoured, and  elegant looking finish.   With a rice pilaf and some lemon wedges and some veg on the side, it makes for a simple, yet special meal.  Take care not to overcook the fish.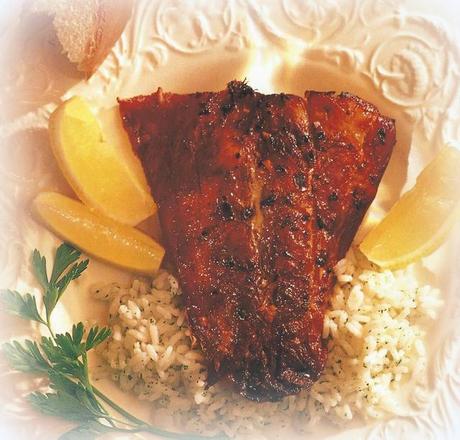 *Herby Baked Haddock*Serves 6Printable Recipe 
Bear in mind that it doesn't take long for fish to cook, so make sure you test the fish for doneness at the thickest part.  Just a minute or two can make the difference between properly cooked or underdone. 
6 haddock fillets (each about 6 ounces in weight), skin on6 TBS of light soy sauce2 fish Knorr Fish stock cubes, crumbled1 TBS olive oilblack pepper to taste3 spring onions, trimmed and finely chopped3 TBS chopped fresh dill3 TBS chilled butter, cut into bitsfresh lemon juicelemon wedges to serve 
Preheat the oven to 180*C/350*F/ gas mark 3.   Line a large baking tray with aluminum foil and spray with non stick cooking spray.  Set aside. 
Mix together the soy sauce, fish stock cubes and olive oil.  Place the fish fillets onto the baking tray, skin side down.   Rub them all over generously with the soy sauce mixture.  Season with black pepper to taste.  Mix the spring onions and dill together.  Sprinkle an equal amount over each fish fillet.  Dot with butter and squeeze a bit of lemon juice over top of each.  
Bake for 15 minutes, or just until the fish begins to flake at it's thickest point.   Serve on heated plates with wedges of fresh lemon for squeezing.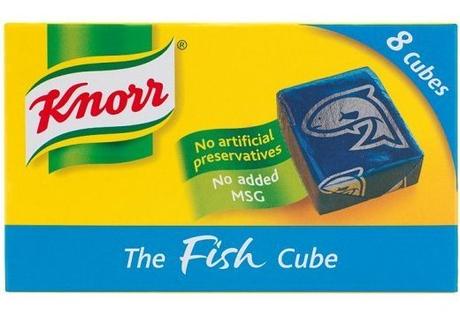 Knorr Fish Cubes are perfect for making Fish stock to use in casseroles, soups or as a delicious rub for on baked fish prior to baking.   Simply crumble and mix with a bit of oil to a paste, rub on the fish and bake as you wish.  (Nice on a bed of stuffing!)  Knorr Fish cubes contain no artificial preservatives and no added msg.
Knorr products are available near the spice section of most major grocery shops in the UK.  For more information about their products and more recipes do check out their website.