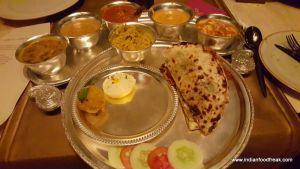 The Holi Kitchen Platter
As I drove towards The Westin, Goregaon, on a Friday night, to review their special Vegetarian Festival featuring Holi Food from four different temple cities of India, I asked myself, why on earth would I want to go to one of the best Indian restaurants in Mumbai, on a Friday night, to try out vegetarian food!
The answer was pretty simple- the short and sweet menu featured some dishes which formed part of my growing years in Agra. Being from UP, I was exposed to a very interesting vegetarian culture during the festive season which was not only pure, but was so delicious that I would compete with my cousins as to who would eat the maximum.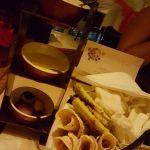 Papadams
I was curious to see how a fine dine restaurant would recreate those dishes and present them in a way worthy of a fine dine.
As we sat down soaking in the wonderful ambiance of Kangan, we went over the special menu which covered dishes from the temple kitchens of Amritsar, Varanasi, Salasar and Shirdi. The menu included dishes like Banarasi Kachori Chaat, Sabudana vada, Mathura ke Bhune Khulley aAloo and Paneer Palak ki Seekh as starters. The Kachori Chaat was delicious and took me back to the alleys of Benares where one would gorge on these dishes. The heady smell of ghee was lacking but was well complemented by the flavours. The Paneer Palak ki Seenkh was a surprise package, as it just melted in the mouth the moment we took a bite.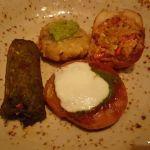 Starters
As we waited for the mains, we noticed an array of Indian sweets at the entrance which the diners are encouraged to dig from. I was fixated at the besan and boondi laddus displayed there and helped myself to one of the boondi laddus.
In some time a very beautiful silver platter was laid before us displaying a fine array of dishes, which consisted of Navratan Kofta, Govind Gatte ki Sabji , Bharleli Vangi , Paneer Kadai and Arhar ki Dal, these were served with Amritsari Kulcha, mixed breads and Pulao. My favorite dishes of this lot were the Govind Gatte ki Sabji, which was creamy, soft and quite decadent and the Navratan Kofta. I must say that each dish on the menu was meticulously prepared retaining their original essence and yet adding elements that would give a fine dine edge to them. Chef Dhavale confessed that it was the first time they were ever using silver dinnerware at the restaurant, I was quite happy that they did as it added a certain class to the whole experience.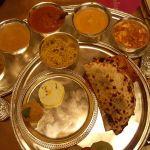 The Holi Kitchen Platter
Some dishes felt straight out of my growing up years in UP and I did relish them with an equal fervour as I would have then, had it been Kangan's amazing biryani or their kebabs. The dessert of Benarasi Ras Madhuri was quite an apt show stopper for this meal.
Chef Dhavale's vision of bringing in Holi Foods and converting them into a meal worthy of a five star must be commended. Right from the purity of the preparations, to the way they were served, every element of the meal spelled class.
As I walked outthat Friday night, I was glad I had come and tried this wonderful endeavor from his kitchen and I thanked God for small mercies and many more to come.
Meal for two: Rs.4500| Alcohol: Yes | Credit Card: Yes | Timings: 12.30 pm am till 1.30 am
Happy Hours : 7.00 pm till 12.00 am | Wheelchair Access : Yes
Address: 18th Floor, The Westin Mumbai Garden City, International Business Park, Oberoi Garden City, Goregaon East, Mumbai
Tel: 02267361830, +91 9004661088
This review was done on an invitation from the restaurant. Due judgment and care has been applied by the author to remain objective and unbiased in the review, but readers need to consider this review keeping this fact in mind.