This dish is known by a lot of names... Namely,
Egg in the basket, bird's nest, bull's eye eggs, egg-in-the-hole,egg in toast, eggs in a frame, eggs in a blanket, frog in a hole, one-eyed monsters, one-eyed jacks, and Humpty Dumpty's Off-the-Wall Toast. I could write a whole article on just the names. (P.S: If you do want me to write one, just drop in a line. And I will.)
I tried it, as an innovation to get my father to eat it. (My Dad hates eating sunny side up). So da-dah!!!!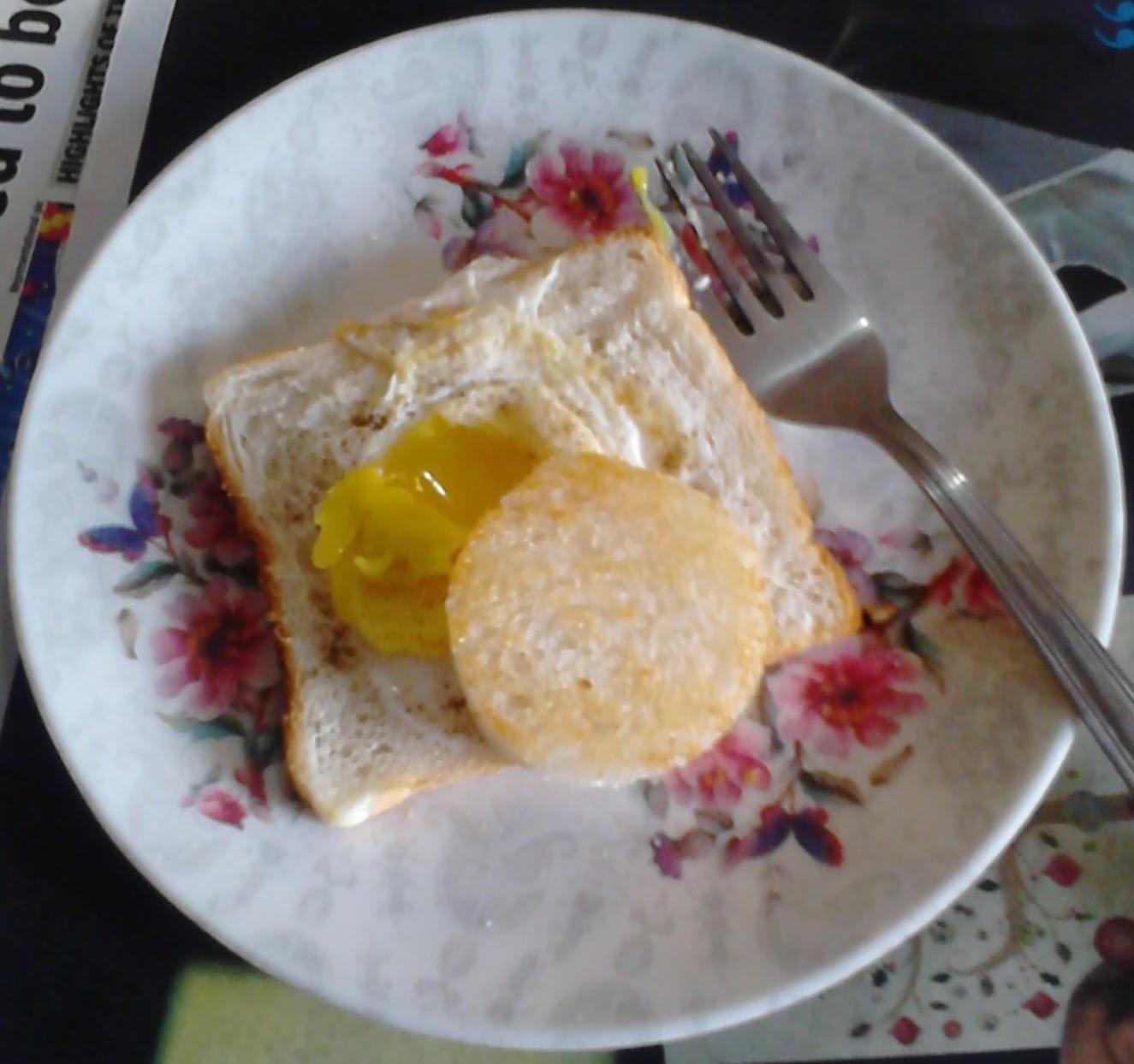 Serves:1
Ingredients1 no. - Egg
1-2 slices - Bread (White or Brown, though Brown is much healthier)
Salt to tasteOil/Butter to cook
Method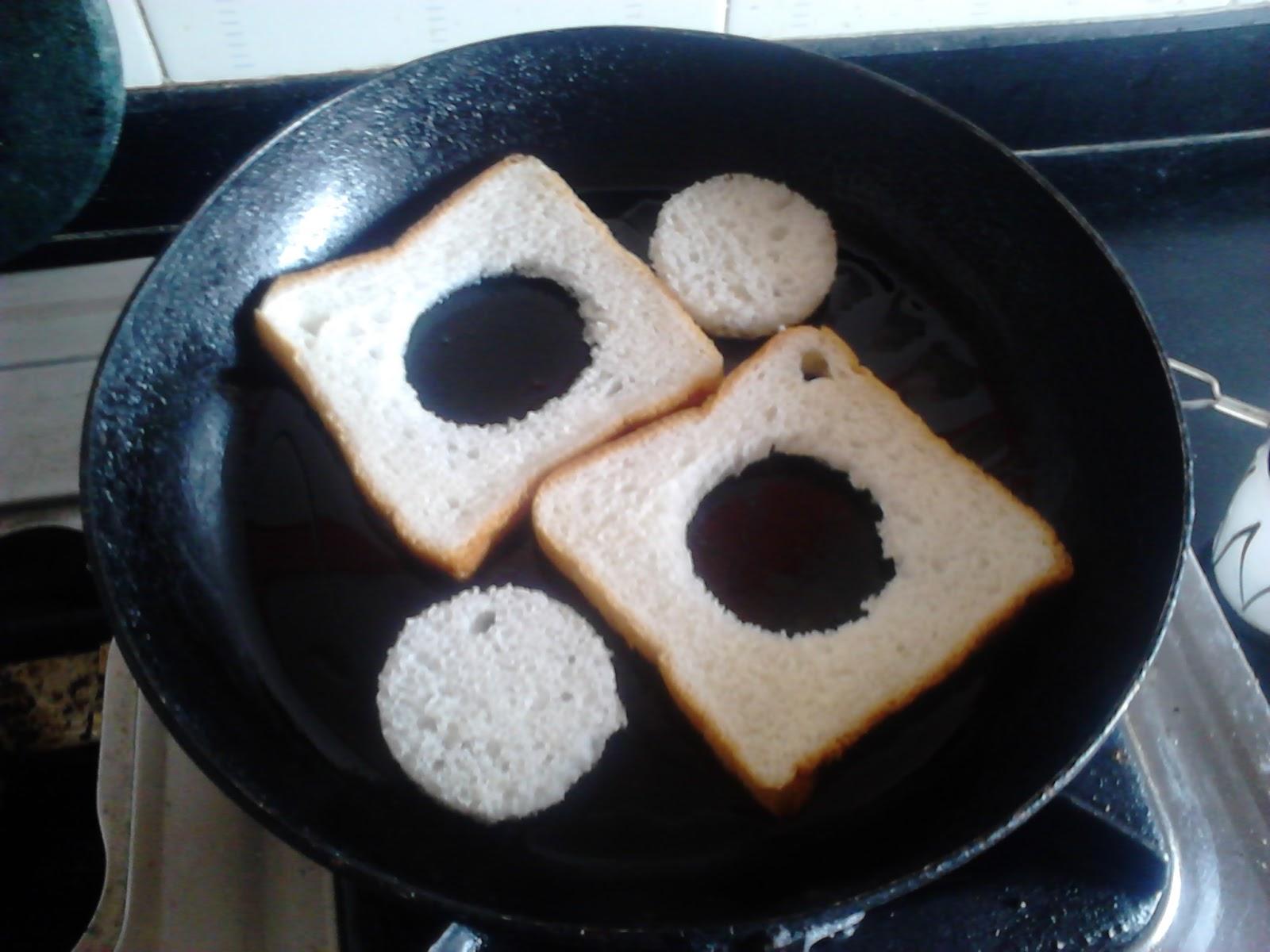 1. Take a slice of bread. And with the help of a round cutter, cut a circle right in the center of the   bread.   2. Now, take a pan and put it on heat. Put some oil/butter and once it melts, put the piece of bread   on it and toast it on 1 side. You can also toast the circular piece of bread (on both sides).   3. While it gets toasted on 1 side, crack an egg in a bowl and keep it ready.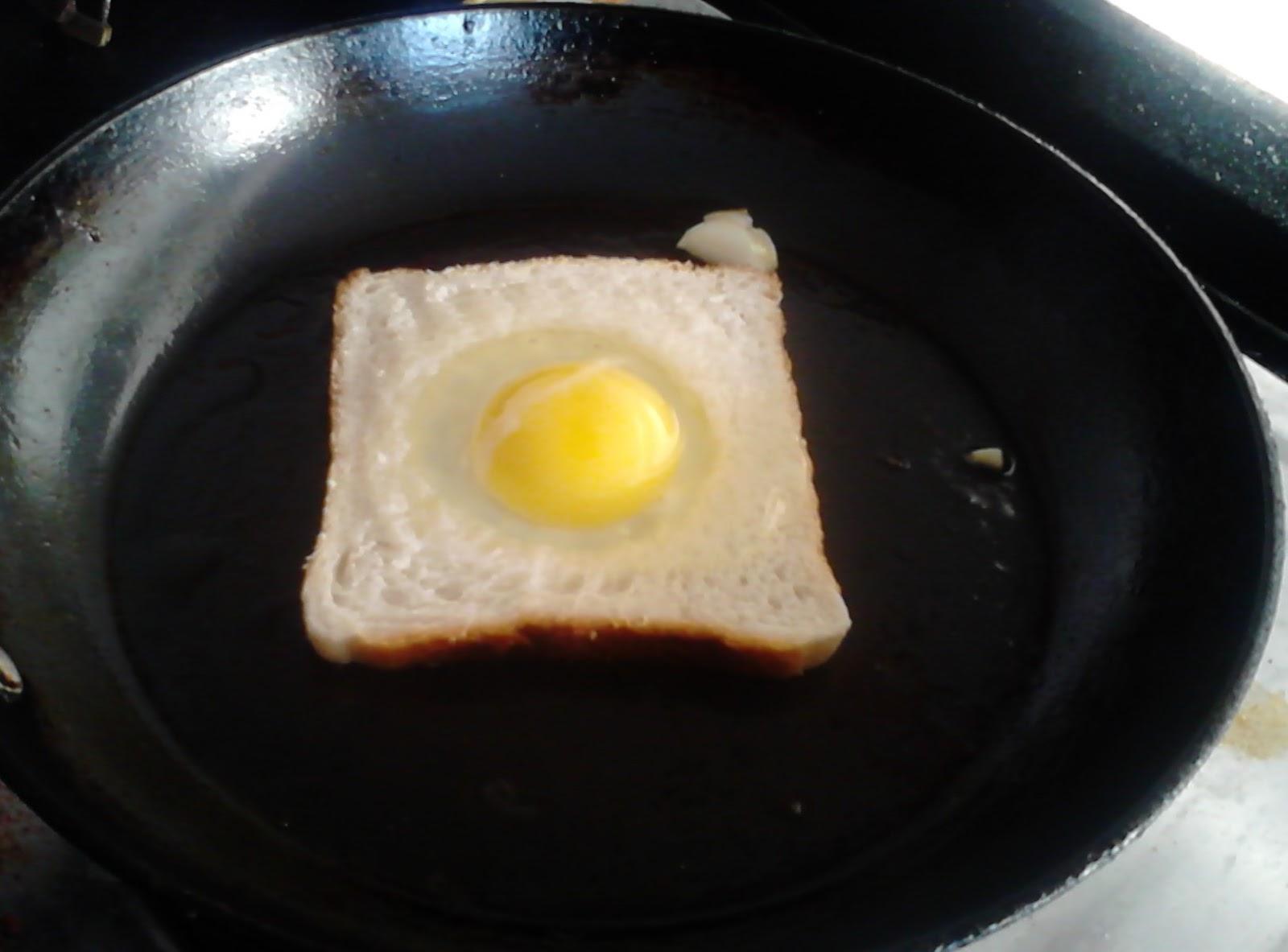 4. Once, 1 side of the bread has been toasted, flip it. Now, put the egg in the hollow space and let it cook till the white of the egg is cooked.   5. Carefully maneuver a nonstick spatula underneath the toast and flip quickly.   6. Once the egg has cooked enough to form a seal on both sides, it's up to you to continue cooking.   7. Remove in a plate. Sprinkle with a pinch of salt and pepper.     Notes:    - Take a bread slice that is big in size, otherwise use 2 small ones (one over the other, you can put butter between them). This keeps the egg in the hole.   - If a cutter is not there, one could use a glass or a bowl to help cut. But do cut a big hole.   - A lot of people like to change the shape of the bread (cut them in piece with a knife) or the shape of the whole. I love the idea. Go ahead and innovate.   - Be careful while flipping the bread with the egg. The chances of the egg yolk breaking is the highest at this point. It is all a matter of timing. I make sure, that the white has set perfectly and then flip it. In case, you do break it, dont fret, let it cook. It will still look good and taste better. With practice you will get it right.   - As long as the toast has not burned, you can continue cooking until the egg yolk becomes firm, or you can serve runny. Personally I prefer it runny because it goes with the toast really well. P.S: Like I always say, if you do try this dish, let me know how it went... Happy Cooking.