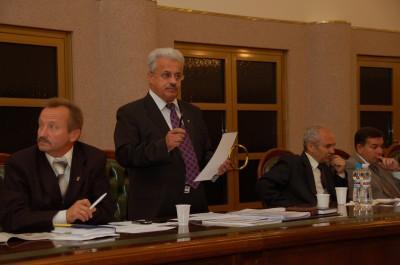 A candidate for a seat in parliament representing Lviv region speaks at a meeting with private-sector representatives.
In a cavernous, ornate hall inside the Palace of Railroad Workers in the western Ukrainian city of Lviv, 10 parliamentary candidates faced off in late September opposite an equal number of local business owners and leaders of business associations. Over the course of three hours, the group grappled with issues of importance to the local business community, ranging from tax rates to economic development initiatives. What emerged was a deep skepticism among businessmen, especially on the parliament's ability to tackle corruption issues, and a written pledge by most of the candidates to adhere to a set of five legislative priorities established by the local business community with CIPE support.
This was a scene repeated across Ukraine in the run-up to October 28 parliamentary elections. In 10 regions, including Lviv, CIPE supported the process as part of a year-long effort to raise the profile of business concerns in the 450-seat parliament.
According to CIPE Ukraine director Nataliya Balandina, an added dividend of the project has been a boost in the standing of the local CIPE partner organizations that organize the candidate forums and pledges. "It is not just the candidates and politicians are learning that small and medium businesses are capable of taking action and spreading information quickly, but it also ordinary citizens who learn about these [business] organizations for the first time and see what they do," says Balandina.
The project has also highlighted the limitations of engaging candidates. In the eastern Ukrainian city of Donetsk, local candidates in single-mandate districts refused to take part in even discussing business issues in a public forum, much less taking a stand. In the central Ukrainian city of Vinnitsa, candidates discussed the issues but declined to make a pledge to pursue entrepreneurs' priorities if elected, a fact CIPE's local partner highlighted at an October 23 press conference.
Balandina applauds this approach, saying "the entrepreneurs have been brave enough to publicize which candidates refuse to attend the events and sign the pledges." For the flavor of the interaction between candidates and business leaders, see this Ukrainian television report, especially at the 1:58 mark.
A crucial next step for CIPE Ukraine and its partners will be to hold winning candidates accountable for their pledges after the new parliament is seated, an often contentious process in Ukraine. In the meantime, in the coming days much of the world will be closely watching how the elections are conducted. At a recent event devoted to the election and the latest survey of Ukrainian opinion on political and social issues, the International Foundation for Electoral Systems offered a preview. As detailed in this report by the Institute of World Policy, the degree to which the elections are free and fair will impact Ukraine's standing internationally, especially in relation to the European Union.