In response to this Tweet from LW's  David    …

"The more we rely on technology to find our way, the less we build up our cognitive maps." German scholar Julia Frankenstein


— London Walks (@londonwalks) March 12, 2014

We really enjoyed this response from London Walker Carri New…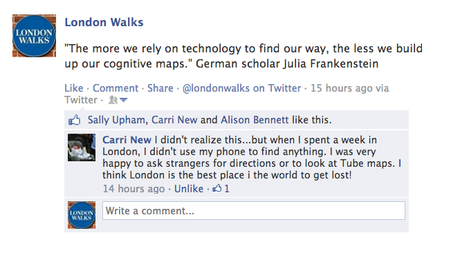 Well said Carri!
A London Walker recently told me that, when she goes out for dinner with a certain group of friends they all put their cell phones face down in the middle of the table – and the first person to touch their phone has to pay the whole bill! Great idea. (Having said that, perhaps you should know: the man who is blogging this walked into a lamp post yesterday while walking the dog because he was checking his step counter on his phone. Naming no names. Let's just say his name begins with an A… and ends in dam.) 
Anyone else? Or are we all addicted to the black mirror now? Leave a comment below…
A London Walk costs £9 – £7 concession. To join a London Walk, simply meet your guide at the designated tube station at the appointed time. Details of all London Walks can be found at www.walks.com.