In this modern era, Virtual Private Network is becoming a need for many people so they can easily work on a private network or access restricted websites with just a few clicks.
But in the VPN market, there are many scams happening. Many VPN providers claim to be the fastest and the best option available. But it isn't the complete truth.
Don't worry here in this post, we have introduced a reliable VPN provider (Hola VPN) that is fast & secure apart from it, pricing is flexible and comes with a FREE plan too.
Curious to know more about Hola VPN?
Great!
In this post, I've featured Hola VPN Review 2020 that includes detailed insights into this amazing VPN provider.
So let's get started here.
Detailed Hola VPN Review 2020: Should You Go For It??
In-depth Hola VPN Review
There are many free VPN services available in the market and Hola VPN is one of them. You should try Hola because it's free. It uses your bandwidth and processing power to route some of it's the traffic which means it makes available your internet connection to others as well. But it also claims that other users won't be able to access your system and data stored in it. It only happens in the free version.
To access as a peer, you need to buy the premium version of Hola but before doing that you should consider other options as well because there are far more better premium VPNs available in the market than Hola.
It claims that it has over 200 million users all over the world. The main working of this VPN to unblock websites.
In its privacy policy, it already mentioned that it keeps track of all your online browsing history which is kind of annoying but what else can you expect from a free version.
It does not focuses on your security because it has a weak SSL encryption and Peer-to-tunneling and because of that, your system will be vulnerable to hacking.
How To Get Started With Hola VPN?
To get started with Hola VPN, you just need to download Hola VPN from the official website and start installing it.
It also shows that the commercial version of the VPN is connected to Luminati service which means it works according to Peer-to-Peer network technology. It claims to be a VPN but the free version of it is just Proxy service.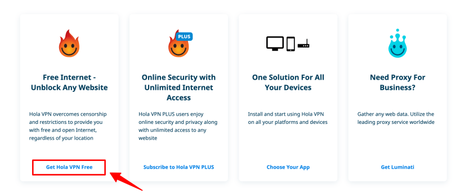 Proxy is not capable to provide you anonymity like a VPN does. You can even hide your IP address only through an installed browser but the rest of the apps will be unprotected.
It also uses your system and network resources which it has already been mentioned on their official website. It claims that it happens only when the device is idle but that's not completely true.
The connection between Hola and Luminati
Ofer Vilenski founded Hola VPN, Hola CDN, and Luminati. Basically, Luminati is not a VPN but instead of that, it sells network to other users.
It harnesses the computing resources to provide extra resources to the business whenever your smartphone, tablet or computer is idle and connected to Hola VPN. Read about Luminati Review here.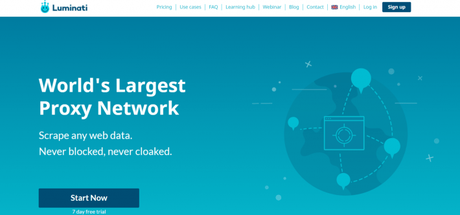 You can get all the information regarding Luminati on the about page of the official website of Hola. The connection between two companies shows that Hola VPN is not safe to use.
Luminati claims that it started working independently from Hola in 2016 but we know that it is not true because the connection is still there and you can see it when you install Hola VPN.
Hola VPN is A Peer-To-Peer Network?
Hola VPN works according to the peer-to-peer network which means others can purchase access to your device which can be really dangerous for you. Luminati legally sells botnets that can be purchased on the dark web only.
It is a kind of robot network. When you're installing Hola VPN then you're also installing a bot on your system.
Hola says that it will use extra resources of your device but it is not clear what kind of resources and for what purpose it will use those resources. Botnets gather IP addresses in a P2P network and that can have a really bad effect on the users of that IP addresses.
There is no claim that Luminati users are criminal but it can be used for cybercrime. There are many vulnerabilities in Hola that can allow many malware to come through that network in your system which can't be good for your system.
It is mentioned in the privacy policy of Hola VPN that it collects the data of users but it also claims that the information will be private and can't be shared with third parties.
But on the internet, you can find many reviews claiming that it has DNS leaks. It is a technique that is used by proxies but you should not trust the VPN reviews on the sites which are on the first page of google.

You should test the VPN yourself first then believe in those reviews because most of them can be fake. But apart from that, the free version of Hola VPN is extremely unhandy and unsafe.
But the premium version has quality security though you can access all the unrestricted websites of your region or country through the free version.
There are few things for Mac OS which Hola offers:
You can download Hola VPN for Mac from the official website.
It does not have any app for Mac. It has only plugin and plugin is only compatible with chrome browser.
You can't use the VPN for other apps.
For every tab it provides individual proxy.
You must open the website before activating the VPN.
It also shows an incorrect display of the locations of regions or countries.
Works on P2P connection with other clients.
Hola VPN for Android and iOS
The features of Hola VPN works better on a mobile device. It provides an app of Hola VPN for Android and iOS. You can use the VPN but you have to enable and disable it every time. On the app, it has its own browser which you can use to gain access to restricted or unrestricted websites.

You can only use Hola on your mobile device for 3 days for free after that you have to pay for it. You have to subscribe to it first before using it and if you don't want to be charged then unsubscribe it before the trial period ends.
Deleting the app before unsubscribing then it'll still charge which means it is your loss if you forget unsubscribing.
The customer support system is only for paid users of this VPN. There will be no support provided to free users. The security is not so good for free users as well. You can contact the support team via email and they will respond to you within a few hours.
This VPN is based on Israel and some of you might think that it is not safe to use and somewhere you guys are right because there is a lot of suspicious activities this VPN does which can deviate a user.
But you can find solutions to queries regarding how to use it or activate it in the tutorial section of the official website.
Pricing Plans Offered By Hola VPN
Hola VPN is free for every user. But to access more features of this VPN you can buy the premium plans. In the premium plans, they provide better security than the free version which is a good thing. There are basically 4 premium plans available for Hola VPN.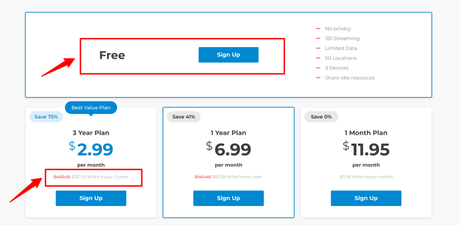 The free version does not give you access to use the VPN on multiple browsers and your IP address will be shared with other users, which is a dangerous thing. It also offers a 30-days money-back guarantee on the yearly plans.
Pros and Cons of Hola VPN
1 Month- This plan is for only one month and you have to pay $11.95 once. But this is not a good option because if you want to use it for more time then you can buy better premium plans with less price.
This plan is for a year and you have to pay1 Year Plan- $6.99/month which is far better than the 1-month plan but once you subscribe to this plan then you won't be able to cancel it before the timing period ends.
This plan is for 2 years and you have to pay 2 Year Plan-$3.99/month which is also great but as I mentioned in the above plan you can't cancel it before the timing period ends.
This plan is for 3 years and you have to pay 3 Year Plan- $2.99/month and the same features you'll get as the above plans.
The free version can be used by any user and it doesn't ask you to subscribe to it before using it.
You can access any restricted website with Hola VPN.
Access Netflix in countries where it can't be accessed.
Customer Reviews | Testimonials
Its SSL encryption is really weak and that can make you vulnerable to hacking.
The connection between Luminati and Hola makes it really suspicious to use it.

Quick Links:
Conclusion: Detailed Hola VPN Review | Should You Go For It??
Look, there are many other VPN Providers in the market, that you can go for. But the prices are quite high and the security and speed offered by them are quite low and disappointing. But Hola VPN, as a FREE option offers much value than other VPN providers.
Even the best part is that, if you're opting for a FREE VPN then consider starting Hola, as it also comes with Chrome Extension that you can use with your Chrome Bowser. Also, they offer Android as well as iOS Apps.
A word of caution, free VPN doesn't offer that much anonymity and security compared to the paid VPNs. So consider choosing the paid plans.
We hope this post, suits your purpose well. Feel free to share this post on all trending social media platforms like Facebook, Twitter and LinkedIn.