Recently, there's been news of a Harry Potter themed bar and restaurant in TORONTO called The Lockhart.
So a bunch of us tried to pay this spot a visit earlier this month.
Which meant…I needed an outfit to pay homage to the series.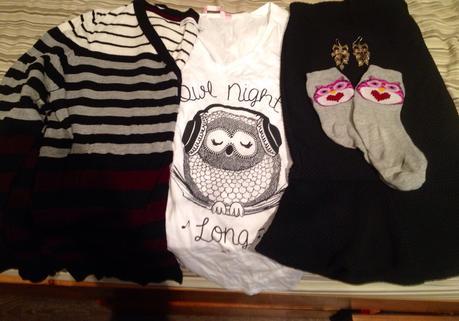 I rounded up all the pieces I had with OWLS on it…complete with tee, socks and earrings.
And here's what I came up with: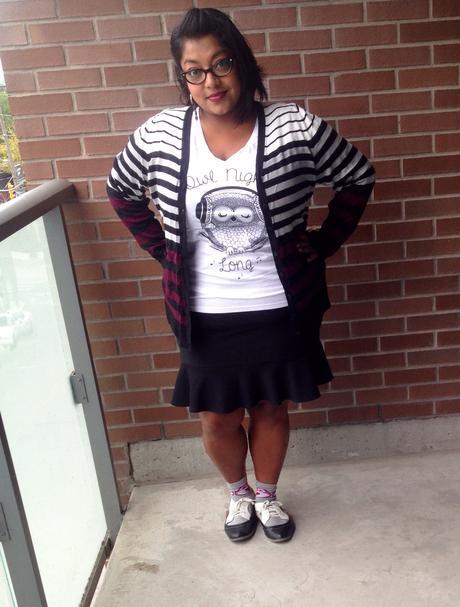 How I Got The Look: Striped sweater & skirt, Reitmans (click here for other looks); Owl-Night-Long tee, La Vie En Rose; Owl socks, Ardene; Shoes, Winners
For some reason my iPhone self-timer was not cooperating …and my iPhone case kept causing the phone to fall over mid-picture taking.
So here's a series of 'oops', while I tried to showcase my outfit for ya :)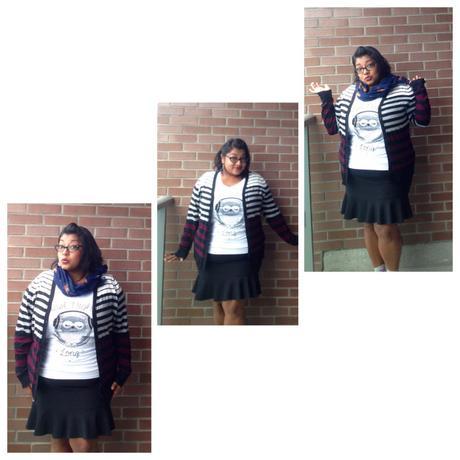 It was a perfect night to be sans jacket … so instead I just grabbed this foxy scarf I picked up on sale at Suzy Shier many moons ago, instead…to add some warmth if needed.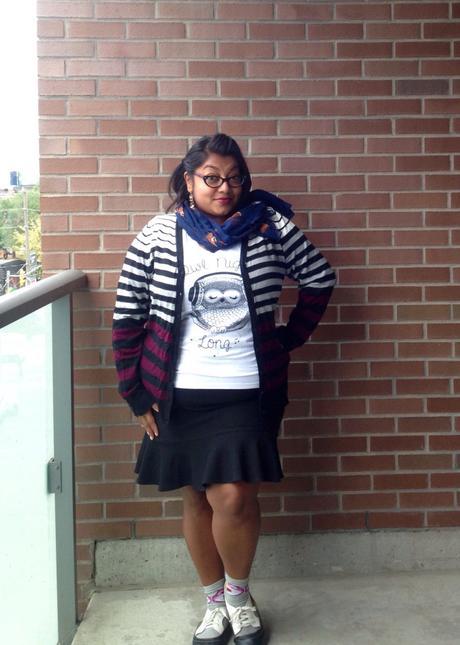 And now… for THE LOCKHART!
The below picture is as close as I got to experience Hogwarts in Toronto.  The line up was crazy!  And after an hour of waiting … we gave up for libations elsewhere.
But I was definitely curious about what I missed … so here's a bit of research I found for your reading pleasure:
7 Things To Know Before You Go to the Lockhart, the Harry Potter Theme Bar Everyone's Talking About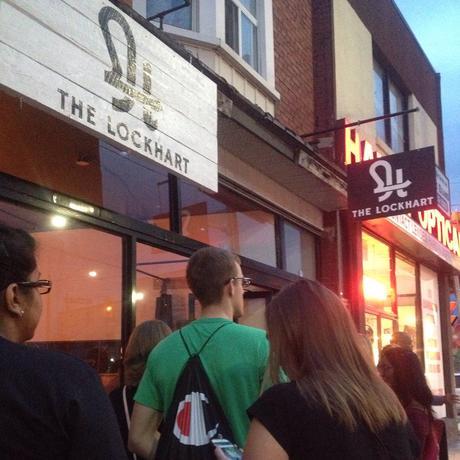 After AN HOUR standing in this line…this was as close to The Lockhart we could get. We decided to quit waiting as soon as a few of us felt rain drops on our heads.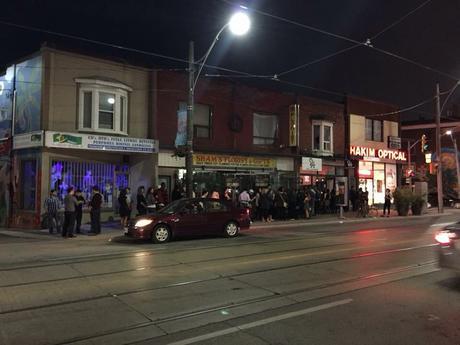 THIS was the ridiculous lineup for Lockhart…an entire city block. Guess this city houses way more Harry Potter nerdy fans than we thought :)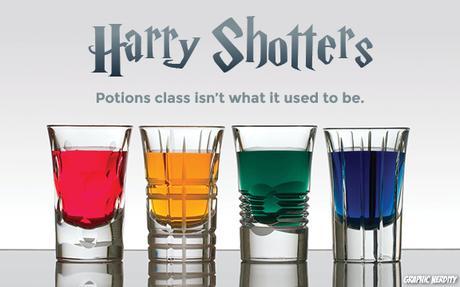 Unfortunately, we never did get a seat at The Lockhart that night. Nor have we made our way back again.
That's okay because these Harry Potter-themed shooters from Graphic Nerdity can help fill the void in your very own home. ;)
Enjoy friends!
Have you LIKE'd the Petite Plus, Meow's Facebook Page yet?
LIKE. Comment. Share.