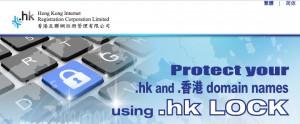 The Hong Kong Internet Registration Corporation Limited, rolled out a new product for registrants of .hk domains (Hong Kong). It looks like the pricing for the service will be HK$2,000 a year or approximately $258 per domain.
HKIRC Launches .hk LOCK
Better protection for .hk websites as the Internet becomes less secure
HONG KONG, 15 January 2014
– Hong Kong Internet Registration Corporation Limited (HKIRC) today announced the launch of .hk LOCK, a new security measure for .hk domain name owners. Through the service, .hk domain name owners will have the ability to lock their domain name server (DNS) records and prevent any unauthorised changes. By offering this service, HKIRC aims to deliver an additional layer of security for .hk domain names to make .hk websites safer, contributing to a more secure and trusted place for online business.
Rising cyber security threats pose challenges to every organisation. A recent spate of high profile international incidents involving unauthorised access to domain name records has drawn attention to big names like The New York Times, Google and Yahoo. Visitors to the affected sites were redirected to various fraudulent websites. These have highlighted the need for additional security measures at the DNS level.
Attacks from the outside are not the only threat to the security of the DNS. In some instances employees made errors to domain name records unintentionally, opening the website up to the same harmful effects that come from cyber-attacks. Unexpected changes of domain name records, whether made inside or outside the organisation, may result in the loss of confidential information, impacting the business and ruining a brand's reputation.
"MarkMonitor applauds HKIRC for adding registry lock functionality with .hk LOCK, an important protection that benefits the entire Internet community by increasing the security of the .hk namespace. As a registrar charged with safeguarding the domain name portfolios for some of the world's largest global brands and most-trafficked Internet properties, MarkMonitor has continually recommended this Best Practice to all registry operators for implementation as an additional safeguard available to domain name owners." said Matt Serlin, Vice President of Domain Management of MarkMonitor Inc.
"A domain name is the digital asset that represents a company online. Protecting domain names should be a key priority for any company, especially for high traffic websites and large corporations, where the domain name is a critical part of their business. The .hk LOCK is an essential tool to manage the potential risks and better secure business in an unsecured world.…