One of the dessert that I NEVER missed when I am in HongKong is HK Steam egg custard 鮮奶燉蛋. 
This dessert is extremely easy to prepare and so far, in Singapore, I can't find a good one in dessert shop.
Looking at my tray of eggs and wondering what I can made out of it, it hits me that I never blog about it before.
I quickly made a batch so that later on, my little one can have it as her supper after training.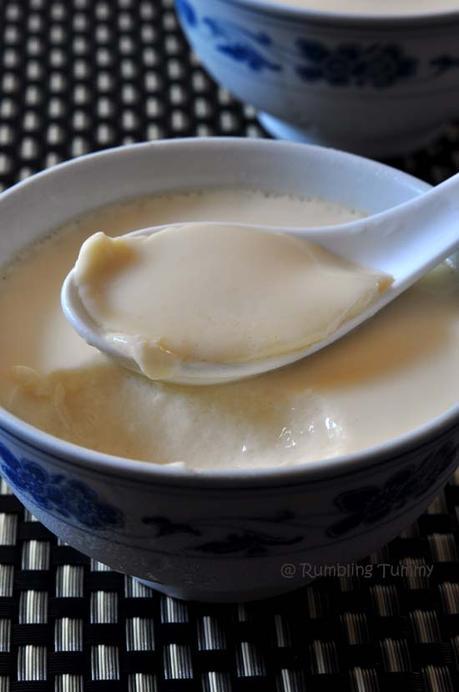 What you need:
serve 4
4 eggs (Grade A)
500ml fresh milk
100g rock sugar
110g water
Method:
In a pot, dissolved rock sugar with water.   
Add in fresh milk and set aside to cool.
Whisk eggs with chopstick, do not over beat.
Pour in the milk mixture, mix well and strain.
Pour into serving cups and remove any bubbles with a spoon.
Cover either with a plate, clingwrap or aluminum foil.
Steam on medium high heat for 12 mins.   (Lift lid every 4 mins intervals)
Either serve hot or cold.
If you have enjoyed this post by
Rumbling Tummy
, be sure to follow this Rumbling Tummy on
Facebook
, Instagram, Pinterest, Twitter and
Google+
.