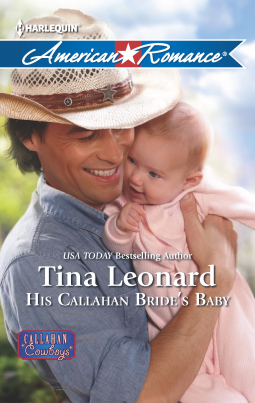 Title His Callahan Bride's Baby

Author Tina Leonard

Publisher Harlequin

ISBN 9781554514793

Pub Date April 2, 2013

Category Fiction,Adult, Romance
Summary:
 His Callahan Bride's Baby
"Marry Me, Taylor."
Those aren't the three little words Taylor Waters longs to hear from her crush, Falcon Chacon Callahan. The whole town knows the soldier-turned-rancher just needs a bride in order to inherit the coveted spread north of Rancho Diablo. Taylor wants more-even if Falcon is the hottest cowboy this side of the New Mexico border, which he proves one crazy, passionate night!
Family has always come first for Falcon, so when he finds out Taylor is pregnant with his baby, he declares a brand-new mission: to stand and fight for what's his. It will take maneuvering through some dangerous situations-and that legendary Callahan charm-to make Diablo's best girl fall in love with him. But to have his ranch at stake is one thing…what about his heart?
My Thoughts:
I thought that this was an alright book, I probably would have liked it more if I had read more of the  other 10 books in this Callahan Cowboy series. At times I just felt like there was more to the dialog that what was said, that it was referring to things in the past books. Other than that Taylor and Falcon are likable characters, both have good qualities that the other does not immediately see. So seeing them get to know each other after Falcon blurts out his marriage proposal made for an interesting read. If you have read at least some of the earlier books in this series, then I am sure that you will find a lot more enjoyment out of this book. Otherwise you will probably be like me and enjoy the story but still feel like something is missing.
Over All Rating: 3/5 Stars
Disclosure: This book was provided to me by the publisher via NetGalley. The rating, review, and all opinions are my own