Friday, May 9, 2014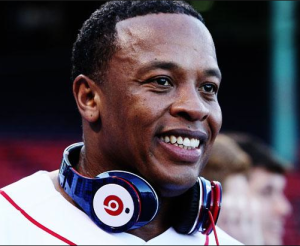 The Forbes List May Need To Do Some Updating Because Dr.Dre Is Now The Richest Man In Hip Hop . He Came In At # 2 This Year With A Net Worth Of $550 Million While Diddy Came In At $700 Million But Oh What A Difference A Day Makes .
The Financial Times Reported Thursday Afternoon That Dr .Dre's Company 'Beats By Dre' Is Being Purchased By Apple In The Excess Of 3 BILLIOn Dollars Making It Apples Biggest Acquisition EVER ! . Not Bad For A Man From Compton California Huh ? .
The High End Headphone Company Was Founded In 2008 By The Rapper/Producer And His Business Partener Jimmy Iovine . Recently The Company Also Launced A Streaming Music Service Much Like Pandora But With A Broader Selection Of Music And Features , Which May Have Made Beats By Dre That Much More Appealing to Apple .This Acquisition Is Actually Surprisingly Large For This Comapny ,Being That Apple Hasn't Purchased Anything Above A Billion Dollars In the Past Four Years Which Means Dr.Dre Has Superseded Every Company That Came Before Him And Likely Any Companies In The Future .
Congratulations To Apple And Most Importantly To Dr.Dre . #Motivation