What is it about hinges on doors and cupboards that attracts little hands?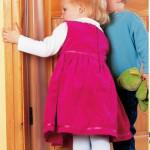 Little ones are forever putting their fingers in the hinges side of the door, or cupboard, often experiencing the pain of a finger injury.  Statistics show that more children are injured by the hinge side of the door than the handle side.
The Raising Children Network/the Australian parenting site suggests the following ways to prevent or reduce the incidence of finger injuries around your home.
Check that your child's hands are well out of the way before opening and closing doors, including car doors.
Check that your child's fingers aren't in the way before closing windows in the car.
Teach your child not to slam doors, and to not play around them. (Child finger injuries often involve another person, especially another child – for example, playing with an older sibling and trying to close the door on one another, resulting in a finger being jammed in the door.)

Teach your child to keep his or her fingers away from the hinges side of doors.

Protect your child's fingers by using a door guard. You can find out about these at child-safety centers at children's hospitals and your local hardware store.
Use doorstops to hold doors open and prevent them from slamming shut. Doorstops and weighted closing systems help stop doors from slamming suddenly.
Place a hook-and-eye latch high on doors, and/or a wedge under doors to prevent them from closing.
Drape a towel over the top of doors to keep them ajar.
Use a semi-circular foam mold to help prevent finger jams on the handle side of the door. This cheap guard is a U-shaped, soft, flexible piece of foam that clips onto the edge of the door, preventing it from fully closing.

Install Finger protection strips prevent children from putting their fingers in the hinges side of a door jam.They don't affect the appearance of your home, are easily installed and don't alter the function of your doors. There are two sizes available: small (200 mm wide, for doors that open 90 degrees) and large (250 mm wide, for doors that open 180 degrees). You can also ask about putting them in place at your child's kindergarten, day care or school/classroom.