A motorcycle (from MacArthur's Place to the highway, 10 mins, Php20), a bus (San Agustin highway to Barobo terminal, 1 hour, Php40), a van (Barobo terminal to Hinatuan, 50 mins, Php40), and a total of 71 kilometers, we arrived in Hinatuan in the dark (it would grow darker after an hour when the electricity in the town goes out—brownout).
We were to visit the Enchanted River, about 15 kilometers from Hinatuan town proper, on the morrow. Arnel [0909 931 8570] would pick us up at 7AM on his motorcycle (Php 300/2 pax/roundtrip).
Day 3. Arriving just before 8AM, we were the first guests at Enchanted River (open from 6AM to 5PM; entrance fee of Php 30). I am glad we got there early; I do not like crowds. But I am not glad we got there early; the water wasn't as clear as I had seen it in pictures. One of the workers said when the tides go out (it was high tide that morning), that's when the river becomes very clear.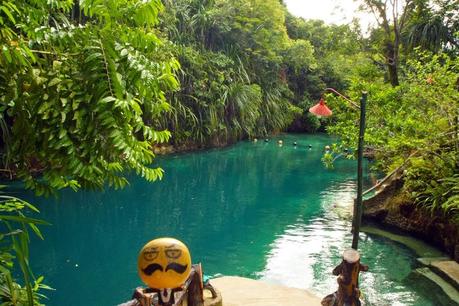 Le Rivière Enchanté. An attempt to make it sound captivating.
In my mind, I was expecting the river to be huge, but it wasn't. It was very deep though. I am a very bad swimmer, and a life jacket is in order (rented at Php15 an hour).
Activities at Enchanted River:♦ swimming — changing rooms are available. ♦ boating — outrigger boats (up to 4 pax) can be rented for Php160 an hour. The boatman can take you to Sibadan fish cage, a cave, and one or two resorts. Each of those places would charge an entrance fee.♦ diving — if you wanna check how deep this river is. I remember seeing a tarp about diving but I don't remember how much it costs.♦ picnicking — tables and chairs or cottages can be rented for Php100 to Php200. They also have an area for grilling.♦ observing the fish frenzy — all humans must be out of the water from noon to 1PM for the fish feeding. Fish have lunch too.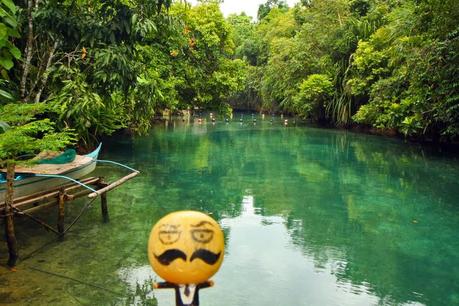 The night before we visited Enchanted River, we stayed at James Pensionne in Hinatuan proper. It was one of the pension houses the lady I was sitting beside in the van suggested. The other one she suggested was full and we took whatever was available at James Pensionne: single fan rooms for Php250 a night (other room types were already booked). These single rooms share a common toilet and bath (separate for men and women) at the end of the hall. I am not certain if the bigger rooms have its own toilet and bath.
James PensionneSullano Compound, Brgy Aquino, Hinatuan0910 619 5112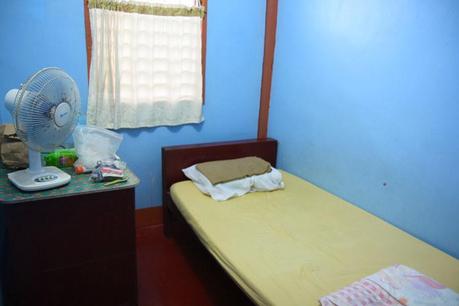 A warning: I am not sure if the bed bugs attacked in this place or somewhere else, but I can tell you I got 12 nasty bites at the end of this 6–day trip.


Butt–rosying Route:


A Beauty T(r)ip
In the Beginning: Cagwait, Surigao del Sur
The Quickest Island Hopping Ever
Hinatuan's Enchanted River (you're here!)
(more soon!)