Hi everyone,
If you are a fan of long lustrous healthy hair then read on =) I have an oily scalp with rough and dry hair which look rather frizzy and unruly so this means I am a huge fan of hair packs be it the home made ones or the store bought readymade ones.
Today, I will be reviewing one of my favorite protein hair packs which actually works. This one comes from Himalaya Herbals, which is a very well known brand in the Indian market for its good products.
I purchased this mask a few months ago from an online website, since the hair section is the first thing that I browse on any website, this one caught my eyes. I was impressed with it for a few reasons like the brand, ingredients and the price, so without wasting any time I purchased it.

Lets start with the review-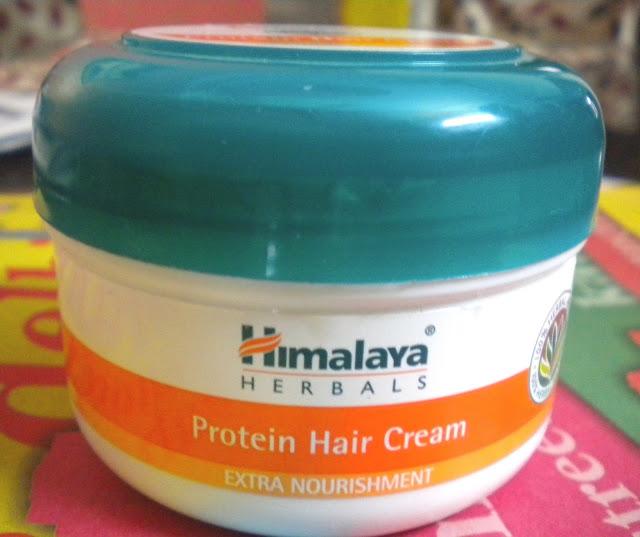 Product: Himalaya Protein Hair Cream 
Quantity: 175ml
Price:100 Rupees
Shelf Life: 3 years
What the product claims-
It's a unique herbal formulation with extra nourishment of natural proteins derived from Chickpea and Wheatgerm. Enriched with Eclipta and Amla that promotes hair growth.
Natural Proteins  | Extra Nourishment  | Stronger Roots
Ingredient List
1. ChickPea : is a rich source of natural protein
2. Wheatgerm :  is a Good source of protein & vitamin E
3. Amla : is an anti-oxidant & hair growth promoter
Amalaki 6mg, Chanaka 6mg, Ghodhuma 4mg, Bhringaraja 4mg.
Inactives: Methylparaben, Propylparaben
Directions
Use daily before and after hair wash. Massage gently on scalp and hair leaving it before an hour before shampooing. Apply to damp hair after every wash for all day extra nourished and stronger hair.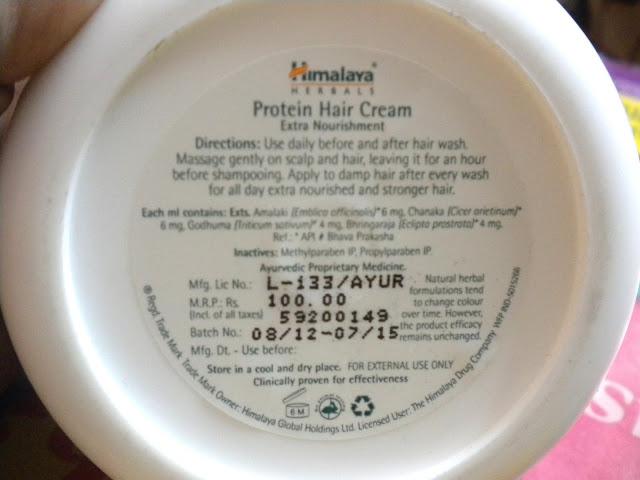 Packaging
It comes in a sturdy plastic white tub with a screw cap in green color. The mask comes sealed with a silver plastic shield in the tub. The packaging is quiet strong and the cap is tight enough avoiding any spillage while traveling.
Texture and Fragrance
It's a thick white cream, it reminds me of the ponds winter cream even the fragrance is somewhat same as the ponds cream. It has a smooth texture and the right consistency which spreads evenly throughout the hair and scalp. It a non greasy hair mask which makes it easier to wash.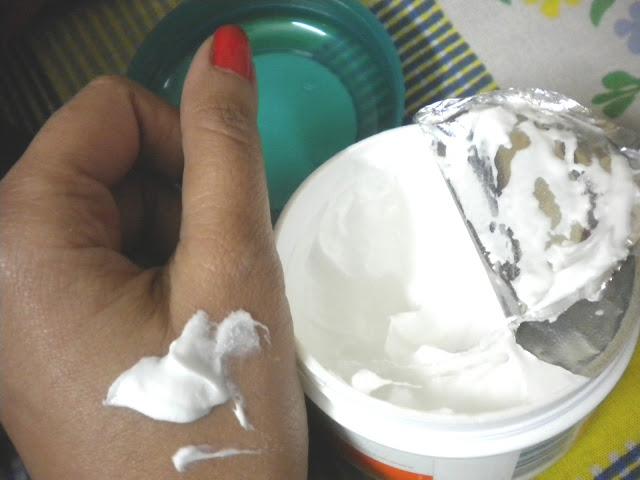 My take on the mask-
I have been using it since 2 months now; I use it every alternate week or at times when I don't have time to oil my hair. I find it extremely easy to use, usually I just damp my hair with a spray bottle and apply it evenly including the roots and leave it on for an hour before shampooing. The fragrance is a bit strong for my nose since it lingers on till the time the mask doesn't gets washed but I don't mind it or maybe I have just got used to it now =).
Since I have rough and frizzy hair, it does make my hair very soft and noticeably lustrous. I have noticed less hair fall too whenever I use it. I skip the hair serum whenever I use this mask that's how nourishing it is!!
My tips on using it –
1. Take out the desired quantity in a separate bowl with a spoon instead of putting your fingers in the tub every time. 
2. You can mix one egg with 1 tablespoon of this mask, it makes a great hair mask and gives an unbelievable volume to hair. 
3. You can mix it in your henna pack for added nourishment.
The YAYS-
1. It contains good herbal ingredients.
2. Makes the hair extremely soft and also gives volume.
3. Spreads easily and non greasy.
4. Easy to wash off.
5. Travel friendly.
6. Affordable
7. Long shelf life
8. Considerably less hair fall.
The NAYS-
1. As mentioned, it cannot be used after wash as a leave in conditioner. It weighs the hair down.
2. It contains a small quantity of parabens, so it's not completely herbal
3. No spatula to take out the desired quantity and using fingers is unhygienic.
Overall it's an excellent hair mask which not only strengthens the hair but also makes the hair super soft and lustrous at such an affordable price!
xoxo
Jasmine