naipung%20/%20Shutterstock.com">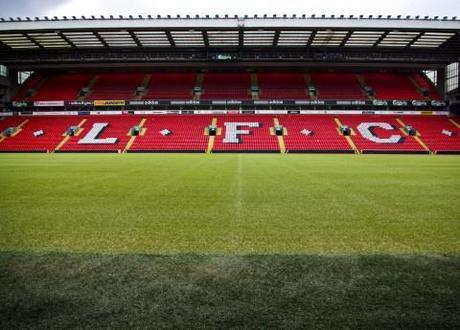 Liverpool Football Club. naipung / Shutterstock.com
The background
A report examining the Hillsborough disaster at the FA Cup semi-final in Sheffield in 1989, when 96 fans were crushed to death, found that authorities failed the victims, and tried to put the blame onto football supporters. Prime Minister David Cameron has apologised, fully and unequivocally, to the victims' families, and to those that survived.
The Hillsborough Independent Panel found that 41 of the dead could have survived if they'd had proper care. The authorities reacted too slowly; hundreds of statements by police officers were altered by South Yorkshire Police; only one ambulance was allowed onto the pitch. More than 450,000 pages of documents were examined by the panel, showing that police took alcohol samples from the dead, and tried to smear their reputations. Families applauded as the findings were read out: some of those dead had "reversible asphyxia", whilst the club had hosted the match without meeting minimum safety standards. Previously, the official viewpoint was that everybody was already dead by 3.15pm; this has now been shown to be arbitrary, and that many were still alive after this point. Ultimately, the disaster was "foreseeable."
Meanwhile, The Sun has apologised for carrying false reports after the tragedy, including claims that some Liverpool fans urinated on police officers, or had stolen from the dead. Commentators are welcoming the findings and their exposure of a huge official cover up, and look towards prosecution of those responsible.
"The truth is out today, justice starts tomorrow," said Trevor Hicks of the Hillsborough Families Support Group, quoted on The Independent.
A great day for Liverpool
Alan Hansen, who was a player at Hillsborough, said on The Telegraph it was "impossible not to feel emotional." What the report meant to the families was "clear … tears do come to your eyes when you sense their renewed vigour and hope balanced by the enduring feelings of loss, pain, and, no doubt, fury." The families thought the British establishment had failed them, but they carried on. This was "a great day for Liverpool as a city and football club."
No closure till guilty are arraigned
James Lawson, who watched the disaster, said in The Belfast Telegraph that there was a time when he thought "the raw anger that was locked into the families of the victims" "would never go away." You can't "move on when you know you will never be able to calm the rage inside you." The apology isn't "closure", because that won't happen "until the guilty are arraigned." What drove the fury was "the appalling sense that the meaning of their relatives' lives had been so easily brushed aside by an uncaring establishment." Now the air is "that much clearer."
Let's hope it leads to greater openness
The Hillsborough disaster, said Tim Newburn on The Guardian, "changed British football for ever," leading to football stadiums being overhauled. We should now "change our view of football fans … No longer should it be possible for the specter of hooliganism" to attach to them. Those rumours on "innocent people" can be seen as "dreadful slurs" once and for all. Now that these documents have been released, justice can be done – and if it "leads to greater openness in some other corners of public life, then that would indeed be a fine legacy."