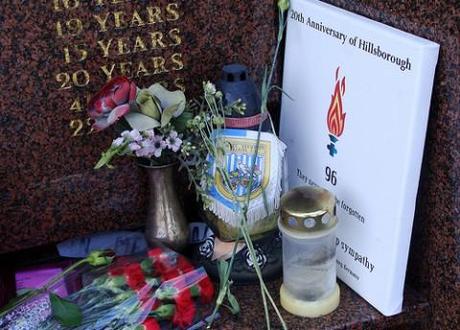 Hillsborough, twentieth anniversary. Photo credit: Ben Sutherland, http://flic.kr/p/6wR7kb
Home Secretary Theresa May has pledged to release all government documents relating to the 1989 Hillsborough disaster following an emotional parliamentary debate. Ninety-six Liverpool fans were killed in a crush at the Hillsborough stadium, and campaigners have long accused the government of a cover-up relating to the handling of the tragedy.
E-petition. The parliamentary debate came after 140,000 people signed an online petition calling for full disclosure. The documents will be handed over to The Hillsborough Independent Panel. Footballer Joey Barton and Liverpool manager Kenny Dalgleish, who had supported the e-petition, took to Twitter to thank everyone who signed.
Long time coming. An Independent editorial criticised the fact that it has taken 22 years for the documents to be made public and for the tragedy to be debated in parliament, and suggested that the delay was due to "a catalogue of ineptitude, mismanagement and mendacity" by the British Establishment at the time.
Police failures. The Independent also slammed the behaviour of the police both during and after Hillsborough: "In the weeks that followed senior policemen began asking ordinary officers to doctor their notes to delete embarrassing evidence of official shortcomings."
Government involvement. Writing on The Guardian's Comment is Free, David Conn pointed out that Hillsborough campaigners suspect then-Prime Minister Margaret Thatcher and her government supported the actions of the police, which is why the release of the government papers, including Cabinet briefings, is so important.
Public misled. Conn also argued that the families of those who died at Hillsborough have had to contend with public misconceptions: "It has also taken this long for the families' cause to be understood by the public, who were largely taken in by false stories of drunken and ticketless fans, on to whom the South Yorkshire police sought to deflect blame from their own negligence," he wrote.

Closure. A Liverpool Echo editorial suggested that "there can only be closure" for the families once the truth of the Hillsborough disaster is made public.
More on this story

Hillsborough disaster cover-up?
E-petition scheme launched
E-petitions: Good idea badly done?