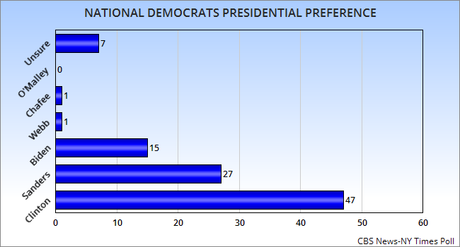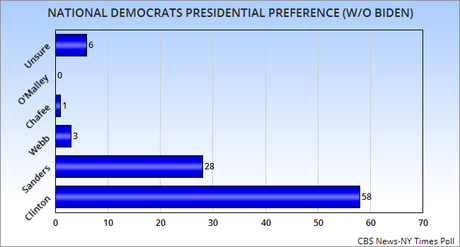 The mainstream media is doing a poor job of covering this election in my opinion. They want both parties to have a close primary election -- because a close election gives them more viewers, and then they can sell more lucrative advertisements. And to promote the illusion of a close election among Democrats, they include non-candidate Joe Biden in all their polls -- and take every opportunity to bash the leading candidate, Hillary Clinton. A prime example of this is their continuing coverage of the e-mail "scandal" (even though it has been clearly shown that Clinton did nothing wrong, and broke no law or regulation).
Their continuing story is that Hillary Clinton is in "trouble". Well, if she's in trouble, then every other candidate in both parties would love to be in that much trouble. She continues to maintain a large lead over all the other Democratic candidates.
These charts are made from information in the latest CBS News / New York Times Poll -- done between September 9th and 15th of a random national sample of 351 Democratic voters, with a margin of error of 6 points.
Note that Clinton has a 20 point lead over Sanders (47% to 27%) -- and that's with non-candidate Joe Biden included in the poll. If you take Biden out of the equation, it gets even better for Clinton -- giving her a 30 point lead over Sanders (58% to 28%). Those aren't troubling numbers for Clinton. Those are great numbers.
And when you look at the poll's demographic breakdown (chart below), it still looks very good for Clinton. While she has a small lead among men (within the margin of error), she has a 34 point lead among women -- and women outvote men in our elections.In the 18 to 49 group, Clinton and Sanders split the vote, but Clinton carries a huge 35 point lead over Sanders on the 50 & over group. And while Sanders has a 5 point lead among liberals (within the margin of error), Clinton has a 29 point lead among moderates.
Hillary Clinton is NOT in trouble -- and she is the clear favorite for the Democratic nomination.