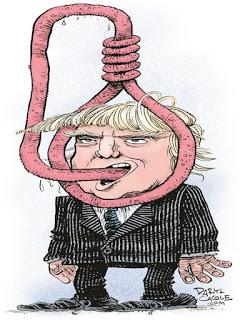 The cartoon at the left (by Daryl Cagle at caglecartoons.com) sums up how I felt the third and final presidential debate went last night. Hillary Clinton did well, but Donald Trump once again damaged his own cause instead of helping it.
I heard many pundits say he did well on the first question about the Supreme Court. I disagree. It was one of the few questions he answered, but his answer will not sit well with a majority of voters. He said he would nominate justices that would overturn Roe vs. Wade. That may be popular with right-wing evangelicals, a group he was already winning, but those people don't make up anywhere near a majority of voters. Poll after poll has shown that a clear and substantial majority of Americans do NOT want Roe vs Wade overturned. This did not help him to reach out to new voters.
After that, his tongue got him into trouble again. He refused to answer many questions -- like how he would fix Social Security and Medicare, would he send ground troops into Iraq, and refused to admit Russia is interfering ing our election. Instead, he just dished out a pretty meaningless word salad interspersed with attacks on Clinton.
That would have been bad enough, but then he created a giant gaffe by refusing to say he would accept the results of the election. That calls into question our whole electoral system, and this will follow him all the way to election day.
I'm not alone in this view either. CNN once again performed a poll right after the debate, and the poll respondents said Clinton beat Trump in this debate (52% to 39%).
I do think Clinton did well in the debate, and was the winner. But I also believe much of the loss for Trump can once again be attributed to self-inflicted wounds. He simply cannot control himself.