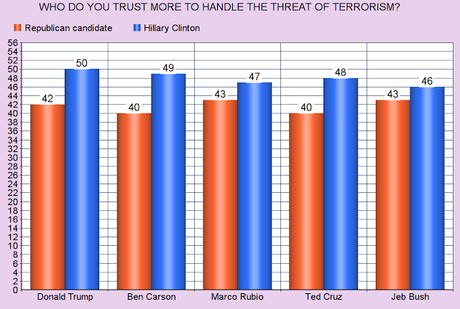 I thought this chart was interesting. It was made from information in the new ABC News / Washington Post Poll -- done between November 16th and 19th of a random national sample of 1,004 adults, with a margin of error of 3.5 points.
The Republicans have tried very hard to scare Americans about terrorism (and have been successful in convincing a majority that we shouldn't accept muslim refugees into this country). They think this is an issue that favors them -- but that might not be true.
Note that the public trusts Hillary Clinton to handle the threat of terrorism over any of the five leading GOP candidates. And strangely enough, the candidate that comes the closest to Clinton is the one with the least chance of getting the Republican nomination -- Jeb Bush.