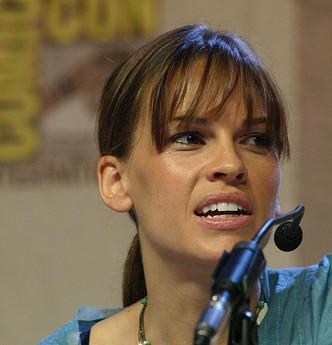 Hilary Swank: Apologetic. Photocredit: http://www.flickr.com/photos/newtosandiego/502814071/sizes/m/in/photostream/
Why do the rich and famous love hanging out with dictators? (Um, is it the money and the power? Who knows.) Hilary Swank, the actress, has apologised. For why, you might ask – well, it seems she's been having a knees up with one Ramzan Kadyrov to celebrate the latter's 35th birthday (35? yes, 35. He's achieved a lot in his time). According to The Daily Beast, Swank attended in a "pink, open-shouldered dress" – and this in a country where women can't enter "state buildings without covering their hair in hijabs."
"Specifically, she was advised that the project was instrumental in the creation of jobs and other opportunities for the people of Chechnya. Ms. Swank very much wanted to attend to be a proponent of those things and, most importantly, she wanted be an advocate for peace in Chechnya," said Swank's statement, quoted by Tim Kenneally on The Wrap.
Who is this Kadyrov, I see you ask – well, he is the Chechen president who stands accused of various evils, including torture, abductions and executions. Over-muscled hunk Jean-Claude Van Damme was also there, as well as smooth-voiced soul singer Seal (yes, he's still around) and, perhaps more surprisingly, violinist Vannesa Mae. The party was, according to The Wrap (and quoted on Reuters), launching a "residential and commercial complex" in the capital of Chechny, Grozny City, which is perhaps why Swank claims that Kadyrov's birthday wasn't mentioned on the invite.
"Hilary Swank obviously has the right to earn a living entertaining the highest bidder, but this sort of venality should be exposed—especially after claiming she was not going. Would she have accepted an invitation to entertain Pinochet? Al-Qaeda? The apartheid government in Pretoria?" said Human Rights Foundation president Thor Halvorssen, quoted on The Wrap.
We take a look at those celebrities who've perhaps erred a little in their judgement over the years. Perhaps the only dictator (if he can be called that) missing is Osama bin Laden – although maybe one day a video will surface of Katy Perry performing in his compound. We can but dream (although looking at this list it's more likely to be Naomi Campbell.)
1. Naomi Campbell and Charles Taylor.
In 2010 the model was accused of receiving "blood diamonds" from Charles Taylor, the ex-president of Liberia, after a dinner in 1997. The diamonds were said to have been traded with Sierra Leone for weapons: tens of thousands died in the conflicts between the countries. It was said at the time that the supermodel's presence at the trial overshadowed the harrowing testimony of other witnesses.
 2. Bob Dylan performing in China.
This caused a furore, with columnist Maureen Dowd labelling him a sell-out as she believed he'd bowed in to Chinese censorship. However, it wasn't entirely clear that Dylan was selling out, or had even been censored – according to The Atlantic Wire at the concert he was "staring down the crowd like a carnival barker at the gates of Hell, literally snarling lyrics."
3. A lot of celebrities and the Gaddafi Clan
As ever, they  provided a draw for perfomers, with Nelly Furtado prancing around on stage for 45 minutes for Muammar Gaddafi – she was paid $1 million, which she has since claimed she will give to charity. Mariah Carey strutted her songstrell stuff for the Gaddafis at a New Year party – though she won't be donating the money, though the The Guardian says she will be raising moolah for charity with her new single. Beyoncé and Usher were at Hannibal Gaddafi's massive birthday party on St Barts. In the crowd were Jon Bon Jovi, Jay-Z, and Lindsay Lohan. One wishes one were a fly on the wall at these occasions.
5. Michael Jackson had close ties with Prince Abdullah al-Khalifa of Bahrain
After the singer had been acquitted of molesting a 13-year-old, he headed over to the desert dictatorship. The relationship was not a happy one though – the Prince ended up suuing the Prince of Pop over an undelivered contract.
6. Kevin Spacey, Danny Glover, Sean Penn, Oliver Stone, Naomi Campbell again, and Hugo Chavez
They called it "the return of the useful idiot," as hordes of Hollywood stars flocked to Venezuela to give their blessing to Chavez's anti-Western regime. Spacey and Glover were "thinking of making movies" there; Penn thought the media were unfairly smearing the dictator; Stone actually did make a film about Chavez (South of the Border), and Campbell – well, she doesn't really need an explanation does she? (She was there for charity reasons – "You have a huge country," she purred, "very beautiful, with big waterfalls," she was quoted in The Guardian)
7. Kate Moss and – you guessed it, Naomi Campbell (she does get around, doesn't she) – and Fidel Castro.
BBC News reported that the pair of waif-like supermodels enjoyed meeting the dictator of Cuba, and said that the meeting was "a dream come true." For Castro it was, somewhat surprisingly, "very spritual." Campbell was said to have been wearing a "revolutionary and exquisite white dress from the prestigious Fendi fashion house." One wonders what Castro was sporting.
More on CELEBRIDDIES

Rihanna rubs farmer up wrong way
Kanye West's debut womenswear collection
Operation Hackerazzi
Avengers trailer drops
Naked Scarlett Johansson pics get Taiwanese treatment
Naked Scarlett Johansson pics leaked
No celebs on .xxx domains
More top seven »