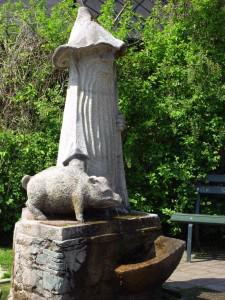 photo : L Wilson
When on holiday, take time to relax and enjoy a leisurely hike without hurrying in the Styrian mountains, through ancient hills verdant with Swiss pine forests fed with wonderful watercourses.
Whether ardent hiker or family group, Steiermark has a wealth of wonders for you to enjoy on foot. With leisurely walks past friendly wine taverns, rustic mountain huts and excellent tourist attractions, the green heart of Austria will set your pulses racing and your blood fast flowing in a healthy alpine way.
3 Lake circuit to the Turracherhohe
This is a family-friendly walk, which takes goes past 3 lakes with very different characteristics reflecting the diversity of their settings, yet all within a 7.6 kilometer circuit.
Situated in the Nock Mountains, the circuit starts at an idyllic plateau where the 3 lakes are framed by the mountain peaks and the largest swiss pine forest in Austria – ideal for getting back to nature!
At an elevation of 245/245 metres and level 2 difficulty rating:
the 3 lakes walk leads from lake Turracher See at 1800 metres above sea level
and gently rises as it nears lake Grunsee, whose waters reflect the verdant Swiss pine forest surroundings
before arriving at the shores of lake Schwartzsee, where waters are blackened by the bleakness of surrounding moorland near the Turracherhohe mountain top.
Tourist attractions
Near the start of the circuit at lake Turracher See is the "Hornsel", a listening platform over the lake that begins the process of tuning the senses to enjoy the nourishment of nature away from our work weary world.
Look around the shore-line to see the quaint stone sculptures that enchant and enthral children through all the ages. Or gaze into the depths of the waters and see the fish swimming by. Finally fortify yourself for the hike ahead by tasting the speciality soups and cakes at one of the lakeside restaurants, where service with a smile is standard and your pleasure is paramount.
Also at Lake Turrachersee, take a little time to visit the giant outdoor rock crystals and 'petrified trees' before following the well sign-posted trail from Karl Hut to Lake Grunsee and the picturesque panorama of the Nock mountains at lake Schwartzsee  -a breath-taking beauty at any time of year.
Looking for somewhere to stay
If you would like somewhere to stay where these wonders are, look no further than Chalet Lowonahill at nearby Stadl an der Mur.