If you have, I'm guessing that you're either 1) a history buff or 2) interested in military affairs.  Am I right? For those of you who are into neither, like myself, Kobarid became famous in 1917 for the Battle of Kobarid or the Battle of Caporetto in Italian.  It's where the Italian army retreated against the Austro-Hungarian and German armies.  The battle was documented by Ernest Hemingway in his novel A Farewell to Arms.
A good place to start is the Kobarid Museum, which documents the 12 battles fought in the Soča front and the 300,000 lives lost.  I was on Hedonistic 's Slovenia and Friuli Tour and was fortunate enough to have the owner/guide Jackie who is a walking encyclopedia, lead us on this historical hiking trail.
A short climb leads to the The Italian Charnel House built on Gradič Hill around the already existing Church of St. Anthony.   There are over 7000 Italian soldiers buried here.  You can see the names on many graves.  The ones without names are unidentified.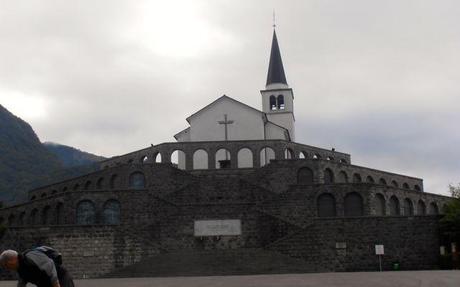 Italian ossuary and the church of St. Anthony – the resting place of over 7000 Italian soldiers from WWI.
Climbing a bit higher still through a gradual forest path, until you arrive at Tonocov Grad Hill, you go back further in time.  Much further back.  Like all the way back to the 5th century where you encounter these Roman ruins.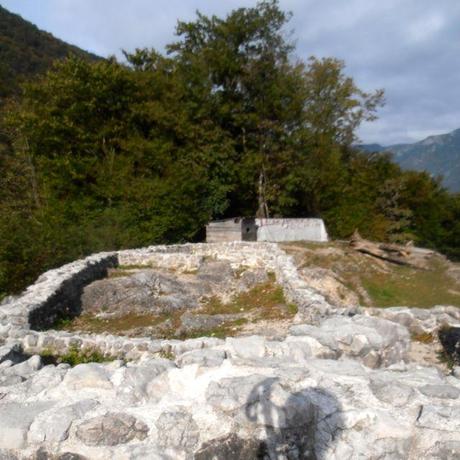 Roman Ruins dating back to the 5th century on Tonocov Grad Hill
This also makes a great rest stop to enjoy the views, or to read a couple of chapters out of Ernest Hemmingway's A Farewell to Arms as Jackie did to us during our lunch break.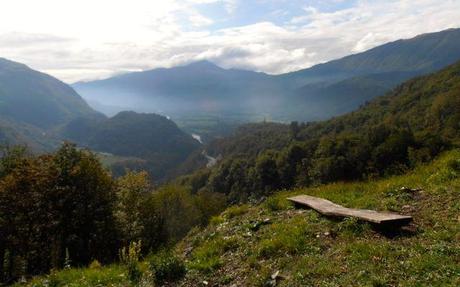 View from Tonocov Grad Hill
The time travel journey continues, going downhill this time and back to WWI.  Here trekkers make their way down from Tonocov Grad Hill by going through a series of bunkers and forts used by the Italians during WWI.  I was really surprised at what an extensive network it is and how long it was. It gives you a glimpse of the intensity of battles fought here.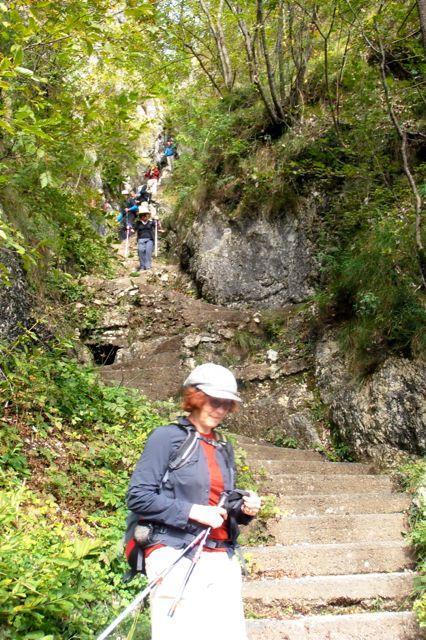 The trail leads hikers through trenches used by the Italian Army in WWI.
The historical hiking trail continues over the Soča River on a footbridge in the exact same location as the footbridge used by the Italians during WWI.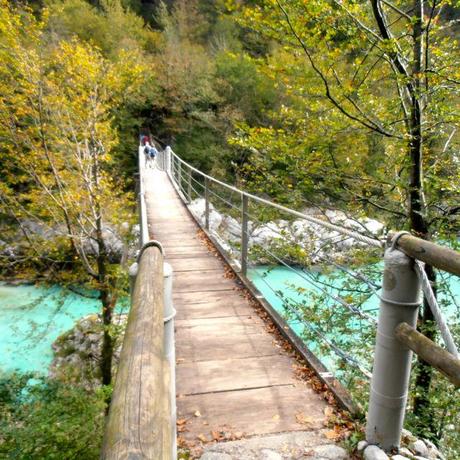 Footbridge over the Soča River, constructed on the very spot where a wooden footbridge had been during WWI.
Although I can't imagine how gloomy and depressing it would have been to fight here, I can imagine that the Soča River would have been a place of reflection and contemplation.  It's one of the most beautiful rivers I have ever seen anywhere.  Jackie explained to us that the river gets its awe-inspiring color from the light sand covered bottom which reflects the light.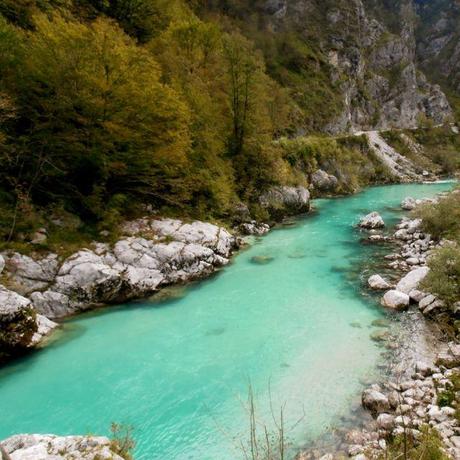 The incredibly pristine Soca River.
From the Soča River, a well-marked hiking path takes you to Veliki Kozjak, considered to be one of Slovenia's most beautiful waterfalls.  It's a slippery path in some places.  There's even a cable to hold on to during the final few steps.  But just go slow and you will be rewarded.  The waterfall is hidden in a large open karst cave-like area.  The effect of the dark rock contrasting against the blue-green pool is truly stunning.  My reaction was WOW! The photo doesn't do it justice.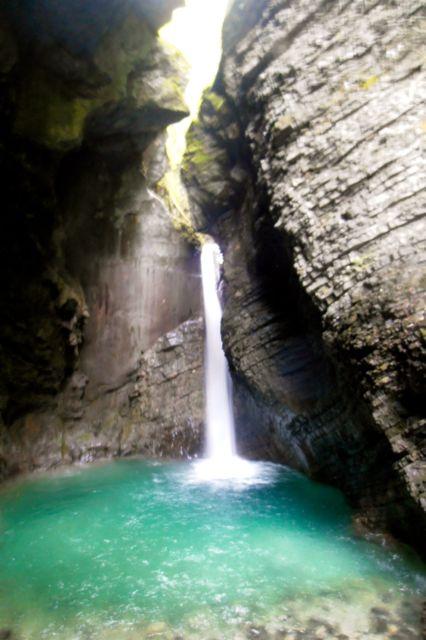 Veliki Kozjak Waterfall is accessible only by a slippery hiking path, but worth the trek.
After hiking the 5km historical trail you will likely have worked up an appetite. But you're in luck. Not only is Kobarid rich in history, it's also known as the Food Capital of Slovenia! These are a few of the highlights of just one of our meals: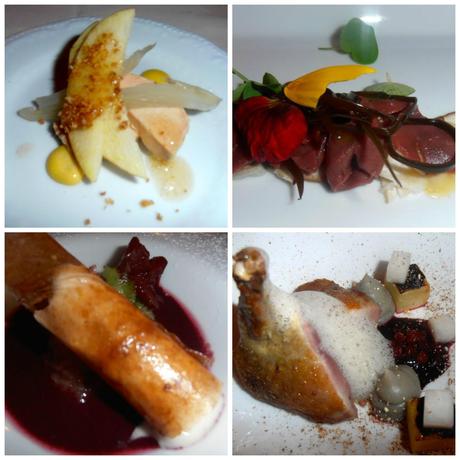 These are just a few of the courses from an incredible meal I had in Kobarid.  Hedonistic Hiking knows all the good places to eat.
Know Before You Hike the Kobarid Historical Trail
The hiking trail is 5km long and takes about 3 hours.
You can do it on your own, but I highly recommend doing it with Hedonistic Hiking as part of the Slovenia and Friuli tour.  Check out my review here.
It's relatively easy hiking with a few hills, but nothing too steep.
Visit the museum in Kobarid first to give yourself some background. You will get more out of the hike that way.
Stop by the tourist office for a route map.
You'll also want to spend some time in Triglav National Park.  Take a look at the link and you'll see why.

Thank you to Hedonistic Hiking for introducing me to historical hiking.  As always all opinions expressed are my own.
&locale;&layout;&action;&width;&height;&colorscheme;