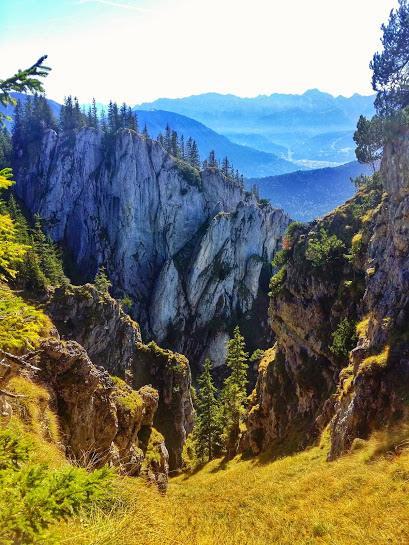 Views of the Ammergau Alps from the more technical route up to Laber Mountain.
Despite being an avid hiker, I confess to having spent little time in the Ammergau Alps.  Instead, I hike more in the areas of Garmisch-Partenkirchen, Walchensee, Tegernsee, Spitzensee and Mittenwald.
You can start this hike from the famous abbey in the town of Ettal, which makes for an easier hike, but when it comes to hiking, I'm not really one for easy.  Instead, we started at the Laber Bergbahn, a gondola which takes you up the mountain. And no, we didn't take the gondola.  We did it the hard way, step-by-step up 786m – but heh who's counting?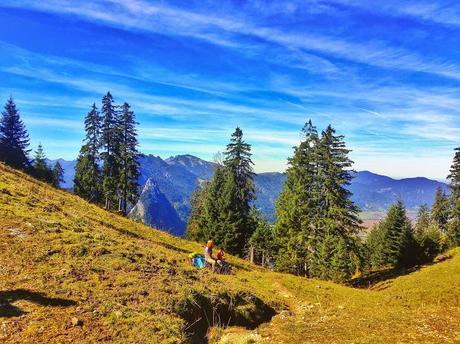 Stopping to enjoy the gorgeous scenery and views of the Ammergau Alps en-route.
With a gondola comes the good….and the not so good.  The good thing is that the views will usually be amazing, otherwise someone wouldn't have bothered of going to the trouble of installing a gondola.  The bad news is that unsurprisingly, gondolas attract crowds.  This is not so much of a problem while hiking, but at the summit where the world of hikers and gondola riders collide – usually at a restaurant on top of the mountain, of which every gondola in Bavaria (that I'm aware of anyways) leads.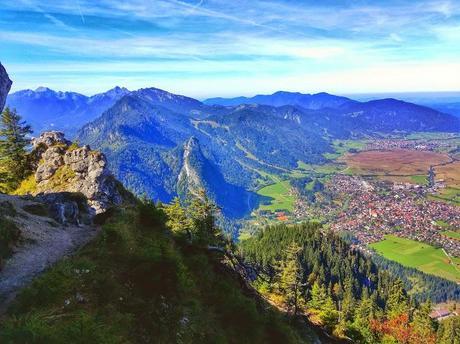 Views over Oberammergau and the Alps from the more technical route up the mountain.
But I digress, the hike starts at the Laber Bergbahn with signs indicating 2 1/2 hours to the Laber – the mountain we (my husband and I were hiking to.  One thing I really like about the trail is that it's an actual hiking trail the whole way up, unlike many hiking trails in Germany in which for part of it you are hiking on a road.  The path is steep, but never too steep, just enough to keep you breathing hard without feeling like your heart is going to jump out of your chest.  After about an hour of hiking you'll reach a point where you have two choices:  left or right.  The left way will take you up through the Soilasee (a lake which is often dry during the summer months) on a gentler trail up to the Laber Restaurant, which has a large terrace offering views over the Ammergau Alps and to Garmisch-Partenkirchen.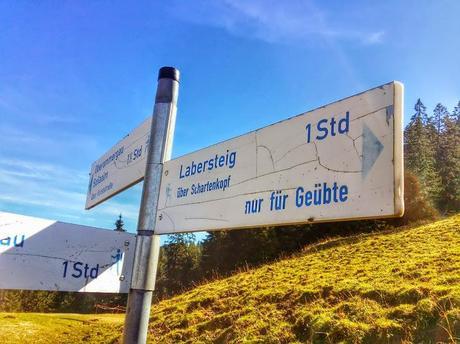 Sign pointing to the more difficult but scenic route up to Laber Mountain and Restaurant.
On the sign, shown in the photo of the left, you'll notice that pointing to the right it says Labersteig über Schartenkopf and nur für Geübte, meaning only for the experienced. That's the way we went. It's flat for the first part which is deceiving as you find yourself puffing your chest out with pride going Look at me!  It's for experienced hikers and I'm having no problems at all!
Then comes the challenging part, which involves a little bit of scrambling – using your hands and feet up some rocks and hanging onto a cable on a narrow ridge.  If you have good balance, good condition and are not afraid of heights, you will be able to manage it. I actually really love this kind of stuff – even more so than regular hiking!  However if you are afraid of heights, it's definitely not for you – go the other way instead. I also wouldn't recommend this way with small children, although I did see a couple of children ~ ages 10 doing it with no problem.  These photos show you the terrain so that you can decide for yourself: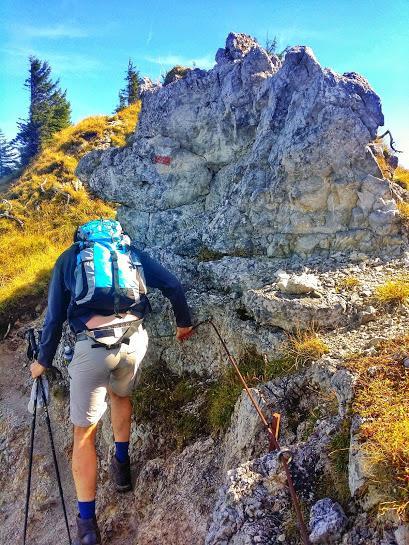 Hiking up the Labersteig, the more technical route up the mountain.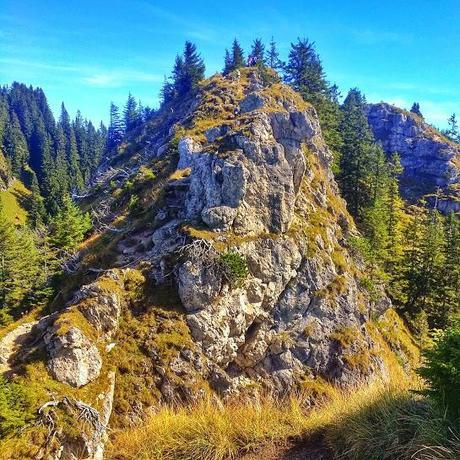 You will climb this as part of the Labersteig way. At the top you can see hikers. It's not difficult, but you will be using your hands and feet on parts of it.
As a reward for your bravery, you get views like this, which you don't have from going the easier way. I especially loved the view of the monastery in Ettal: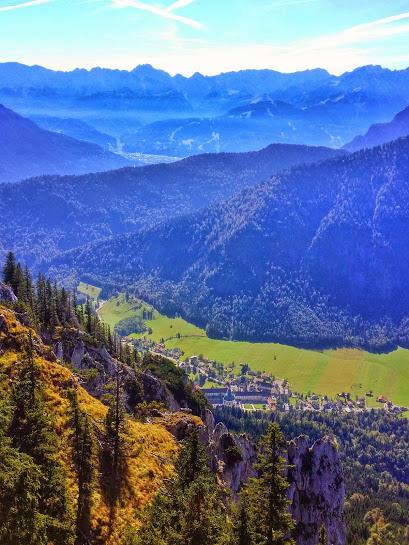 Views of Ettal and the monastery in Ettal as well as the Ammergau Alps.
Carry on a bit and you will pass a cross that's several meters above you, meaning that you've almost reached the summit, but it's just out of reach and it stays that way – frustrating for someone like myself who likes to physically touch the cross to prove to myself that I made it!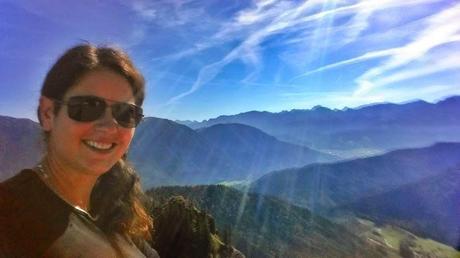 Me enjoying the views from Laber Mountain/Restaurant of the Alps.
A few minutes after that and you'll reach the restaurant.  You'll hear the crowd before you see them.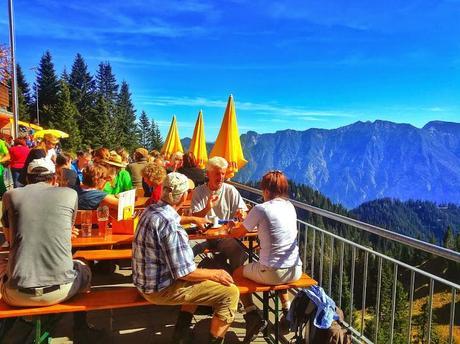 Laber Restaurant, where hikers and gondola riders meet…or collide…depending on your point of view.
Amazing views over the Ammergau Alps it does offer, solitude it does not!  If the conditions are just right, you may also be able to catch a paraglider taking off as we did: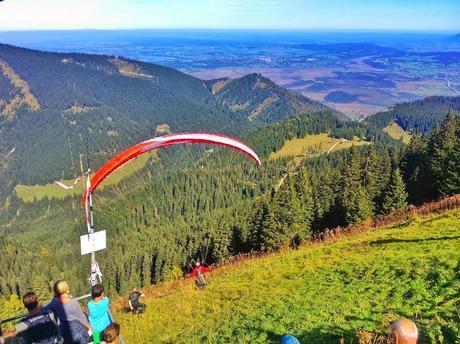 Paraglider taking off from Laber Mountain to sail over the Ammergau Alps.
For the descent, you can either return the same way, or turn your hike into a loop, which we did, returning counter-clockwise back to Oberammergau through the Soilasee.  The first part of the descent is fairly steep, but is down a hiking trail, which turns into a road and I really dislike hiking on roads.  Fortunately there are shortcuts so you can minimize the amount of time you spend hiking on the road.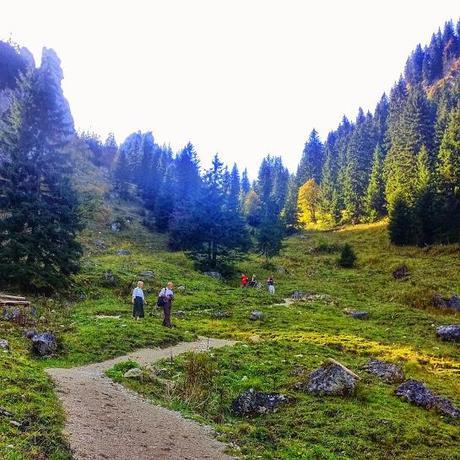 Descending to the Soilasee back to Oberammergau. (This is also the easier route when ascending).
Overall, I really enjoyed this hike, especially the scrambling part and the views.  I'd give it a 7.5/10 and my husband, J.P. gave it the same.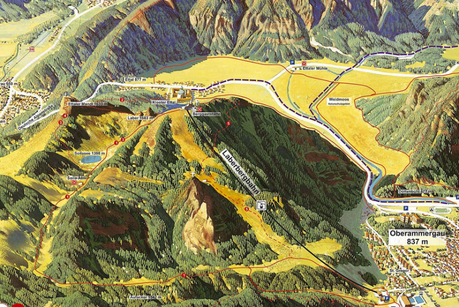 We did a counter-clockwise loop.  Hiking up route 5, then descending down route 1.  Photo courtesy of Laber Bergbahn.
Know Before You Hike Laber-Schartenkopf in Oberammergau:
The ascent takes ~ 2 to 2 1/2 hours and the descent is ~ 1 1/2 to 2 hours.
The elevation difference is ~786m from the Laber Bergbahn.  Add another 60m or so if you're coming from the train station in Oberammergau.
You can also ascend or descend from the gondola (which we didn't use, but it is an option).
You could also descend down to Ettal and catch a bus from there to the train station.
From Munich, Oberammergau is ~ 90km.  It took us about 1:15 minutes by car (but of course it always depends on traffic).
You can also reach Oberammergau by train.  It's ~ 1 1/2 hours by train from Munich.
If you start early enough you can also do some sight seeing. The abbey in Ettal is home to 50 Benedictine monks and is a popular tourist attraction.  Linderhof Palace, one of King Ludwig's fairy-tale castles is also nearby. And if you're hungry, there's also the Schaukäserei Ammergauer Alpen located at Mandelweg 1 in Ettal.  Here you'll find some of the finest cheese you've ever tasted!
 There's also a NATO School in Oberammergau!  If you're attending classes here, it's only a short walk to the Laber Bergbahn.
Want to do another hike in the Ammergau Alps?  Then check out the Kofel by Tricia.  I haven't done it yet, but it also looks like a good one.
&locale;&layout;&action;&width;&height;&colorscheme;