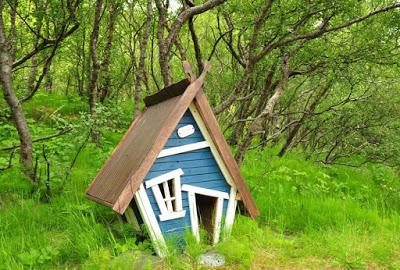 Thórsmörk, Iceland, is an enchanted place, including for knee-high folk, such as those seen in front of this mini cottage.
My friend and fellow children's book author Caroline Hatton visited Iceland in June 2019. She took all the photos
in this post, which she wrote to help others decide whether to visit
Thórsmörk.
Thórsmörk
is for hikers who love varied, dramatic mountain scenery contrasting with fairytale woods. The name (spelled Þórsmörk in Icelandic) means the woods of Thor (spelled Þór in Icelandic), the mighty hammer-wielding god of thunder in Norse paganism. I guess even such an awesome dude needs to indulge in daydreaming once in a while.*
Visitors can
hike
up to viewpoints and caves, across meadows and woodland, or start multi-day backpacking trips, for example, to the multicolor mountains of Landmannalaugar, and find peace in the wild (if you ask me), or great parties (if you ask the students who come in July).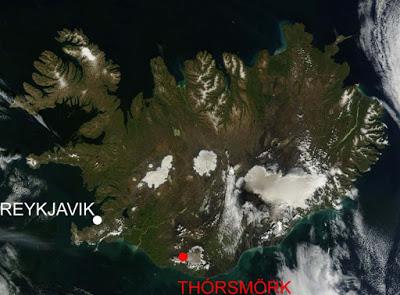 Thórsmörk is a nature reserve accessible year-round. NASA image with red and white added
I knew better than to go to Iceland in July or August, during over tourism season, or on a weekend to a location only two and a half hours from the Reykjavik area, where nearly two-thirds of all Icelanders live. So I planned to go to
Thórsmörk
on a June Monday. My husband and I stayed there one night to experience at least one evening and one morning. We were almost the only ones there!
The drive to
Thórsmörk
requires leaving the excellent Ring Road (= Route 1) and turning onto road 249, which soon becomes F249 where the pavement ends, along with the permission to drive regular-size rental cars. No problem, since high clearance 4x4 buses go all the way, splashing across unpredictable, glacier run-off creeks and roaring rivers. Other options include booking a Super Jeep tour or renting a 4x4 and buying river crossing insurance (do they mean a life vest?).
Of the different bus companies, I chose Trex
to maximize our time in
Thórsmörk by arriving earlier on Monday and leaving later on Tuesday.
The bus started in Reykjavik, but we boarded it at the last stop on the Ring Road, in the town of Hvolsvöllur where we could park a rental car overnight.
Our itinerary came together piece by piece.
Sunday:
- drive the rental car from Reykjavik to Hvolsvöllur
- stay overnight in or near Hvolsvöllur.
Monday:
- leave the car at the Lava Centre
in Hvolsvöllur
- take the bus to
Thórsmörk
(from the "Hvolsvöllur N1 service station" to "Þórsmörk/Langidalur")
- hike to Húsadalur Hut
- stay one night.
Tuesday:
- hike a different way back
- take the bus back
- stay overnight in or near Hvolsvöllur.
The easy hour-and-a-half drive from Reykjavik to Hvolsvöllur took us across landscapes as different as planets, from bleak barren black lava to luscious pastures rolling out of sight, dotted with toylike sheep, horses, and farmhouses.
At the Hvolsvöllur Lava Centre, we walked through the gift shop, noted the cafeteria menu, and skipped the interactive exhibition about volcanoes, earthquakes, and the geological formation of Iceland, because we wanted to stay outdoors. Yet, after a picnic lunch and long stroll on hills overlooking farmland, we enjoyed a deeply enriching visit to the Saga Centre
, which houses exhibits about Njal's Saga, a true story set in the vicinity.
Late in the afternoon, we drove along country road 261 to Hotel Fljótshlíð
at the sheep, goat, and horse farm where we had reserved a simple, impeccable room with private bathroom. There, we had a fine meal in a dining room with an antique tractor parked in the middle.
Before bedtime, we gathered the minimum belongings we would need while away for two days and one night at
Thórsmörk
in a reserved, private, heated room with a made-up bed and towels. Our day packs included warm layers, two lunches, one dinner, one breakfast, and snacks. It was Summer solstice time, so the sky barely dimmed at night. Thick rubber curtains kept the room dark enough to sleep, despite nameless pinhole constellations.
In the morning, fog hung down to the grass tips. We filled up at the breakfast buffet, starting with fresh fruit and skyr (Icelandic yogurt, pronounced skeer), then sampling every delicious bread and cheese.
The fog had lifted to the hilltops when we drove eight minutes back into Hvolsvöllur to park the car at the Lava Centre. Carrying only our day packs, we crossed the Ring Road to the N1 gas station, snack shop, and bus stop. Different bus companies' timetables hung around the outside of the building, but the Trex bus didn't stop near its signpost, so it was a good thing we saw it arrive.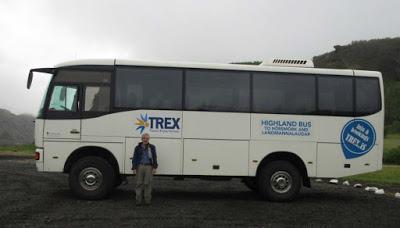 The driver checked our tickets, prepurchased online from the U.S., against his tablet data, and we were off. Soon we turned into the parking lot of Seljalandsfoss, a waterfall often photographed, from the walking path behind it, for Iceland tourism ads. The bus made a stop, but no one was allowed to get off and back on. Anyone wishing to visit Seljalandsfoss should do it some other time. And even though buses to
Thórsmörk
stop at Seljalandsfoss, parking a car there overnight is not allowed.
The bus proceeded with ten passengers, leaving most of the 40 seats empty. "Seat belts on, please!" said the driver. "The road is bumpy!" But it really wasn't. Seat belts must be to keep passengers from standing up to take photos, then falling over and hurting themselves.
On the right, where I sat glued to the window, hoping to see the Eyjafjallajökull icecap stretching to
Thórsmörk
, waterfallstrickled down black rocky slopes, while bright green grass crept up like velvety fuzz. On the left, a great braided river ran among gravel banks, gray on gray. The bus slowed down across water channels.
A five-minute stop near the tongue of the dirty gray Gígjökull glacier, which flows from the Eyjafjallajökull icecap, gave me time to correct my foldout map. I crossed out the terminal lagoon, wiped out in 2010 during the volcanic eruption that disrupted air traffic for days.
Our driver skipped the spur to the first of three
Thórsmörk
mountain-style huts, Básar (pronounced bow-sar), because no passenger was going there. We arrived early, around 11 a.m., at the Trex bus terminus, the second hut at
Thórsmörk
, Langidalur. Only a couple of monster-sized Super Jeeps had parked there.
After visiting the restroom, we proceeded up the gentle slope for an hour and a half to the café, where we asked for a trail map before eating our own lunch on the terrace.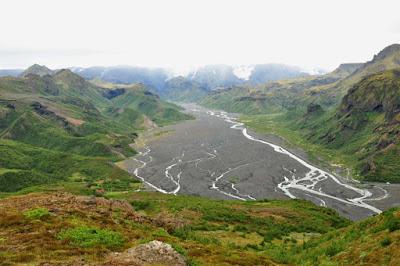 View from Valahnúkur (1502 ft ~458 m) of the Krossá glacial river, which drains the Mýrdalsjökull glacier (in the background clouds) and Eyjafjallajökull glacier (at right outside the photo).
Of the two trails across the mountain ridge to our hut, Húsadalur, we chose the longer, steeper one via the Valahnúkur 1502-ft (~458-m) mountaintop 360-degree viewpoint, less than a mile away but 1,500 feet up.
As a hiker with excellent boots, but a cranky disposition going down slopes due to challenges staying upright, I found the way down toward Húsadalur (the parts without wooden stair steps) difficult, steep, with loose slippery dirt. And it wasn't even a rainy day.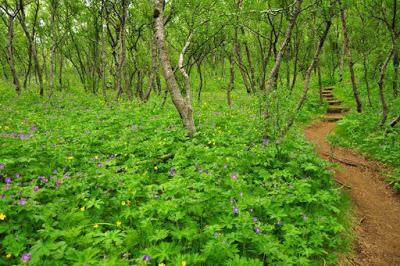 Native Downy Birch trees (Betula pubescens), purple Wood Cranesbill (Geranium sylvaticum), and yellow Meadow Buttercups (Ranunculus acris)
As if to make up for the trouble, on the lower part of the slope nearing Húsadalur, the trail took us through the promised, charming birch woods. Trees are extra special in Iceland. After the Vikings settled the island in the 800s, they cut down most of the existing forests to convert them to pastures for livestock and to build homes and ships. So far a couple of generations of Icelanders have worked on reforesting the land. Government funding to plant trees should help with Iceland's goal of achieving carbon neutrality by 2040.
At Húsadalur we found a geothermal hot pond and associated small sauna, a main building with reception desk and restaurant, a community kitchen cabin, a shower and restroom building, an eight-private-room building with two shared bathrooms, a row of small cottages, shared mountain hut dormitories, and grassy grounds for glamping and camping. Cottages cause this writer delusions of grandeur, so I assessed their potential for a personal writing retreat. The front, big window of each cottage offered a view of the grassy tent area and hillside beyond, and the windowless back blocked the view of thesnowy mountains across the river valley. That was backwards—not a good retreat location for me!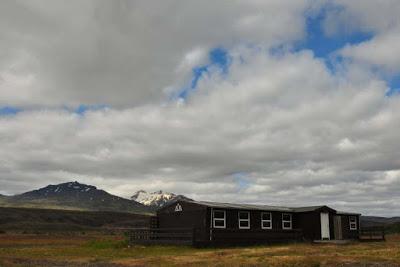 Our private room with shared bathroom was one of eight inside this hut.
We checked into our tiny, spotless room before walking upstream along the Markarfljót, the river on our side of the mountain ridge, first on the dike, then uphill on a trail marked by red-top wooden posts.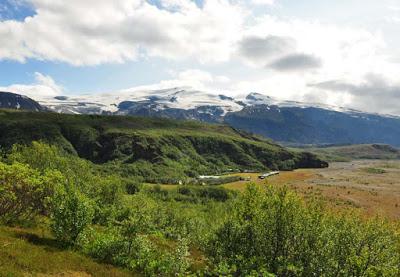 The Húsadalur Hut buildings, the mountain ridge between the Markarfljót (at right, not in photo) and Krossá (behind the ridge, not in photo) river valleys, and the Eyjafjallajökull icecap
The clouds dissipated, uncovering the gleaming Eyjafjallajökull icecap and the massively larger Mýrdalsjökull under blue skies. We would have missed all this beauty if we hadn't planned to stay one night, because we would have been hiking back to the bus stop in a valley instead of lingering on hilltops.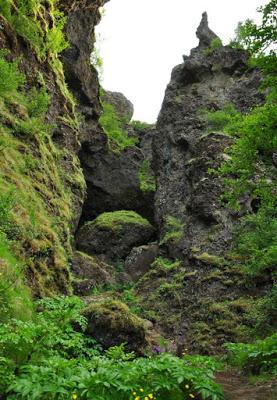 Do you dare climb into the Sönghellir Cave and sing?
After walking back, past the hut, we climbed back up the ridge to the Sönghellir Cave, a rock cave that flatters anyone who dares to sing.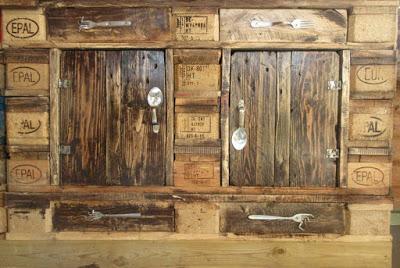 Cupboard made of repurposed crates with repurposed flatware hardware, in the community kitchen cabin.
At sundown, the wind dissuaded us from sitting at a picnic table, so we ate the cold dinner we had brought inside the kitchen cabin and took advantage of the free WiFi to find out that it would rain the next afternoon. That night we were the only guests in the eight-room building, so we did not share the two bathrooms down the hall—they were His and Hers.
In the morning, we checked out after breakfast and left one day pack at the desk before heading out. Along the trail, an information board reminded us that we were walking on the land of ice and fire. The photogenic Eyjafjallajökull and Mýrdalsjökull icecaps—guess why they rose where they did? Because snow piled on top of volcanoes. The map showed evacuation routes in case the Mýrdalsjökull volcano decided to erupt under its glacier, potentially causing cataclysmic meltwater floods. In 2010, the Eyjafjallajökull eruption triggered the flood that flushed out and filled with sediment the lagoon I had crossed out on my map. In Iceland, when glacier run-off water starts heating up, it's actually not a good time to take a bath.
After lunch (guess where we ate), we hiked back to the Trex bus stop at Langidalur via the easier, shorter low-lying "Saddle" trail. Hut to hut, it took us half the time compared to the previous day. Best of all, an Arctic Fox (Vulpes lagopus) dashed across our path, patchy brown and white like cow hide, molting from its winter to summer coat. Sorry, no photo!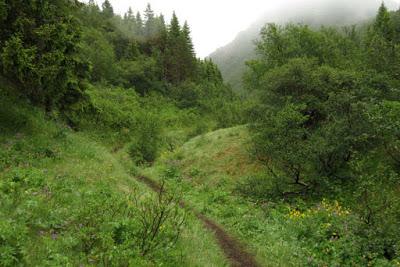 The Storiendi Gully
Back at the bus stop with time to spare, we strolled around on short round-trips in different directions, over a wooden footbridge across one strand of the huge river braid, uphill on steep steps for one last, different view, and into a verdant woodsy creek gully where at every turn, I expected to find Thor reclining on a bed of buttercups, oozing poetry.*
On the 6 p.m. bus ride back with only six other passengers, we snacked and squinted at the rainy, blurry scenery, happy that we didn't have to drive.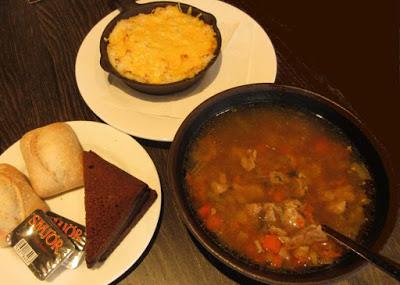 Solid "Icelandic fish stew" and Icelandic lamb soup at the Lava Centre.
Off the bus at 7:30 p.m., we had a steaming hot dinner in the bright, empty cafeteria at the Lava Centre. We shared traditional plokkfiskur, misleadingly labeled "Icelandic fish stew" because it was not a soup, but a solid casserole of mashed cod and potato with browned cheese on top, and Icelandic lamb soup, a bowl of diced veggies and a few tender lamb cubes in broth.
The farm where we had stayed before had no vacancy when I had made online reservations from the U.S., so we experienced equally warm hospitality at HótelSelið
on another nearby farm, on road 264. But here, a short morning walk took us to an impossibly lovely, meandering ravine, with a singing creek fed by innumerable crystalline springs seeping out partway up the emerald slope, all flowing from the same height between unseen lava layers. I could have spent hours there!
Comparing other Iceland destinations to
Thórsmörk,
- in Landmannalaugar
, treeless multicolor mountains rise above chaotic black lava fields, within a half-day hike on a one-day roundtrip by bus, everywhere in the company of up to a hundred others,
- in Thingvellir
, where the North American and Eurasian tectonic plates keep pulling apart in a miles-wide valley, Iceland's history and identity was shaped by general assemblies,
- numerous waterfalls of gigantic to miniature proportions and remarkable shapes dot the country's map,
- and buttercups and geraniums also bloom in birch woods elsewhere, for example near the town of Egilsstaðir in far eastern Iceland,
…but in
Thórsmörk, lava and ice sights, great rivers and tiny creeks, flat and steep walks, grand vistas and cozy forest spots are all within a few hiking steps from one another, and solitude and intimacy with nature are easier to find.
*
Thórsmörk
is named after Thor not because he likes to smell wildflowers, but because legend has it that he cracked the earth and created the spectacular contours of the land with a big whack of his hammer.
FOR MORE INFO
Read another post about South Iceland by Caroline Hatton, "IN THE LAND OF NJÁL'S SAGA IN ICELAND."