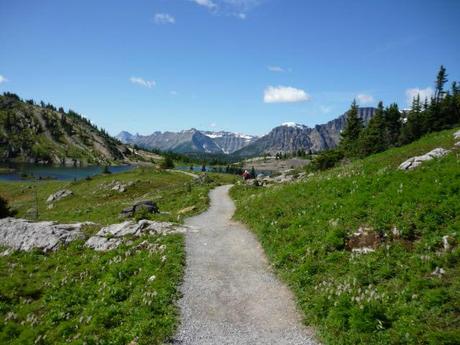 Our expectations were high for Sunshine Meadows, located in Banff National Park.  The Lonely Planet has rated it as the #1 hike in Canada in their guide book, Discover Canada and it was named one of the Top 10 Summer Attractions in 2005 by Where Magazine.  Wanting to impress my soon to be father-in-law, this was part of the reason I choose Sunshine Meadows for J.P.'s (my German fiance) fathers first hike in Canada.  Well that and because I had been there before and knew firsthand that it lived up to all the hype.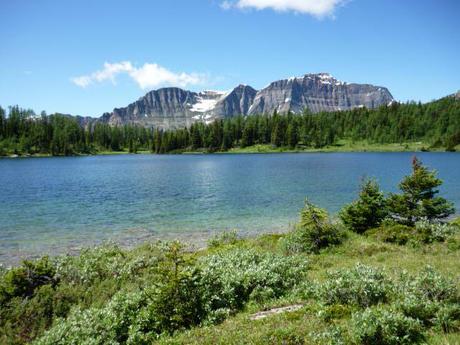 Located at an elevation of 2220m, and enclosed by some of Banff's highest peaks, the views are breathtaking.  As if that wasn't enough, Sunshine Meadows is also an excellent place for wild flower and wildlife viewing.  While we didn't see any wildlife at Sunshine Meadows the day we were there, the habitat is ideal grizzly habitat and Richard's ground squirrels provided ongoing entertainment with their brave antics of approaching us for food, which we lawfully declined despite their cuteness (it's illegal to feed wildlife in a national park).  As we were approaching Sunshine Village we did see a small herd of big horn sheep on the road both on the way there and the way back, which delighted my German guests -not too shabby of a wildlife sighting for a visitor's first day in Banff  National Park.  Wildflowers however did make a continuous appearance in Sunshine Meadows with 26 different wild flowers in bloom.  Geography lovers will be interested to know that Sunshine Meadows is on the Continental Divide and it's possible to have one foot in the province of Alberta and the other one in the province of British Columbia.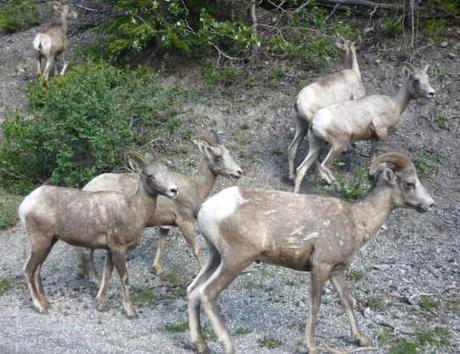 Sunshine Meadows is located in the Sunshine Village ski resort.  While it is possible to walk the 5km, 500 m elevation gain up a dusty road, the preferred option is to take the shuttle bus, which leaves every hour, costing $26 for adults and $15 for children. The price is well worth it, Sunshine Meadows is one of only a few places in the Canadian Rockies where visitors can experience these types of views for such minimal effort.  We hiked Sunshine Meadows with J.P., his 69 year old dad H.P. and his girlfriend E., neither of who are hikers, but were still capable of hiking the small hill (~100m elevation gain) at the beginning of the hike, and hiking 5km to reach all three lakes.  It's this accessibility that makes Sunshine Meadows so popular with families and such a popular hiking destination.  Those seeking a more challenging adventure can hike the entire ~10km trail system, with more elevation to Standish Viewpoint, or use Sunshine Meadows as a starting point for a variety of trails including the 29km trail to Mt. Assiniboine.   See Sunshine Meadows Trail Map for details.  Few trails offer such diverse hiking opportunities as Sunshine Meadows.  It should be noted that while you certainly won't have the trail to yourself at Sunshine Meadows, it doesn't feel crowded either, after the initial burst of hikers are let off the bus and disperse within ten minutes or so.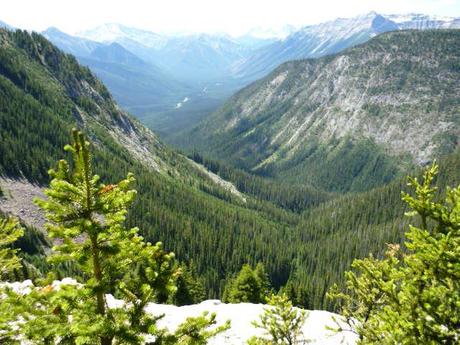 Just one of the many breath taking views you can find at Sunshine Meadows
Perhaps the best endorsement came from H.P. and his girlfriend E.  As we made a rest stop along one of the many benches found along the trail system in Sunshine Meadows, I told them if they were tired we could turn around.  Both of them shook their heads vehemently.  Despite being tired, neither of them considered not finishing the trail, afraid of the scenery they would miss should they consider such a thing.  At the end of the day, they were both exhausted, but had huge grins on their face.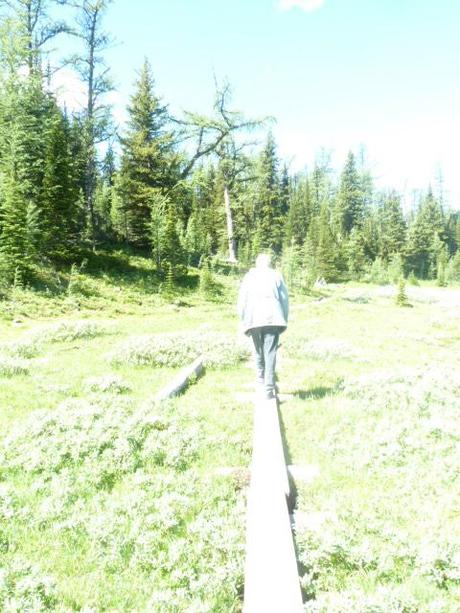 At 69 years old H.P. shows off his balancing skills on one section of the trail at Sunshine Meadows.
Disclaimer:  Sunshine Meadows provided me a complimentary ticket, but all views and opinions expressed are my own.  I have also hiked Sunshine Meadows before on my own dime and returned because I liked it so much.
Note:  Reservations are not required, but recommended for Sunshine Meadows and can be made online.  There is also food available, including a BBQ over lunch.  For more information see Sunshine Meadows.