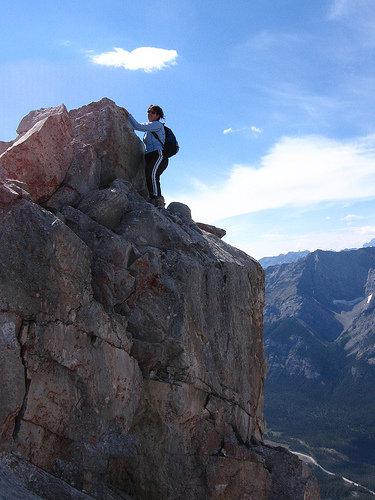 In a little over a month I will be back in Canada for a five week visit (and to get married) after living in Germany for a year.  Besides seeing family and friends I am beyond excited to go hiking and scrambling in Kananaskis and Banff, both in the Canadian Rockies.  Kananaskis is a provincial park just outside of the more famous Banff National Park.  It's a popular hiking and scrambling destination for locals as the scenery is spectacular, wildlife sightings are frequent  and you often have the entire trail to yourself as we did on this one (Mount Lawrence Grassi, just outside of Canmore).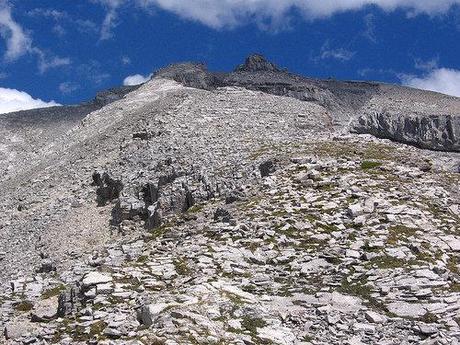 It may not look far, but it was a long slog up this scree slope to the summit of Mount Lawrence Grassi in Kananaskis.
Route finding adds to the fun since many of the trails are unofficial trails – meaning there's no sign so you're often looking for a cairn (pile of rocks) as a marker for the start of the trail.  For those wondering, Mount Lawrence Grassi is considered a "scramble" rather than a hike.  A scramble is essentially a hike where you have to use your hands in some places, as I am doing in the top photo, but where no ropes are required (that is referred to as climbing and is more technical).  Often on a scramble there is scree (small loose rock) which can be slow going – one step forward two steps back, but on the positive side, it makes for a quick descent.  I prefer scrambling over hiking as I love the challenge of figuring out where to put my hands and feet to ascend the mountain.  Just writing this makes me so excited and I already have a few of my scrambles in the Canadian Rockies planned out.
Have you gone scrambling?  Would you try it?
This photo has been submitted as part of Travel Photo Thursday, a weekly travel photography showcase organized by Nancie at Budget Travelers Sandbox where you can see more travel photos from around the world.