Hiking is a perfect way of exercising while at the same time keeping close to nature. This is probably one of the cheapest and simplest ways to keep yourself from the daily hustles of life. You only need to have legs.
At the thought of hiking, some may think that it is a large group of travelers who have oversized backpacks making their way to mountain tops. And that it has to take a couple of weeks. Well, that is not actually the case as apart from just being epic; it can also be just for fun.
Thoughts of serious hiking is always a turn off to a good number of people. This should never be the case for beginners who are about to get their bodies used to the strenuous activity. If you are planning on making this big step and you probably don't know where to start from, worry not. This comprehensive article contains all the information you may need on this journey.
What you need to wear
Hiking equipment does not call for breaking the bank. But again there are materials that you cannot do without during such activity. That little list has to have these pieces of equipment:
1. Footwear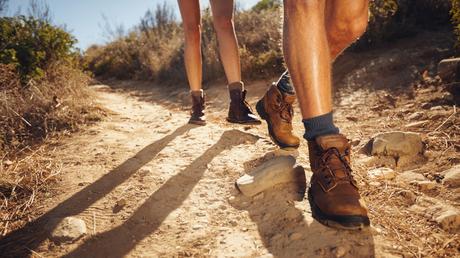 Because hiking is all about walking, what you have as your footwear will be of much importance. Invest in high-quality pairs of boots that are also versatile. The boots should be able to provide enough support.
At the same time, good hiking boots are those that are capable of promoting proper foot strikes that you might come across as you walk. Remember that you are also likely to sweat during hiking, meaning that you should settle on a highly breathable pair of boots that will keep your feet dry.
Otherwise, you won't like the smell that will emanate from the boots after you are done. After the purchase, give the boots a try to check on their suitable. Don't ever make a mistake of wearing boots for the first time on a long hike.
At times sports shoes can come into play especially if the trail is dry and flat. In such cases, just any form of grip can work, you don't need to much grip. Hiking sandals like the Chaco Sandals can also be used during warmer conditions such as in the summer.
Socks cannot be left unmentioned when it comes to hiking footwear. Pairs of socks made of synthetic materials or wool are the best as they make your feet less gross and sweaty. Cotton socks are known to become wet after a few miles of hiking. They also take longer to dry which every hiker wouldn't want to be part of. The distance to cover as well as your budget should have a say on the type of socks to buy.
The wrong choice of socks will be the cause of discomfort and blisters as you hike. If you plan to hike on sandals, then there is absolutely no reason to have socks.
2. Hat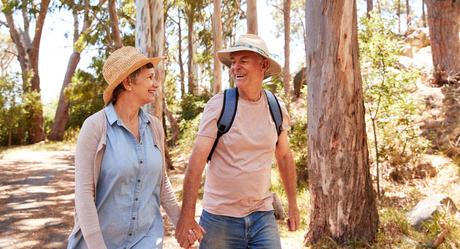 At times you are likely to hike in sunlight; a bright one to be specific. The hat will protect the sun rays. You need to cushion yourself against some of these unpredictable weather patterns. If the hiking trails are cold, then use woolly hats instead of the sun hat.
Apart from the sun hat, you can also apply some sunscreen to prevent the sun from causing burns on your body.
3. Pants
The type of pants to be used for hiking depends on the kind of trail that you are likely to visit. Prior knowledge of where you plan to visit is therefore of utmost importance. Colder areas or areas with high vegetation covers require that you wear long pants.
On the other hand, warm weather with easy trails can always be covered by just pairs of shorts. There are pants that can be unzipped at the knee for easy conversion into shorts depending on weather patterns.
Jeans are not recommended for hikes, but if you feel comfortable with the surrounding temperatures in them, you can try them out. The pants should be lightweight, goofy and with the ability to dry quickly.
4. Backpack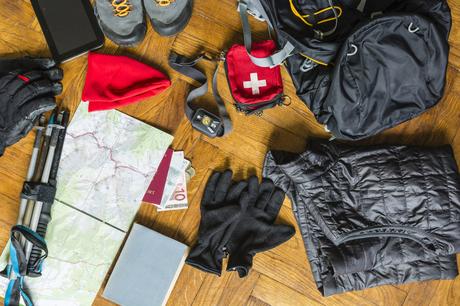 There are small items that you will carry along the way as you hike. A bag is what you will need to carry them. For beginners like you, it is not very necessary to go for some specialist backpacks. A backpack that is comfortable, roomy, with adjustable straps and doesn't swing is just okay.
What you need to pack in the backpack
What you need to carry to the hiking trail is dependent on factors such as:
Duration of the hike

Weather pattern

The kind of adventures

Obstacles you are likely to come across among others
There are so many items that professional hikers don't leave behind, but we are just going to concentrate on the essential ones.
a. Water - you need to be hydrated throughout the adventure, and the only way to replace water lost through sweat is by drinking some more. Never leave your house without water. And by the way, start consuming more water days before the actual hiking so that you do not fall at a deficit in terms of hydration.
b. Food - the amount of food you need depends on the type of trip. It is important to remain healthy and energized during your entire trip.
c. Source of light - hiking is a very enjoyable adventure that at times you might forget about time only to find yourself in the middle of the night. In such cases, spotlights or headlamps will be very necessary.
d. Extra clothing - you never know what can happen during the trip, some extra clothes will be useful.
e. Map - you shouldn't get lost in the trails. If you aren't well conversant with the trails, then have navigation maps and compasses with you.
f. First aid kit - injuries do occur while hiking. A kit that contains bandages, moleskins and some disinfectants will help you in case you get injured.
g. Shelter - such as a tent is necessary if the trip will extend to more than a day.
h. Camera - what will make your memories if no pictures are taken? Don't let a moment pass you; take as many photos as possible for reference in the future.
i. Cellphone - Carry your cell phone with you and make sure that it is fully charged. A phone bailed me out sometimes when I got lost along the trails.
j. Sunlight protectors - hats, sunscreens and sunglasses are other small items that should find their ways into the backpack.
5. Poles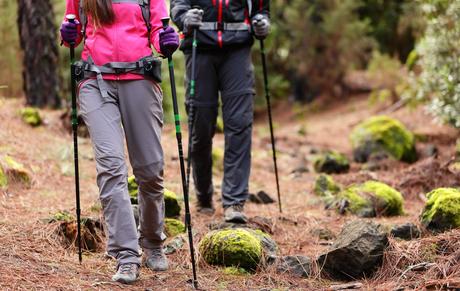 These are not that necessary especially to young and energy lads like you. They are normally needed to provide additional support when hiking along irregular terrains such as sloppy areas.
6. Layers
Dressing in layers is a very important part of meeting the prevailing conditions. The weather might change during the hiking period. With these layers, you can either add or remove clothing to make you comfortable with the weather changes.
Cotton isn't recommended as it often gets damp with sweat and takes time to dry.
How to plan your first hike
It is important that you get it right at the first stab; if you get it wrong, you won't try it a second time. This is only possible if you plan properly well in advance.
i. Decide on whether it will be a solo or group activity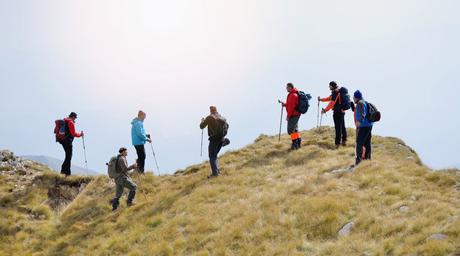 You can decide to go hiking on your own or tag along some of your friends or family members. Solo hiking is really good for meditation but also dangerous. Something can happen to you while on the trails alone. It is not that I am wishing you bad luck, but accidents have been part of us for long.
The best you can do is to be cautious by teaming up. Group hiking is also a very good way to bond apart from the security that it comes with. But again, the choice is basically yours to make. Please make sure that you do so wisely.
ii. Settle on the right distance and trail level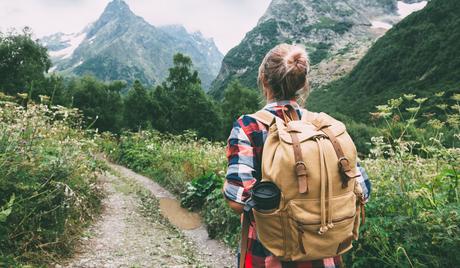 For beginners, it is in the best interest that you start with short trails that you can cover in hours. This will save you on the need to have items like tents and extra clothes. What amount of time have you spared for this activity? Do you have a whole day or just some hours? These are some of the things you should consider before you settle on how long you want to hike.
Hikes are always classified based on levels; from the easiest to the most difficult levels. I know you are so eager to participate in the hike but do not overestimate your abilities. Steep trails are difficult to cover and will exhaust you. Why should you look miserable after an adventure that was meant to bring some joy?
Start slow if you are totally out of shape; probably flat trails of less than 5 miles are best suited for you. Learn to pace yourself and maintain that speed throughout your hike.
iii. Let it be known that you are visiting the hiking trails
Let someone close to you know that you are out hiking. Give clear details of when you will be leaving and when they should expect you back. It makes it easier to track your movements without any worries.
Don't leave your friends and family in a panic because you didn't do the simple thing of making them aware of your intentions. And if you plan to extend past the earlier communicated time; because hiking can be so interesting at times; make it known so that the authorities are not informed of your disappearance only for a search mission to find you enjoying yourself.
iv. Familiarize yourself with the weather pattern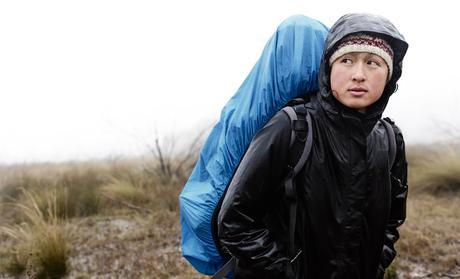 Check on what the weather forecasts have to say about the weather conditions of the place you plan to go hiking. Make a comparison between the predicted weather and the past to have a clear direction of how it can turn out.
The weather is important when it comes to choosing what to wear while hiking. If the weather turns out to be bad, then change your plans or better still cancel it altogether. Your life is of more importance than the hiking. If you feel like your life can be exposed to some risks, then you have to reconsider your position.
Get to the best hiking trail you can come across and make it your second home. Make the internet your friend as you look for the best place for such activity within your locality. At the same time, you can ask your coworkers or friends if they know of better places you can visit.
Their experiences will form part of your guide. If you get to the right place on the first visit, you will always want more. A poor trail will be a turn-off, and I don't think you will be interested in going there a second time.
vi. Only pack what will be of necessity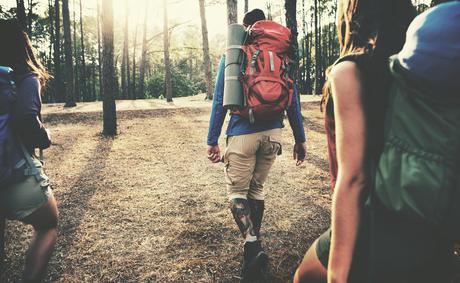 Make the backpack lightweight by not carrying so many unnecessary items. Remember you will be walking with the bag on your back. A heavier bag will derail your speed and build some fatigue on you even before you start your hiking.
From the list I gave above, you can only choose what you feel will be very necessary. Why should you carry a tent when you are going to have a one-day hike? Getting the heavy backpack home after the hiking is always a big problem given the exhaustion that does come in.
vii. Preserve the nature
We are not the last people to use the trails and enjoy the nature. Other generations after us will be in need of the very same services. It is therefore important that we preserve what we currently have.
Do not leave any trash along the trails. If you have to light fires, please do so in the areas set aside for such. On wild animals, there is no need harm or scare them away. Take cognizance of Mother Nature as well as other hikers. Don't get into the wrong side with the authorities.
viii. Get well-acquitted with the trails
Get yourself an updated map of the trails and get familiar with the routes. Once you know how the routes are, you can plan to be picked at specific places once you are done; that is if need be. Yes, you can finish with a body that is not feeling like yours.
Note the intersecting areas that can confuse you during the actual hiking. Taking wrong turns might lead you to very dangerous places.
How to take the experience to the next step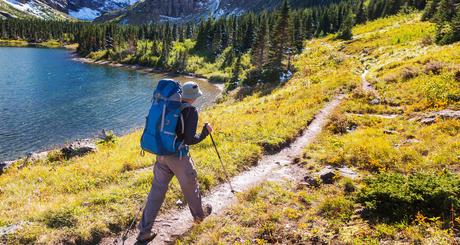 If your first attempt was a success, what should stop you from taking the experience a little further? Let nothing stop you from getting the best out of hiking. Below are some steps that will guide your journey to the advanced levels:
Once you find yourself at a campground, you will have the opportunity to take longer hikes for some days. The good thing about hiking at a camp in the wilderness is that it keeps encouraging you to go further and explore more.
Now that you have got a taste of how hiking is, you need to get rid of some of the mistakes that you made. One is to get your gear. They are not expensive hence no need to spend so much on them.
With time, you can now move to specialist hiking equipment. The main purpose of this is to ensure that you enjoy every bit of the adventure.
Make advancements in trail levels
Always challenge yourself. If you realize that you have become so comfortable with the easy trails, move to the more challenging ones. Make such advancements based on your fitness, confidence and skill levels. Aim for the highest points available. Such points can be mountain tops and rooftops.
Accompanying yourself with hikers of different experience levels makes a good challenge for you. You want to learn more from those who have been there before. This will help you improve your skills.
Some important tricks and tips you can consider as part of your hiking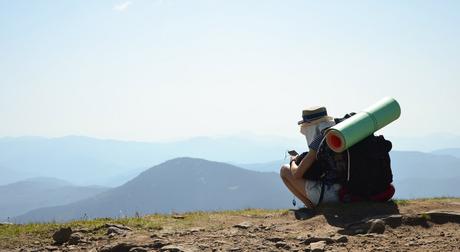 It is good to listen to some music as you hike but again it's not advisable to do so due to safety reasons. If your trails run through safe areas, then you can listen to some soothing tracks as you about your hiking.
Check for parasites such as ticks and bugs. They are very common in woody areas. Make sure to take a hot shower with soap as soon as you get home. You will have kept them away from your home.
Hiking is very much possible in urban areas. Don't make an excuse for not hiking because you stay in urban setup unless there are no roads in your neighborhood. Walk across the streets to whichever place you choose. You can also identify the tallest buildings around and climb them to the top using the steps. It is not exactly what a hike should be, but it is relatively close to it.
Conclusion
Hiking is a very simple and cheap way to let go of our busy schedules and enjoy the company of nature. I started like has been explained in this article and without mincing my words, I don't regret making that decision.
I would, therefore, like to encourage you to join me on this journey to becoming a professional hiker. You can have your family members and friends being part of this activity to add more fun to it. How was your experience on the first hike? Have you liked this article?