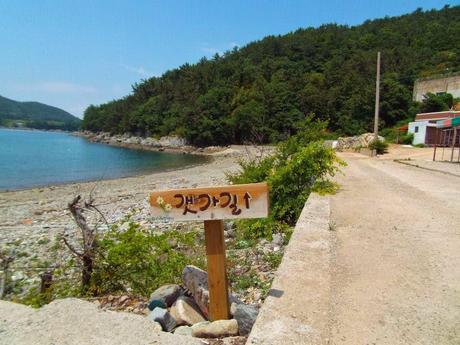 It is certainly possible that lately I have mainly been focused on the negative aspects of living in Korea.  Before you accuse me of being a grumbling old curmudgeon, I have been without my wife now for too long and I can't wait to join her in Australia in a couple of months.  I'm fed-up, and therefore my mind errs toward irritations and problems much more readily than the good stuff.
I have always found that there is a cure for this kind of melancholy, however, and that is a good, long ramble in the Korean countryside.  It is likely that the fresh air and the exercise readdresses some chemical imbalance in my brain, but I genuinely believe some of the best of Korean culture and its people reveals itself at this time.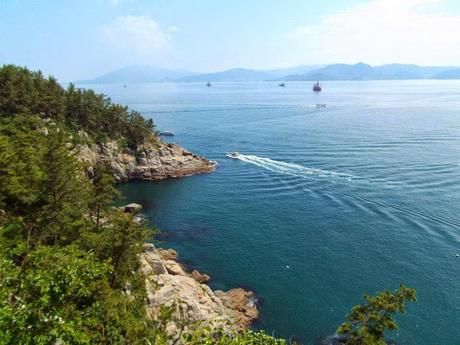 Last week, I took a couple of days with a friend of mine to do a 40Km hike along the coast in Yeosu, at the central southern tip of mainland Korea.  The hike, known as the
갯가길
, was a bit of a change from the usual intense mountain hikes I am used to in Korea and it also rather pleasantly meandered its way through sleepy fishing villages in between the cliffs, beaches and coastal forests.  One of the other bonuses about a coastal hike is that you can wild-camp and build a campfire, something that is usually prohibited in the mountains due to the fire risk.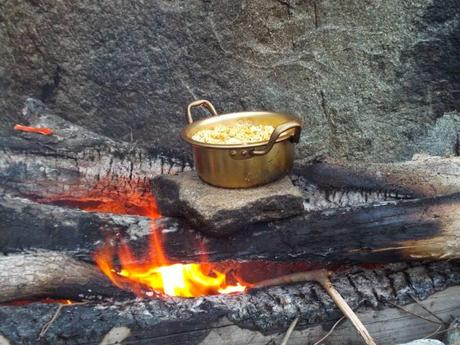 Cooking ramen on a stony beach fire.
I have always found that Korean people are at their friendliest, most helpful, and most charming when I am hiking.  Of course, you could make this generalisation to almost any country.  If you want to find the most genuine, warm-hearted, and pleasant people, heading to the countryside is not a bad bet.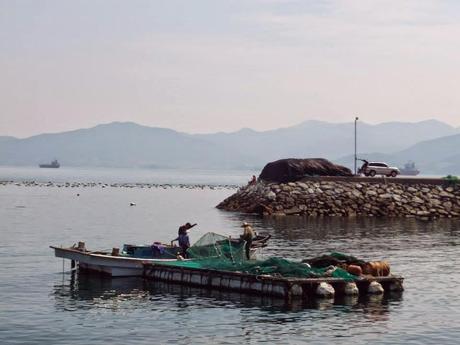 However, I am regularly frustrated in Korea by unwanted help; that is when Korean people do things for me that I don't need, that make me feel uncomfortable, and yet at the same time create a debt and a favour that I should pay back.  I don't get this feeling when acts of kindness are done while hiking.  For one, I can't pay them back in kind most of the time and this is understood, so the experience has a much more genuine feeling about it. Contrary to living in the city - where any inconvenience to make an unfamiliar other's life easier appears to be too much trouble -  I often feel like kindnesses are bestowed upon me in an attempt to make life more pleasant on my travels.  It warms the heart and reminds me that Korea isn't such a bad place after all, even in the lowest of times.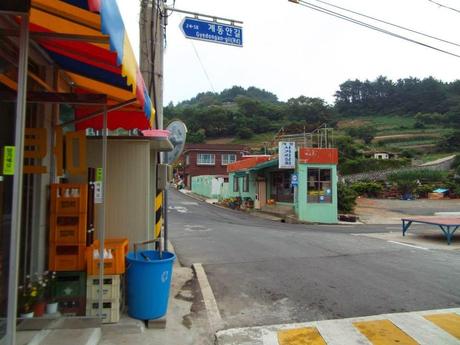 Since pretty much day one of arriving in Korea, hiking has been one of the activities I have enjoyed the most.  Korea's hiking courses are so accessible and most are doable in one day or a weekend.  Korea's countryside and coastline can be extremely pretty and the terrain and the extremes of weather can also provide a genuine challenge sometimes. The most memorable of all the challenging hikes I have done in Korea came at Jirisan, which includes the highest peak in mainland Korea.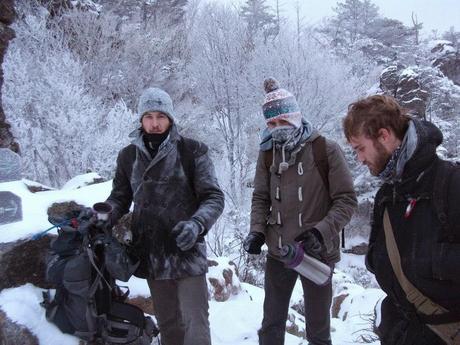 One of the few pictures I managed to take before my camera gave-up in the cold.
Five of us very loosely planned a two day hike in mid-winter across the park from West to East (about 45Km) along the main ridge and the highest peaks.  With a couple of novices - who were slightly under-prepared - this was no mean feat, as the temperatures near the summit approached minus 30 degrees Celsius.  On the ridge, everything froze and on day two we were greeted by high winds and thick, sometimes waist-deep, snow.  The regular shelters along the ridge, bringing with it the chance to make coffee and ramen noodles, were an absolute godsend when the cold and the exhaustion were truly biting and we shared this relief and hardship with Korean hikers, who would share their food and lend a helping-hand sometimes also (the taste and the feeling of a hot coffee after a long day's hard hiking in a biting cold wind, is truly amazing).
It turned-out that we timed the trip perfectly, we managed to get on the first possible bus to the mountain and the last possible bus back.  By the time we finished, we were totally cold-blasted and exhausted, but it is certainly the hike in Korea I will remember most vividly and fondly, despite feeling almost broken by the end.
Bringing-Out the Best in People
It could be possible that for the simple-minded and the mean-spirited, spending their weekend traipsing up a mountain trail is not quite their cup of tea.  I would like to think hiking forces the best out of people and encourages close friendships and camaraderie between those of us hiking, regardless of where we are from.
For me, the shared suffering and enjoyment of reaching the top of a mountain with a heavy backpack is a means by which I can share a common experience with Korean people who still, despite my connections with Korean family, can be difficult to comprehend sometimes and empathise with (and vice versa, them to me).  It increases feelings of affection with the people around me.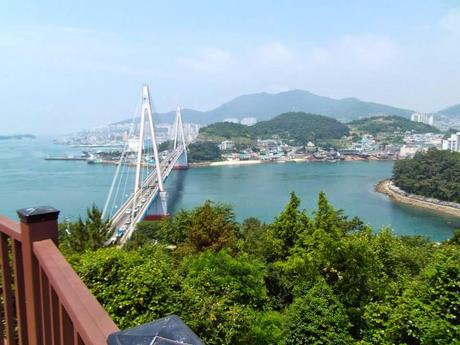 Yeosu, apparently in the top 4 most scenic harbours in the world (according to some Korean sources). Nice, but probably not that nice.
Of course, on my most recent hike, it was less about straining to the top of a mountain with Korean hikers at my side - in fact, we only met one fellow hiker the whole 40Km - but more about stumbling upon parts of Korea that we would have never explored and meeting people most foreigners would commonly never meet.  Not only is there a fascination and a joy for me personally in meeting such people, but I can also see that this curiosity and pleasure is reciprocated on the faces of the Korean people I meet in these places.
The beauty of hiking is that in most cases the hardships put off the majority of people and the sight of someone sweating away under the pressure of a heavy backpack is possibly the least threatening thing imaginable.  The wandering stranger then appears to be someone to help rather than fear and it seems many of the Koreans I meet on hikes like nothing better than bestowing their kindness upon me and my companions, and in the heat of the day, with hungry stomachs and tired limbs it is never more wholly appreciated.