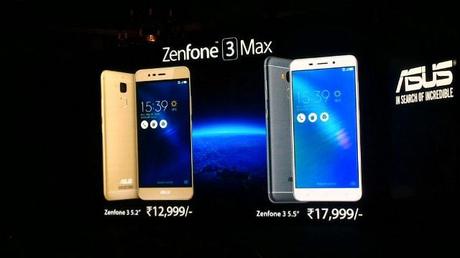 ASUS has launched the successors of its battery powerhouse ZenFone Max. Two versions of ZenFone 3 Max have been launched in India. Both are mid-range smartphones and carry a decent set of specifications and all the popular ZenFone features. The two newly launched variants of ZenFone 3 Max are 5.5 inch (ZC553KL) and 5.2 inch (ZC520TL), priced at INR 17,999 and INR 12,999 respectively.
Let's check out the highlights of ASUS ZenFone 3 Max variants: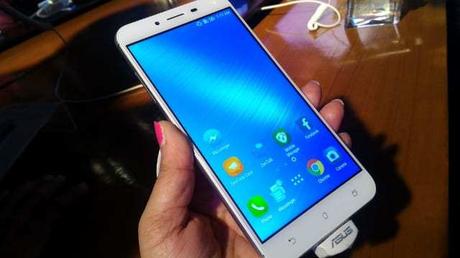 ASUS Zenfone 3 Max 5.5 (ZC553KL) Specifications:
Zenfone 3 Max (ZC553KL) has 5.5in 1920 x 1080 FHD display. It is equipped with a Qualcomm Snapdragon 430 64-bit octa-core processor and Adreno 505 graphics processor. It has powerful 4100mAh battery. ASUS claims that the battery and the power efficient processor of the device enables the smartphone to have up to 38 days of standby time on 4G, 17 hours of talk time on 3G, 72 hours of music playback, 18 hours of video playback and 19 hours of Wi-Fi Web browsing. It has 3GB RAM and 32GB ROM which is expandable to 128GB using microSD card.
It has 16MP rear PixelMaster camera with f2.0 aperture. The front camera is 8MP PixelMaster Camera with f/2.2 aperture. The camera function is enhanced by Electronic Image Stabilization and triple technology autofocus system which delivers focus time of 0.03 seconds.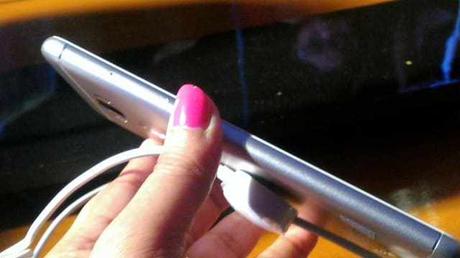 ASUS Zenfone 3 Max 5.2 (ZC520TL) Specifications:
This variant of ZenFone 3 Max has 5.2in HD 1280 x 720 display. It is equipped with a 64-bit quad-core processor and a Mali T720 graphics processor. It too has 3GB RAM and 32GB ROM. The internal storage of Zenfone 3 Max (ZC520TL) is expandable to 32GB using the microSD card. The phone has 3GB RAM. It has 4100mAh battery too. On this device, it supports 30 days of standby, 20 hours of talk time on 3G, 18 hours of Wi-Fi browsing on 4G/LTE, 87 hours of music playback and 15 hours of video playback.
It has 13MP rear and 5MP front PixelMaster cameras with f/2.2-aperture and zero shutter lag.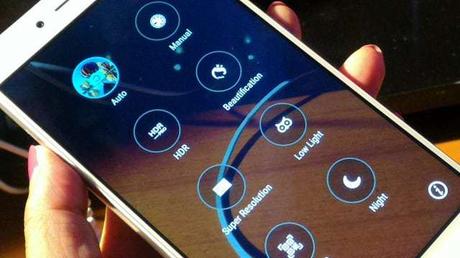 Camera:
Camera has always been one of the highlights of ASUS ZenFone. Although Max is not a camera centric phone, it too boasts of having impressive cameras with useful camera features and modes.
ZenFone 3 Max has 16MP/8MP (5.5"- ZC553KL) and 13MP/5MP (5.2"-ZC520TL) rear + front PixelMaster cameras. The useful camera features includes Zero shutter lag, and triple technology autofocus system (ZC553KL) which uses laser, phase detection and contrast detection to provide focus time of 0.03 seconds. The cameras also have Electronic Image Stabilization (EIS) system for more stable and shake-free videos.
ZenFones come with various useful camera modes. ZenFone 3 Max variants too have these modes. These include Backlight (Super HDR) mode which lets users see clearly through daytime shadow, Super Resolution captures multiple shots simultaneously and then sews them up to get a single photograph that has 64MP (5.5"- ZC553KL) / 52MP(5.2"- ZC520TL) resolution. The Low Light mode helps in taking better pictures in poor lighting.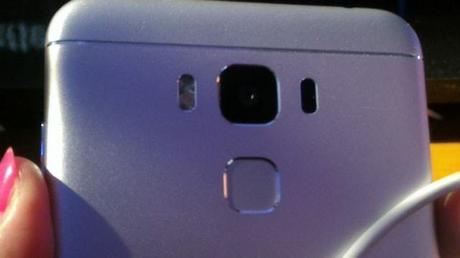 Fingerprint Sensor:
ZenFone 3 Max is also equipped with a Fingerprint Sensor that adds to the security of the device. It can unlock the smartphone in 0.3 Sec, can store prints of upto 5 fingers and has 360 Degree Recognition and Camera Integration. The camera integration allows the user to access the camera app by double tapping the scanner and clicking a photo by single tapping on it. The fingerprint sensor is located at the back under the camera lens.
Battery:
If camera is the specialty of ZenFone Laser devices, battery power is the major highlight of the ZenFone Max smartphones. Both the variants of ZenFone 3 Max have 4100mAh lithium-polymer battery. This should be enough for most users to go through the day without needing to charge their phone. In fact, ZenFone 3 Max has Reverse Charging capabilities. That is, this powerful battery can also be used to charge other phones. ZenFone 3 Max comes with an OTG cable for this purpose. This cable can also be used to transfer files to other devices.
Battery Modes:
Like other ZenFones, ZenFone 3 Max variants also have various battery modes. These modes can be used to make battery charges last even longer. These modes include Performance mode, Normal mode, Power saving mode, Super Saving mode and Customized mode.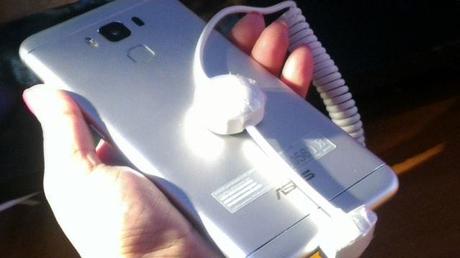 Appearance:
Both the variants of ZenFone 3 Max have metallic design. It has sandblasted aluminum-alloy body with rounded edges and 2.5D contoured display glass and diamond-cut edges. Zenfone 3 Max weighs 148 grams (5.2''- ZC520TL) / 175 grams (5.5''- ZC553KL) and up to 8.5mm thick at the sides. The gently curving rear cover makes the device comfortable to hold. The smartphone has 2.25mm bezel and has 75% screen to body ratio. Being a phone with big battery, it is not a super slim phone. But overall, the device looks nice and comfortable to hold. Both models are available in three metallic colours - Titanium Gray, Glacier Silver, and Sand Gold.
Features:
The main reason why I personally like ZenFones is because I like their features. These days, market is full of competing smartphones offering maybe better specification set at lesser price than the ZenFone 3 range. But, I like the features that ZenFones offer.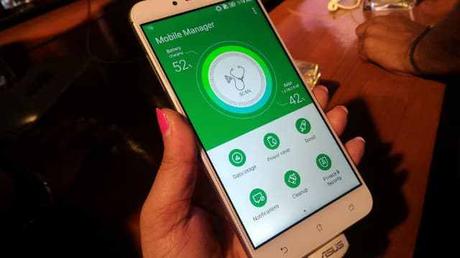 The new Max devices too have all the popular features of ZenFones. They have ZenMotion Touch Gesture which allows using gesture commands to lock and unlock the phone by knocking on the screen and open selected apps by drawing pre-set letters on the black screen. The various camera modes and power modes are very handy and enhance battery life and camera output. The Mobile Manager app helps in optimizing the smartphone's performance.
ZenFone 3 Max also has GamGenie which is a game supporting app. It auto starts when a game is started on the device. This app helps users to stream live game screens to social media platforms. It also provides an in-game browser useful for finding tips, guide videos and cheats.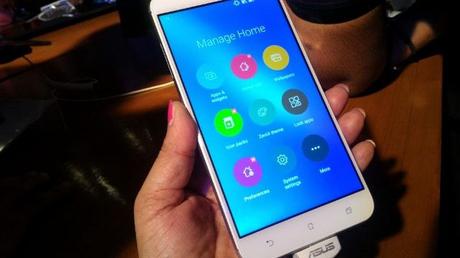 User Interface:
Zenfone 3 Max runs on Google Android 6.0 (Marshmallow), and has ZenUI 3.0 user interface. ZenUI gives to the users various customization options like themes, icons, screen scroll animations and Smart Folders. I find it very pleasant to use. However, with so many features, it is not the lightest of Android Skins. Certainly not as light as pure Android interface is.
Availability:
Zenfone 3 Max 5.2 inch (ZC520TL) is available at Amazon and other major E-tailers and Retailers in India at the price of 12,999. Zenfone 3 Max 5.5 inch (ZC553KL) will be available from the last week of November 2016 at the price of 17,999.
Being mid-range devices, the two variants of ASUS ZenFone 3 Max are in the most competitive price bracket. But for those looking for a good quality smartphone with good specifications, camera, features and an excellent battery life, ZenFone 3 Max variants are certainly worth checking out.
Key Specifications of ASUS ZenFone 3 Max: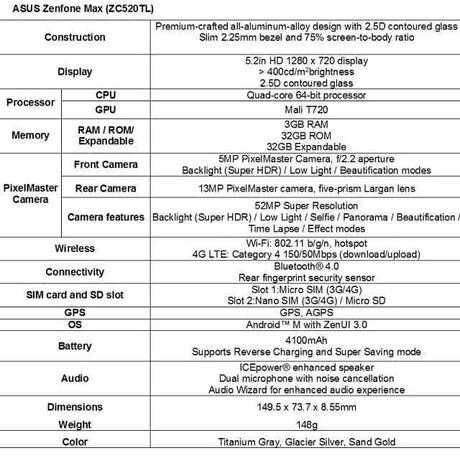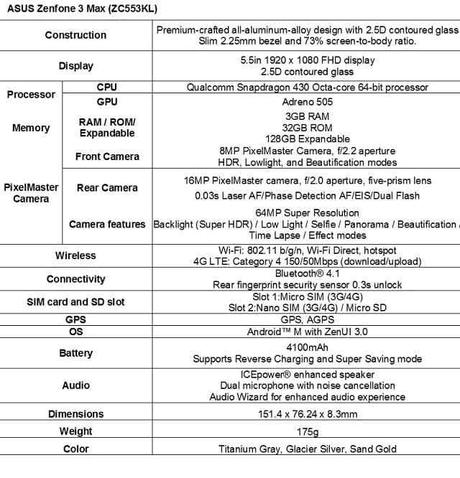 Check out the comparison charts of ASUS ZenFone 3 Max with its closest competitors:
ASUS ZenFone 3 Max 5.5 comparison with Samsung, Oppo and Vivo devices ASUS ZenFone 3 Max 5.2 comparison with Samsung, Oppo and Gionee devices