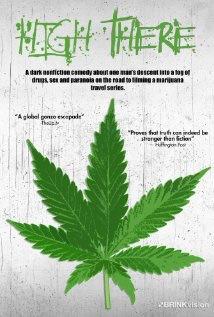 Director: Wayne Darwen, Henry Goren
Writer: Wayne Darwen (Screenplay)
Plot: A real-life attempt to film a reality television pilot turned into the most unreal experiences of a lifetime for veteran journalist and producer Wayne Darwen and videographer Henry Goren, when they found themselves transformed into the characters Dave High and Roland Jointz in an accidental immersive investigation of the marijuana wars on the island of Hawaii.
There may be spoilers the rest of the review
Verdict: Party Time
Story: High There starts as David High a journalist and his cameraman Roland Jointz head to Hawaii to shot a new travel show but along the way David enjoys drugs, drinks and woman as they go to make their own story. It isn't long before David and Roland find themselves being followed around the island as the island looks to clean up the drug problems on the island.
Dave goes around different ideas to make his show work but just can't shake the drugs every day, where he makes each outing a party. David continues to learn about a bigger problem on the island dealing with marijuana.
High There is a documentary that wants to tackle the real problem of marijuana on the island in Hawaii, we only see small parts of this with most of the film being David High just wanting to smoke drugs and get drunk, this really takes away with what we want to learn about and it turns into just the life experience of the two men on the island. Not being a fan of drug usage I personally didn't enjoy the almost glorification of using them during the adventure the men go on.
Director Review: Wayne Darwen – Wayne puts together the trip well to show the good, the bad and paranoia drugs cause people.
Documentary: High There is a documentary which also happens to play out as party holiday for David.
Settings: High There uses the Hawaii settings but most importantly showing how it isn't all beauty we get led to believe.
Suggestion: High There is one to try, it is very heavy on using drugs which isn't something I enjoy. (Try It)
Best Part: Seeing the dark side of Hawaii.
Worst Part: Too much drug usage.
Believability: Based on the real trip the two men had.
Chances of Tears: No
Chances of Sequel: No
Post Credits Scene: No
Oscar Chances: No
Runtime: 1 Hour 27 Minutes
Trivia: Director, writer and star Wayne Darwen is a celebrated tabloid newspaper and television journalist and producer who was the inspiration for Robert Downey Jr.'s character "Wayne Gale" in Oliver Stone's 1994 film, Natural Born Killers.
Overall: Documentary that feels like it is a film party for the men involved.
Rating