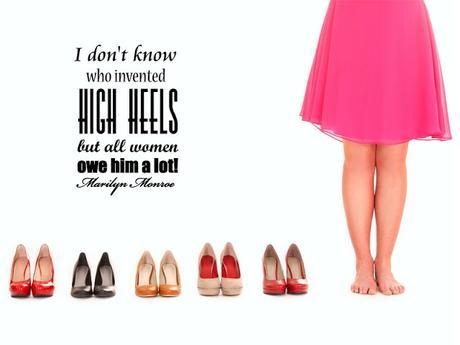 "

I don't know who invented the high heel

, 

but

 all 

women

 sure 

owe him a lot.

" 
-Marilyn Monroe
Well, I totally agree with Marilyn on this and I'm sure you all do too. A heel not only makes you look taller but actually makes your appearance more attractive. It makes your posture look even better.
But finding a perfect pair of heels is always a difficult job. I mean it has to cope with the latest fashion trends along with level of comfort. I personally love stilettos as my first choice, though. And you can find a huge selection of these at ShoesPie. (http://www.shoespie.com/C/Stiletto-Heels-101409/)
About them:
http://www.shoespie.com/ is one of leading online supplier of all kinds of shoes such as fashion heels, dress sandals, comfort flats and 

boots. They are all made of excellent quality and according to the hottest fashion trends.
Shipping:
They offer shipping Worldwide.
Payment:
They accept payment via Paypal and Visa/MasterCard.
Apart from the stiletto's they also have a vast variety of peep toe heels (http://www.shoespie.com/C/Peep-Toe-Heels-101410/) and even the all time favorite platform heels (http://www.shoespie.com/C/Platform-Heels-101408/). So basically, whatever style you like you'll find it on their store. Isn't that just amazing?
Well, I personally loved their collection and I couldn't stop myself from making a little wish list for you guys.