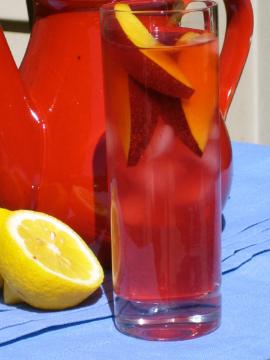 I'm a tea drinker.  Morning, noon, night.  Tea.  Morning it's usually a green tea, followed by something like a rooibos chai later in the morning (usually a homemade 'latte chai'), a decaf green or mint tea in the afternoon, and maybe another rooibos or apple chamomile before dinner.  I've never taken to coffee, but I love my teas.
Now that summer seems to be in full swing, I don't aways want a warm tea in the afternoon.  I love iced teas, but find almost all of the commercial brands are too sweet, pumped up with sugar or hfcs.  But then, the more 'natural' varieties are pricey, and most use green tea - and in the afternoon I don't care for a caffeinated brew.  No, I want something slightly sweet, definitely refreshing, and plenty of it!  So, I make my own.  It's easy

,

affordable

,

and good for you.
This week I made a large batch of Hisbiscus-Lemon Iced Tea.  Hisbiscus is a flower, and hibiscus tea 'leaves' are made from the flower itself.  It has a slightly tart, almost cranberry-like flavor, and a beautiful maroon color.
I made my tea with a Hibiscus-Lemongrass tea blend, as I have only been able to find this type of Hisbiscus tea (and not the loose flowers).  If you can't find hibiscus tea, you can substitute another of your favorite tea bags in place, a fruity herbal blend like a passionfruit or strawberry would be beautiful, or a rooibos.  Here's my simple recipe:
4-5 tea bags (I used 4 Celebration Herbals Hibiscus)
6 cups boiling water to steep tea
1/3 - 1/2 cup freshly squeezed lemon juice (adjust to taste)
1/4 - 1/2 tsp stevia powder (adjust sweetness to taste, can also substitute agave nectar to taste)
fruit slices or berries (optional, for prettiness!)
ICE!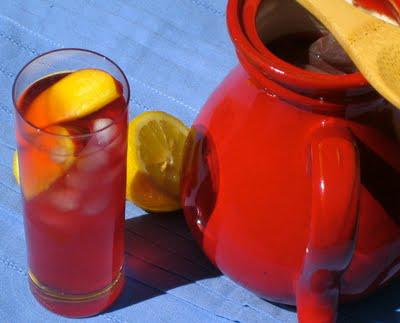 First thing in the morning, prepare your tea, and then allow it to steep and cool through the morning.  In the afternoon, once cooled, add the lemon juice and stir in stevia powder (or agave) to taste.  Add ice, (and fruit slices or berries), and stir.  Sip!  

Enjoy!!