It's off to work I go at the allotment.  The children decided they wanted to try an activity day so I have from 10 til  4.30 to make inroads into the vast amount of work that still needs doing at the plot.
There's still a chill wind blowing today, so shall take lots of layers and a flask of tea with me as protection.  I'm also going to take my recently purchased fleece tunnel from Aldi to perform a similar job for my freshly soaked pea seeds which are going to taste soil today.  I don't usually soak them, but I think that as the soil is quite dry at the moment and barely warming, they're going to need all the help they can get. My dad swears by soaking them, so I am going to give it a whirl, as he is A Man Who Knows where veg are concerned.
The broad beans that I sowed in the cold greenhouse two weeks ago still haven't formed any real shoots, though they have obviously swollen and are starting to show signs of life.  So if that is the state of play under glass, it is obviously still wintery....  Might start off the crimson flowering ones for the garden indoors, just to give them a kick start.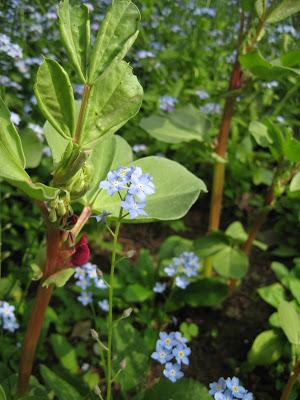 Crimson flowered broad beans make a pretty, edible addition to the flower border
I'm going to delay planting my potatoes for another couple of weeks as conditions are supposed to be improving gradually, a trend which I hope will continue.  We have had a couple of (relatively) warm days recently, which gives me hope that spring will really arrive soon, although the easterly breeze is making that hope recede again today.
I have now managed to plant out about half of my September sown flower seedlings which have proved their sturdiness credentials by making it through the bitter winter, so at least I have little oases of green leafiness appearing in the still naked borders.  It also means I have a bit more space in my cold frame at last, can't wait to get the rest in.
I'm writing this whilst trying to defrost some chicken fillets which sat on an apparently chilly worktop last night and didn't quite make it out of hibernation - wanted to put the slow cooker on before I went to the allotment, but am being held up by the fact that they are stubbornly resisting all gentle efforts to thaw out the last ice crystals.  Feels rather like a metaphor for spring this year.