New Bloomberg poll results show a plurality of Americans, 43 percent, say they want to retain the 2010 law with only small modifications, while 15 percent say the measure should be left alone, a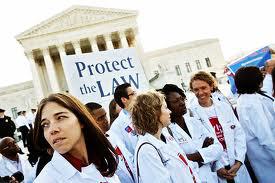 Bloomberg National Poll shows. That's 58 % for keepers! Only 33% say it should be repealed.
Next week the Supreme Court is expected to rule "on the constitutionality of the law, the centerpiece of which is the mandate that most Americans buy insurance or pay a fine."
Do you suppose the Court pays attention to people, or to Republican campaign rhetoric?