Let's start off with a bit of name-dropping here: Robert Redford, Tommy Lee Jones, Gene Hackman, Brian Dennehy, Shirley MacLaine, Ali McGraw, Val Kilmer – we didn't see any of these well-known Santa Fe residents, but we did meet lots of other nice, more ordinary folks like us, while wandering around town.
This is one of the most remarkable places I've ever been to, architecturally speaking. About 90% of buildings here – not just in the touristy 'old' part of town, but out in the suburbs, everywhere you go in fact – are in the adobe style. I've never seen a town so devoted to the one style of architecture, but maybe I just haven't got around enough....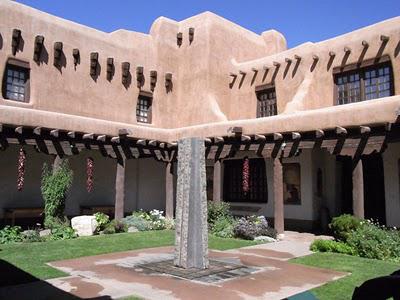 Here's a beautiful example of what I am talking about. This is the courtyard of the New Mexico Museum of Fine Arts, where the exhibition playing at the moment is 'How the West is One'.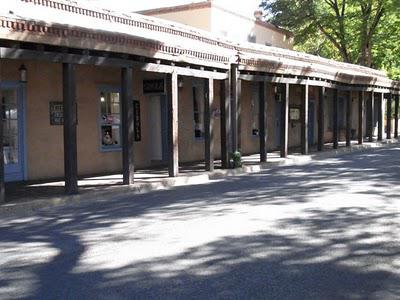 On Sunday morning I popped down into the touristy part of town before the crowds arrived, and there are many streets of these charming, old buildings now armed with EFTPOS machines and, to their credit, a really interesting array of locally handcrafted wares.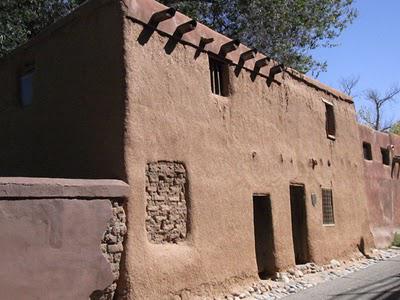 Not far away, along a street called The Old Santa Fe Trail, there stands the oldest building in North America. It's so old they don't actually know how old it is. Some think the original parts were built as long ago as 1200AD, and certainly it was standing here when the Spanish arrived with their Native American guides to set up the original settlement around 1600. The guides took over the old building and just moved in.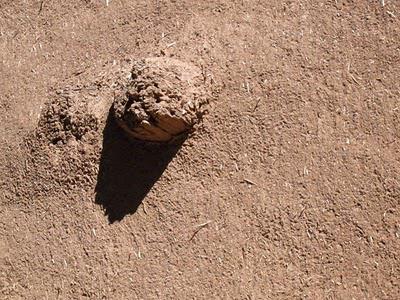 This close-up of the ancient one shows the furry texture of the old adobe, with its pieces of fibre breaking free from the surface, and the old timber beam finally withering down flat with the rest of the wall, after several centuries of stout resistance.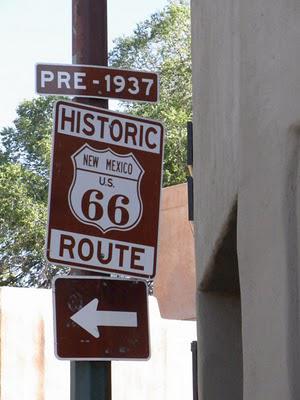 Santa Fe lies on the famous Route 66 highway, and no matter where you go on this famous road, even in this narrow back street in the old part of town, there are signs to remind you where you really are.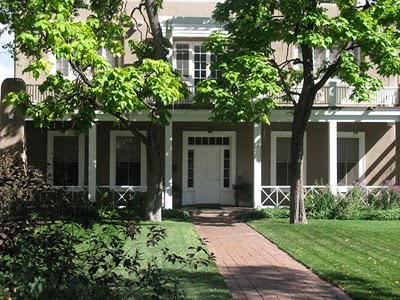 Santa Fe is famous for its arts and artists, and the most prominent of them all is Georgia O'Keefe. This isn't the Georgia O'Keefe Museum, it's the administration building across the road, and it's one of the prettiest houses in Santa Fe.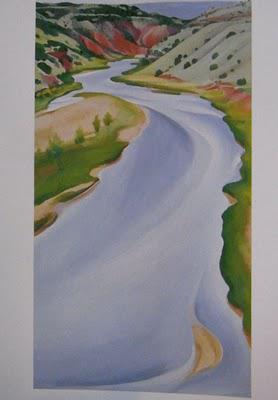 Excuse the slightly wonky skewing of this image above and the one below, as they are just photos of cards we bought at the O'Keefe Museum. Any artist would be thrilled to have a whole museum devoted to his or her work, and our visit here really was inspiring, as you can see how an artist constantly changes and develops over time. I loved her modernist landscapes the most, but it's also the sheer variety of subjects she painted in her career, and the many different ways she treated them, that stands out. Her creative spirit never stood still – wherever you turn you can see her mind working away on ideas, colours and perspectives. Pictured above, for the record, is 'Chama River Ghost Ranch 1937'.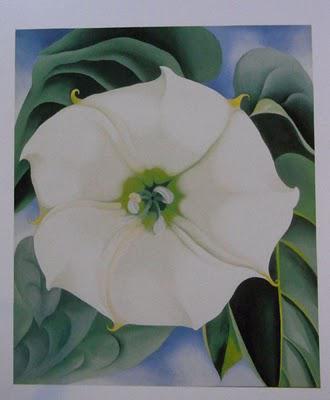 And this is 'Jimson Weed 1932'. O'Keefe loved to 'blow up' flowers to huge sizes in her paintings, making them striking and bold, and reducing us, the viewers, to mere bees hovering at the threshold.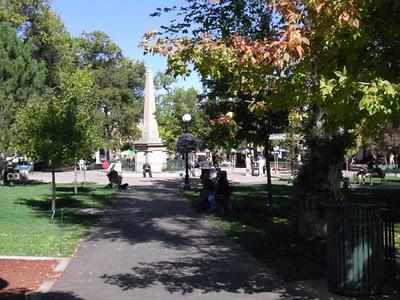 Sunday is market day, and people gravitate to the central plaza, edged on all four sides by old adobe buildings, with a green square in the middle shaded by trees already showing a bit of autumn colour.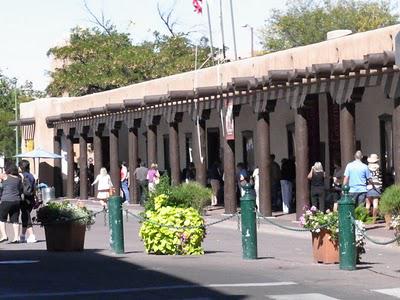 One of the old buildings around the central Plaza is the Palace of the Governors, one of the city's oldest buildings. All along the shaded verandah sat a long row of a few dozen native American artisans, each with a blanket laid out before them, selling rugs, blankets and finely crafted jewellery featuring silver and polished stones.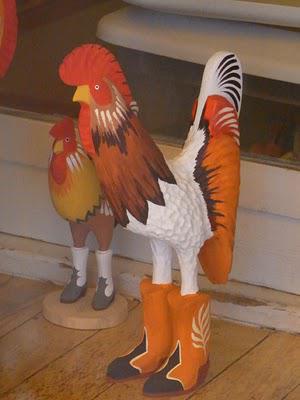 In the shops, however, anything goes. I loved this Chook in Boots.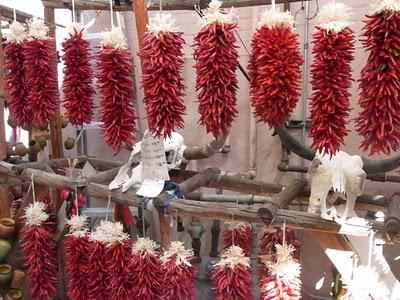 And a colourful string of chillies was probably the easiest thing to find. Lots of stalls had them. Fancy a steer skull with your chilli string, sir?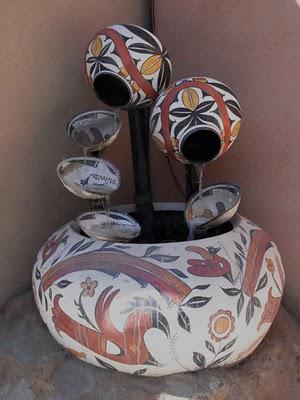 One store distinguished itself with its multi-tiered New Mexican water fountain outside the front door.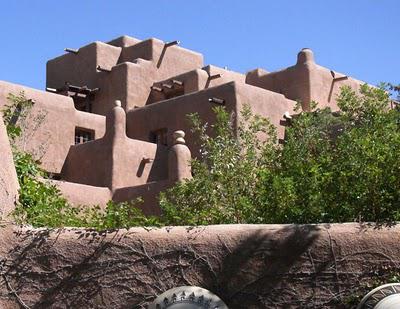 And across the road this hotel looked like it has been here for centuries, but it's really a new boutique hotel catering to the well-heeled spa-lover. Adobe-style rules!
There's so much more that we could show you about Santa Fe; this is just a taste. Even though we have spent four days here it's not really enough to take it all in. As well as posting this touristy blog today, I'm also going to do a second one later today on the great food we have been enjoying here.