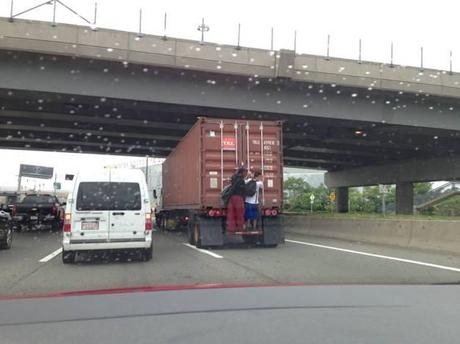 So, this picture comes to us from the Mass State Police Facebook page, and get a load of these two guys.  I know the traffic on I-93 in the morning can creep at times, but it's still a freakin' interstate highway.  But I guess, when the money's tight and you need to get to work, you do what you need to do.  Got to make a living some how and these bros aren't going to let lack of funds or vehicle keep them from their job.
This is the note from the Facebook page:  The Massachusetts State Police received this photograph of two teens riding on the back of a tractor-trailer yesterday afternoon on I-93 in Dorchester. We would like to remind the public how unsafe and illegal this is. This photograph and other similar photographs are circulating regarding this incident. The Massachusetts State Police did not receive any phone calls regarding this incident as it was occurring, yet several drivers took photographs of it. 
Let me paraphrase for you.  "A bunch of people saw this, thought it was funny and sent it to their friends.  It wasn't until much later that we actually saw the picture and we are pissed about it.  Be sure to send us the picture first before you send it to all your friends and have a nice laugh about it, assholes."
Yeah, that should pretty much do it.