The last time I made Liege Waffles, I totally love it!  It has this rich buttery taste and crisp outer and the bites of pearl sugar makes it really delightful to eat.
So today, I am making some to bring to the hospital for my mom as she loves waffles.  I too read that eating carbo with natural yeast actually helps to curb reflux.  So today I shall see whether she will have this issue after eating Herman Liege Waffles.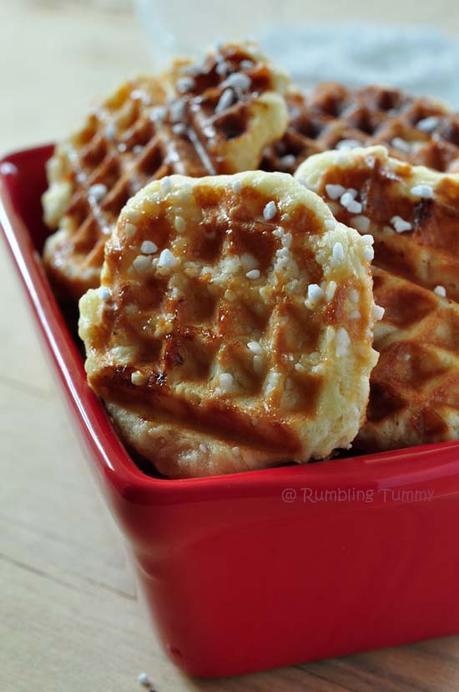 Findings: I prepared this at 3pm but by night fall, there was no sign of double in volume.  So I just let it proof in air con condition room overnight and it did rise to the requirement.  Unfortunately, the butter was "leaking" and thus despite adding so much butter, the texture is not as fragrant as I would expect it to be.
I did not follow the exact weight for the pearl sugar as I was preparing this for my parents and am afraid that they will find it sweet.  This time round, I used pearl sugar from PH and I think I prefer those from SL.
Overall, the texture has a slight chew and a crisp outer when eaten hot.  Nice.
Source
What you need:250g of flour50g brown brown sugar1 vanilla bean50ml milk (room temperature)1 egg100g of Herman Starter
150g of salted butter (will reduce this to 120g)
70g of Pearl sugar
Method:
In a mixing bowl, combine all the ingredients (except Pearl sugar and butter). Knead until dough is smooth (approx 5 minutes).
Add in softened butter and knead again for 5 minutes, butter must be completely incorporated into the dough.
Cover with clean cloth and let it proof for 2 – 3 hours or double in volume.
Punch down and add the Pearl sugar.  Knead by hand to incorporate the sugar into the dough.  Do not hesitate to flour your hands.
Divide into small balls and cover loosely with cling wrap.  Let proof for  another 15-20min on a sheet of cooking paper.
Heat your waffles maker and cook until both sides are golden brown.


Enjoy!
If you have enjoyed this post by
Rumbling Tummy
, be sure to follow this Rumbling Tummy on
Facebook
, Instagram, Pinterest, Twitter and
Google+
.