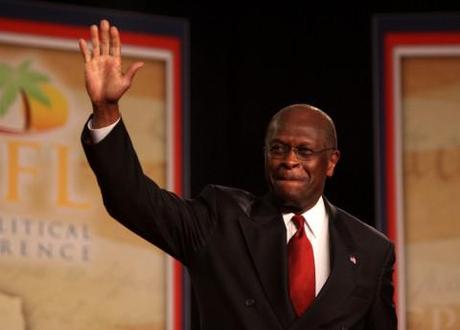 Herman Cain is thought by many to be a joke. Many more still say they might vote for him. Photo Credit: Gage Skidmore, http://www.flickr.com/photos/gageskidmore/6184460642/sizes/l/in/photostream/
A CBS-New York Times poll of voting Republicans released on the 25th of October shows a frontrunner that few expected — Herman Cain. The former Godfather's Pizza CEO and son of a janitor has made multiple errors on television, including appearing to support a woman's right to choose abortion, saying that he would negotiate with terrorists and advocating a "9-9-9" tax plan that was found to be more damaging to low and middle income families than wealthy ones. But despite all this and the inevitable ridicule he has been subjected to in the press, he won Florida's Presidency 5 straw poll in September and has raised over $1 million in October alone — he currently leads the GOP race with 25 percent of votes to Mitt Romney's 21 percent, Newt Gingrich's 10 percent and Ron Paul's 8 percent.
Cain's been at it for quite a while — he got his first taste of politics dissing Bill Clinton in this 1994 televised town hall forum:

So does Cain have any hope of keeping his frontrunner status as primary season approaches? Here's what the commentariat have to say:
Don't write him off. "There is simply no precedent for a candidate like Mr. Cain, one with such strong polling but such weak fundamentals", wrote Nate Silver at The New York Times's Five Thirty Eight blog, who said that analysts "should not use terms like 'never' and 'no chance'" to describe the possibility of Cain's winning the nomination." He issued a challenge to political analysts — "promise to stop writing about politics if Mr. Cain in fact wins the nomination": only two so far have taken him up on his offer.
Cain's gaffes haven't dented his popularity yet. Howard Kurtz of The Daily Beast spoke to J.D. Gordon, Cain's vice president for communications, who said that his campaign was "trying to slow down a little bit, to make sure he's rested, make sure he's focused." According to Gordon, Cain's gaffes are down to lack of sleep and no teleprompter, but Kurtz noted that the presidential hopeful hasn't been slowed by his mistakes. Indeed, he argued, the efforts of "conventional" Republicans such as Karl Rove (who has been "circling the wagons" to save the GOP as a serious political party) to halt his progress have "failed".
Allure of the outsider. Voters are "suspicious" of the political class argued John Dickerson on Slate Magazine and are willing to put up with a great deal from "someone who isn't a member of it." What's more, he pointed out, 74 percent of GOP insiders in a Huffington Post poll said they think that Cain could beat Obama. Cain is running with a "the more unconventional the better" attitude — it may just work.
Hang on a second… Over the pond Ana Marie Cox at The Guardian opined that, "It is almost impossible, as a political professional, to take Cain, putative Republican presidential nominee, seriously." She argued that his success shows how "Republican politics is broken" and has shifted towards the sensational. Meanwhile, at The Huffington Post Politics, Zia Isad Khan gave an in depth analysis of Cain's "hollow" tax policy. "Let's not fall for make-believe", he pleaded.