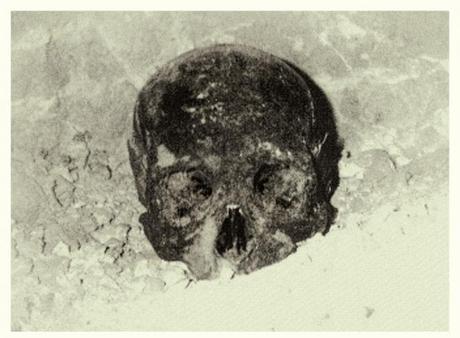 Catacombs of Sousse, Tunis (Photograph: Daniel Mennerich)
Listening to the first movement of Sibelius' Second Symphony I'm reminded of some geologic disturbance—a deeper gradualism pushing behind the appearance of a catastrophe, like some huge submerged mass coming to the surface. The problem is simply stated by the first roster of strings. Unsuspectingly, they wait for the horns to join in, to pick up the taxonomic design carried out by a myriad of fossiliferous signs. Fish came first, then reptiles, then mammals. . . yet a repeated diminution of intensity, verging almost into silence, signals further deciphering. What is this great sunken thing that now heaves itself into view, the water brimming off it? Internazionale, is it? Destiny? A sense of purpose? This is how I used to to think when I was seventeen: that music showed you how to live your life, when your friends (unlike you) support the Pirelli jersey.
As a boy growing up in Milan, I was resigned though never reconciled to what I thought of as the back of Inter's beyondness. Life in suburban high-schools of Lombardy was desperately provincial and unexciting, so riding a bus with an Inter fan, his merino socks falling down from the knees, had another function in that it would sometimes bring to the city fabled creatures from the world of the wireless. Think of Evaristo Beccalossi. So famished of victories was my friend on the bus that he'd mention Beccalossi as one of the few Inter athletes he could have seen in a victorious stance. The playmaker was in any sense an exotic and even a glamorous figure, despite the gloomy routine of grey tones in post-war Milan. Not quite an Edwardian, which he certainly looked, Beccalossi seemed of another age entirely, a contemporary of Sibelius, perhaps, or else one of those inflexible generals who had conducted the First War with the fine distinction of higher education and the implausible haircut of a Jansenist crucifix.
By the time Sibelius' Second Symphony reaches the first of its percussive climaxes—at minute 3:02′ in Esa-Pekka Salonen's terse rendition—the score is made to resemble a vast, galleried library room with a forties-ish feel to it, and the enthusiasm of the master tacticians who foregather in a pre-match assembly staring over the chimneypiece at two crude allegorical panels of the biscione and of Liberality, the ideals of Internazionale's foundation.
My classmate (I forgot his name) eschewed any emotion on the bus, his monday-morning impassive beat varied only by the occasional clenched fist. He was thus an early entrant into my personal board of Inter fans, all intellectual-types, a touch smug, with a penchant for sublime defeatism, a pantheon of non-histrionics which included Scandinavians in music, in literature E. M. Forster, in philosophy Giacomo Leopardi. I knew my friend could never live up to any of them: he talked too much.
Oh, and Gasperini should be out of his job by now. I can scarcely write and just about read on it.